Crazy For You
Music by George Gershwin, lyrics by Ira Gershwin, book by Ken Ludwig
Ovation
Upstairs at the Gatehouse
–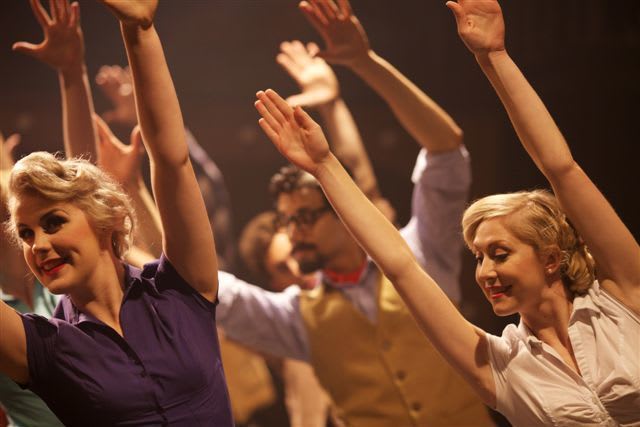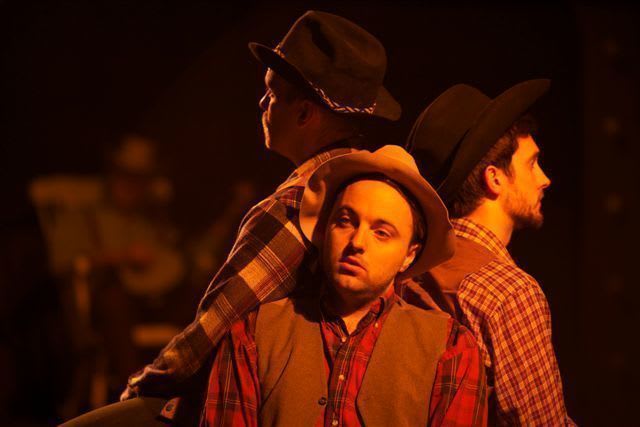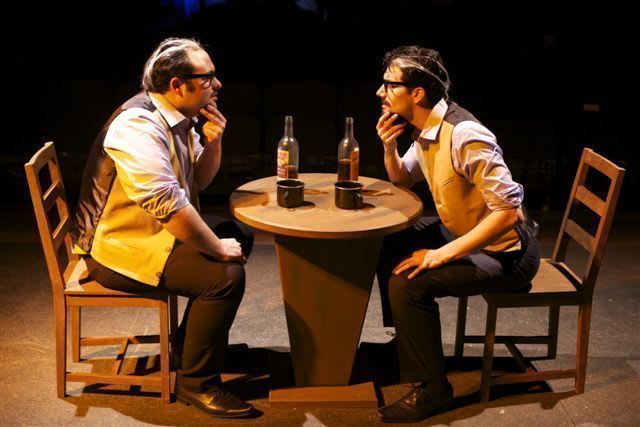 As a musical constructed from existing numbers, I suppose you could class this in that contemporary genre the "juke-box musical", or at least as a "song-book show" for it was the brain child of Mike Ockrent who, invited to direct a revival of the 1930's Gershwin musical Girl Crazy decided he would rather direct a new one. He was given permission to draw on the whole back catalogue of the Gershwin brothers' songs and developed this show with Ken Ludwig.
The new book took some material from Guy Bolton and John McGowan's original for Girl Crazy, including the idea of show girls going out West, and some of its songs—including such favourites as "I've Got Rhythm", "Embraceable You" and Bidin' My Time"—and added more than a dozen other great songs. They fitted them into a story about the tap-dancing son of a New York banking family who dreams of a career in show business and the only girl in a tiny town out West who runs a post office with a derelict theatre attached that he brings back to life.
It's a slight and rather implausible tale of boy gets girl, though only when he's in disguise. That's because Bobby's family bank is about to foreclose on Polly's dad's mortgage. She sees the real Bobby as the enemy. You don't have time to question the plot while enjoying director John Plews's fast-moving production, driven by great songs and Grant Murphy's tippy-tap dances. The original show Girl Crazy helped cheer up a Depression-deep America. This co-concept of Ludwig and Ockrent, as with its earlier airings in Regent's Park and the West End, can brighten up squeeze-depressed London.
It is billed as the London Fringe première and Ovation once again proves that you don't need a West End budget, vast sets and a big chorus to deliver if you have imagination and choose your talent carefully.
It is played on a traverse stage and looking across a space, empty except for a clothes rack, at a black wall and the other half of the audience is unengaging, but the band is barely into the overture before three long-legged, high-kicking, glittery showgirls bring on the glamour.
The showgirls, Sara Morley, Becky Bassett and Georgie Burdett all singing and dancing at full pitch, are as funny as they are glamorous. They are matched with the cowboy trio of Ricky Morell, Simon Ouldred and Tom Pepper whose characters are already adept at let's-pretend shoot-outs. Now they comically progress from three pairs of left feet to happy hoofers who would win points on Strictly Come Dancing.
Bobby's dumped fiancée (Natalie Lipin) moves from uptight sophisticate to passionate predator when she follows him West and meets James Wolstenholme's saloon owner Lank Hawkins, once she gets over the primitive facilities with which his hotel provides her.
There is an hilarious pairing in Tamsin Dowsett and Anthony Williamson as an OTT so-English British couple compiling a hotel guide—and Dowsett doubles equally forcefully as Bobby's mother with Williamson as her business sidekick. Then, in a world of his own in his old rocking chair is Everett Baker as Polly's laidback Pa, fondly repeating how he used to watch her late mother performing.
This is a company that never seems to miss a note or put a foot wrong. They are not idly boasting as they sing "I've Got Rhythm" to close the first act. At the centre of a vigorous ensemble are the two leads: Jay Rincon's Bobby and Ceili O'Connor as Polly.
Rincon is an American import who was a charming Bill Kelly in Steel Pier a few weeks back at the Union. His Bobby has a strong voice and feet with pizzazz but Rincon adds a slight touch of awkwardness. Well, the banker boy has spent five unsuccessful years since leaving Harvard. Could that have something to do that he seems to end his auditions by treading on toes?
O'Connor makes Polly a lovely mixture of romantic innocence and determination with a soaring voice. As they circle the stage in "Shall We Dance", this pairing seems to guarantee a joyous evening and a happy ending.
Reviewer: Howard Loxton