Creditors
August Strindberg in a version by Howard Brenton from a literal translation by Agnes Broome
Theatre by the Lake and Jermyn Street Theatre
Jermyn Street Theatre
–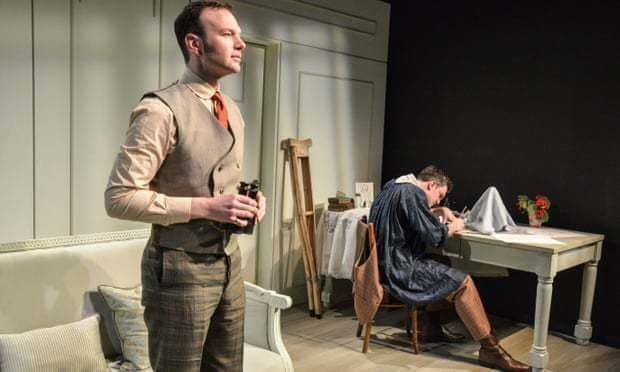 Frederick Engels describes the way class definitions of property and women caused "the world historical defeat of the female sex." Just a few years later, Strindberg's Creditors illustrated the way the language and psychology of this also damaged men.
The light comic opening conversation between Adolf (James Sheldon) and Gustaf (David Sturzaker) chatting about women and in particular Adolf's wife Tekla might be any two male friends involved in what Gustaf casually refers to as "men's talk, crude stuff."
They are certainly crude and oppressive in their attitude to women. Gustaf says "a woman is a man who is incomplete", who indulges in cannibalism, eating "your courage, your knowledge, your soul."
They are both clearly insecure about women, who they claim steal or take from men, then rip up the debt and try to get rid of these men the creditors they owe so much to.
This is the way the pair understand a woman who may not be entirely controlled by a man and it seems Tefla is such a woman, independently visiting an orphanage, sometimes travelling alone and planning later that day to attend a soirée.
But Gustaf is not all he seems and, as his manipulation of Adolf continues, we realise he has his own reasons for resenting Tefla.
The laughter of the audience at the oppressive stupidity of the men is less frequent as we see the potential wreck it could make of the relationship between Tefla and Adolf. Yet we still care about the men even as we disagree with them. And that is down in part to Howard Brenton's sensitive version of the text, along with Tom Littler's sharp direction of very fine actors whose gestures and movements give depth to their behaviour.
As Gustaf leaves, Tefla arrives, playfully affectionate with her husband, even flirtatious. She is intelligent and, in Dorothea Myer-Bennett's fluent performance, moves about the room as if she is comfortable in the world, independent, assertive, social. Observant, she spots someone else has been in the room stirring up Adolf. Although she is charming with Gustaf when he returns, she quickly realises his malicious agenda.
Creditors shows that what Engels described as being the social defeat of women was also a disastrous defeat of a different kind for men.
Reviewer: Keith Mckenna