Dandy Dick
Arthur Wing Pinero
Richmond Theatre
–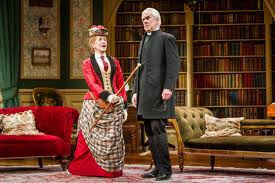 So you wait ages for one horse-racing comedy to appear and then two come along at once... Ron Aldridge's revival of John Chapman's 1954 farce Dry Rot has been up and running for a while, and it's now joined on the touring circuit by one of the works that very likely inspired it, Dandy Dick, Arthur Wing Pinero's 1887 comedy about an apparently upright Dean whose home becomes a den of gambling vice.
Evidently hoping to capitalise on the renewed audience appetite for farce—as demonstrated by the massive recent success of Noises Off and One Man, Two Guvnors—Christopher Luscombe's revival of Pinero's play is the inaugural production of the newly-established Theatre Royal Brighton Productions (overseen by Luscombe, Maria Aitken and Phillip Franks), and it begins its tour at Richmond Theatre, fresh from its opening at Theatre Royal Bath last week.
But not quite fresh enough, as it happens. For, while one of Luscombe's stated intentions for the new company—to revive and reclaim neglected British stage comedies—is perfectly admirable, one may find oneself wishing that he'd picked a worthier candidate for revival than Pinero's quaint and dated play which, while boasting some scattered amusing moments, ends up looking, in Luscombe's production at least, like little more than London Assurance-lite.
The plot concerns the efforts of a widowed Dean, the very Reverend Augustin Jedd, to raise funds for his church by gambling on Dandy Dick, the horse half-owned by his sister, Georgiana (Patricia Hodge), an inveterate gambler who arrives back in his life after a long period of estrangement. The complications come when the Dean decides to indulge in a botched spot of race-fixing—aided and abetted by his meddling butler, Blore—that leads to mistaken identity and false imprisonment. Added to the mix are the Dean's two pert daughters, Salome and Sheba, their suitors, a jealous, over-zealous copper and his accommodating wife.
Pinero's avowed aim with Dandy Dick was "to raise farce a little from the low pantomimic level." Elements of The Importance of Being Earnest and Charley's Aunt surface in the plot and characterisation but the play looks a good deal less spry than the works that it influenced. Luscombe has adapted and cut the text, but, a few witty exchanges notwithstanding, the production never reaches beyond the level of mild amusement, while the desperation of some cast members to wrest laughs from the flimsy material is at times painfully evident.
The reliable Nicholas Le Prevost unravels amusingly—though perhaps not quite manically enough—as the Dean. And, despite a barrage of dialogue that is tediously reliant upon horsey metaphors, Patricia Hodge brings some sparks of life to Georgina, even if those of us who still cherish memories of Fiona Shaw's full-on turn as Lady Gay Spanker in the National Theatre's 2010 London Assurance may find Hodge's performance underpowered by comparison.
Florence Andrews and Jennifer Rhodes twitter beguilingly as the Dean's daughters (a prototype Cecily and Gwendolen pairing) and have some entertaining moments with their suitors, who are nicely characterised by Charles De Bromhead and Peter Sandys-Clarke. But despite their best efforts, and a very short running time of just two hours, the overall weakness of the material means that Dandy Dick still limps home.
The production tours to Aylesbury (17-21 July), Bromley (24-28 July), Woking (31 July- 4 August), Glasgow (7-11 August), York (14-18 August), Birmingham (21-25 August), and Manchester (28 August-1 September).
Reviewer: Alex Ramon