Dark Tales
Ian Breeds
Quint-essential Theatre Company
Rosemary Branch Theatre
(2011)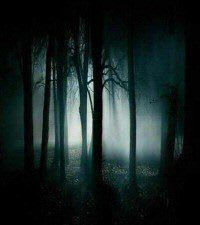 With an eerie poster announcing "a truly terrifying night" and a warning that that those with a nervous disposition should think carefully before attending, this new company seems very confident of scaring your pants off with its triple bill of Dark Tales. In fact, they give you more, for there is a fourth story that's narrated while the scene is change between the first two one-acters, so they clearly intend to offer you your money's worth. But do they really deliver?
These are Ian Breed's first plays to be staged professionally and he directs them himself, casting them with actors who, like him, all trained with the Courtyard Theatre Training Company, so no doubt this production (for which the Courtyard's artistic director Tim Gill is the producer) has been very much a learning curve. He is certainly to be congratulated for getting them on and making them run smoothly with limited resources but he has only been partially successful.
The first play, Bloody Mary, is very brief, a succession of very short scenes that seems more like the scenario for a five-minute student film, a plot proposal rather than a theatre play, though a few lines of dialogue do give the actors enough to suggest two couples' relationships. Ghostly appearances are followed by people disappearing along with any dramatic content. Its artifice is less chilling than the rather banal story that follows about a man haunted by a girl he believes he has run over.
The second play, Unsound Mind, is set in a psychiatric hospital and begins to look at the delicate relationship between doctors and patient, the jealousies that can develop and exactly who is mad, plus a spot of blackmail. It doesn't take this very far and there is little in the writing to make the doctor characters credible, though there is a very neat twist just before the curtain. Andy Gibbins and Jasraj Sahota as the doctors and Monique Cunningham and Sarah Tyler Shaw as the patients do their best to make it credible but we are in Grand Guignol territory here. A more florid style might perhaps have been more effective while some semi-danced interruptions are confusing.
The Evacuee, the final play, is a much more effective piece that centres on the haunting of an evacuated schoolgirl who has lost the ability to speak following the shock of her brother's death in an air raid. Her loss is reflected in that of her reluctant host whose wife escaped the traumas of war in her own way and wants her husband to join her. There is a serious undercurrent here of what war and stress can do to people but the characters again serve the ingenious plot rather than becoming real people.
Nevertheless Monique Cunningham manages to be moving as the mute evacuee and Andy Gibbons suggest something of the kind heart and troubled mind behind the dour exterior of the man with whom she is billeted and Sarah Tyler gets just the right mix of compassion and brusque efficiency as the billeting officer. Her performance in particular suggested this set in Britain in the 1940s, though a duvet and the child's paperback would have been out of period and there is no reason why this had to be an evacuation from the British blitz. Full marks to designer Viktor Palfi and the stage management however for the poltergeist-like effects.
"Dark Tales" plays at the Rosemary Branch Theatre until 28th August, then the Courtyard Theatre 30th August - 4th September, Upstairs at the Gatehouse 6th - 11th September and at the Lion and Unicorn Theatre 13th - 18th September 2011.
Reviewer: Howard Loxton