David Copperfield
Charles Dickens, adapted by Alastair Cording
Oldham Coliseum Theatre
–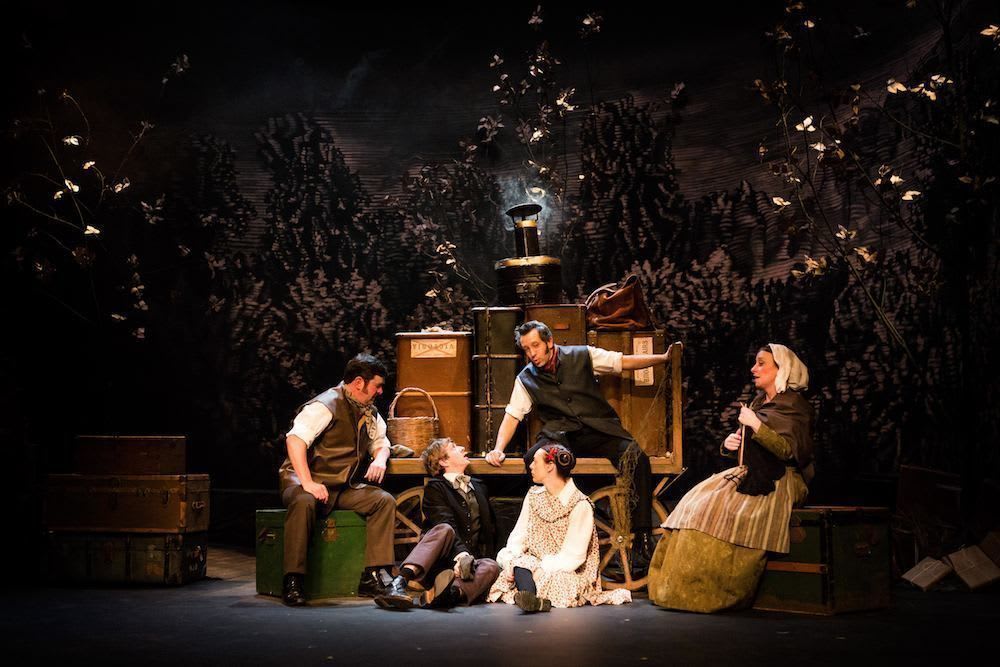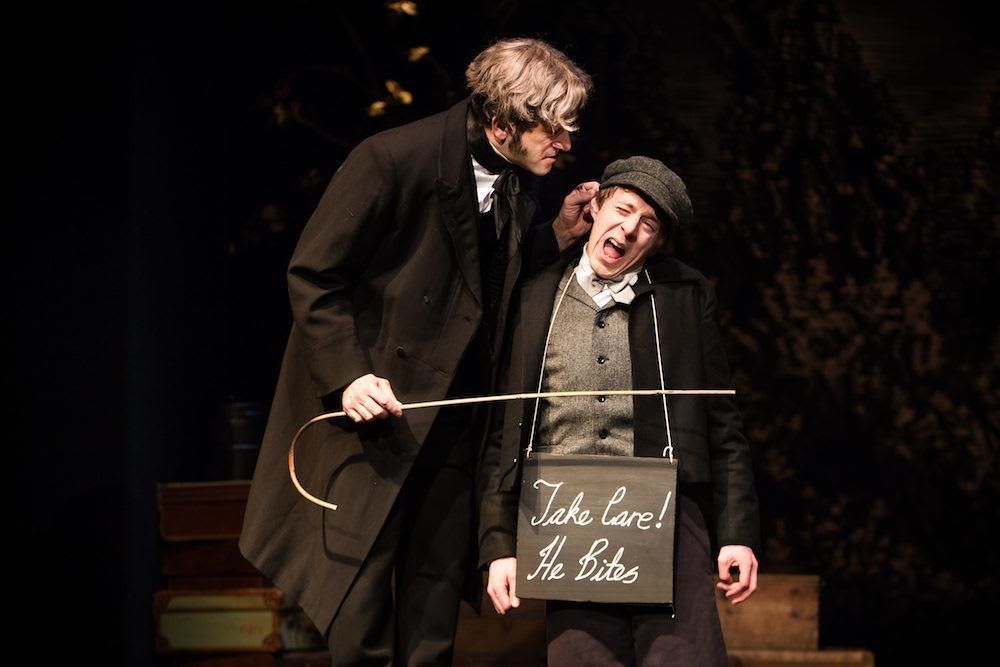 As actor Simon Callow explained in his Charles Dickens and the Great Theatre of the World book, Dickens was an enthusiastic and accomplished actor and performer of his own works, and so it is ironic that his sprawling, episodic novels rarely make satisfying plays. Most try to squeeze in as many incidents as possible with myriad short scenes and heavy use of narration.
The adaptation by Alastair Cording used for the new production at Oldham Coliseum is slightly different. It is, inescapably, episodic as this is the nature of the underlying story, perhaps due to it being originally published as a serial in monthly episodes. It also uses many of the methods that have become common in Dickens adaptation such as narration, sudden harmony singing and multiple role playing, but none too heavy-handedly.
However Cording is more selective about which elements of the story he shows, allowing scenes to develop more fully than if the whole novel had been crammed into two and a half hours. Some episodes are omitted and some characters are only referred to but not seen: Barkis is willin' offstage, and alcoholic lawyer Wickfield's progress is reported to us by his daughter Agnes.
While there are a few moments early on that try to be clever with flashbacks or have people sitting around telling one another things they already know to fill the audience in on the story, generally this works much better than most adaptations of Dickens I have seen, and it is brought to life by an enthusiastic and talented cast.
Jack Wilkinson is a strong and charismatic David Copperfield, developing visibly from the awkward child into an intelligent and morally upright gentleman—if still occasionally naïve about matters of the heart. He holds the narrative together very well.
Everyone else in the ensemble plays multiple roles but has at least a couple of significant characters, all of which are distinct and very well realised. A couple that stand out especially are Robin Simpson as sadistic headmaster Creakle, lovable but slightly mad Mr Dick and poor Ham whose love is taken away from him, plus Kieran Buckeridge as that scoundrel who deprived him, Steerforth, and a slimy, hand-wringing Uriah Heap.
Of the rest of the company, Joanna Higson is very appealing as David's mother and his friend Agnes, Isabel Ford is his loving family servant Peggotty, Helen Kay contrasts well the roles of wicked Jane Murdstone and aunt Betsy Trotwood, Tim Treslove is wicked Murdstone, frivolous spendthrift Mr Micawber and Daniel Peggotty and Jo Mousley is David's childhood friend from Yarmouth Emily and his wife Dora, who may seem silly but produces the most moving moment in the play.
Alison Hefferman's set of metallic trees both free-standing and painted on a curved cyclorama with Jane Barrek's warm lighting all has a classic "Dickensian" look about it but it looks classy and works well. There are some lovely touches in Lorna Munden's sound design, especially some spot sound effects in the auditorium such as when David and Emily are throwing stones into the sea.
Altogether it adds up to a very entertaining show, tightly directed by Kevin Shaw, with lots of Dickens's familiar strong characters and humour all well-performed with a script that keeps the spirit of the original but makes it into a theatrical experience rather than an abridged version of the novel told through narration.
Reviewer: David Chadderton