Dead and Breathing
Chisa Hutchinson
Arch 468, Unity Theatre and The Albany
The Albany
–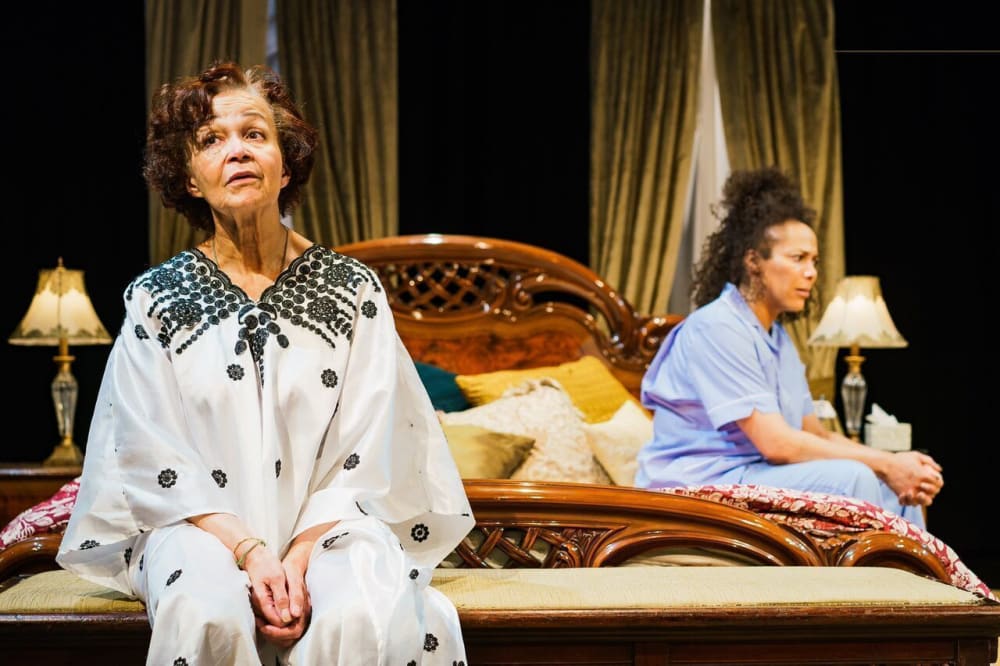 American dramatist Chisa Hutchinson's play sets a moral conundrum putting a terminal patient's wish for death against Christian commitment and the word of the Bible in a battle of wills between two forceful women that is also very funny.
It is set in the home of 68-year-old multi-millionaire Carolyn. Designer Sarah Booth presents the opulent extravagance of bedroom and bathroom where a naked Carolyn is being bathed by her blue-uniformed nurse Veronika. She is the most recent in a succession of hospice-trained carers who've been lashed by the rich widow's sharp tongue. Her irritation at the nurse's scrupulous hygiene gives an idea of what drove off the others.
Carolyn's got cancer. They've tried all the treatments and the doctors gave her six months to live—but that was two years ago. She is fed up of waiting; with the prospect ahead, life is not worth living. She wants to end it, but how? She's not very good at this if what she tries while Veronika answers the door to take a delivery is anything to go by. Will Veronika help her? When she's out cooking breakfast, Carolyn rings her lawyer instructing a will change giving her wealth, the house—the lot—to Veronika. Some bribe! Will it work?
Veronika claims no attachment to Carolyn but, despite what she says, she does seem to care and surely God wouldn't punish her for ending someone's pain, but what about Carolyn? For Carolyn, God doesn't come into it but Veronika doesn't want to send a sinner to her end; she must first accept her salvation.
Carolyn claims a life devoid of joy, says she's always been a selfish monster, but now she is tired of destroying. Perhaps she is not really so awful and, as Veronika speaks of her hard life, she seem supportive. Then the nurse reveals something Carolyn can't handle. She isn't quite what she seems: Veronika is a trannie.
Lizan Mitchell (who created the role in the US première) is a fierce and tough Carolyn, fast-talking and quick-witted. Carolyn's husband always said she looked like Eartha Kitt. Indeed you can see the resemblance and she also has Kitt's snarling fire. As the nurse in control of her patient, Kim Tatum doesn't quite inhabit Veronika, her delivery a little inhibited, but, as she reveals more of herself, her strong but gentle performance makes a good match and is moving in its own intensity.
Rebecca Atkinson-Lord's direction shapes the pace as the plot twists and allows no lapse of attention while preserving a delicate balance between humour and the seriousness underlying the argument, which is further compounded by Kim Tatum's casting. She is also the cabaret artist Mzz Kimberley and London playgoers may have seen her last year at the Theatre Royal Stratford East in Rikkie Beadle-Blair's Summer in London using that name.
Reviewer: Howard Loxton