Dessa Rose
Book and lyrics by Lynn Ahrens, music by Stephen Flaherty, based on the novel by Sherley Anne Williams
Arion Productions Ltd
Trafalgar Studios (Studio 2)
–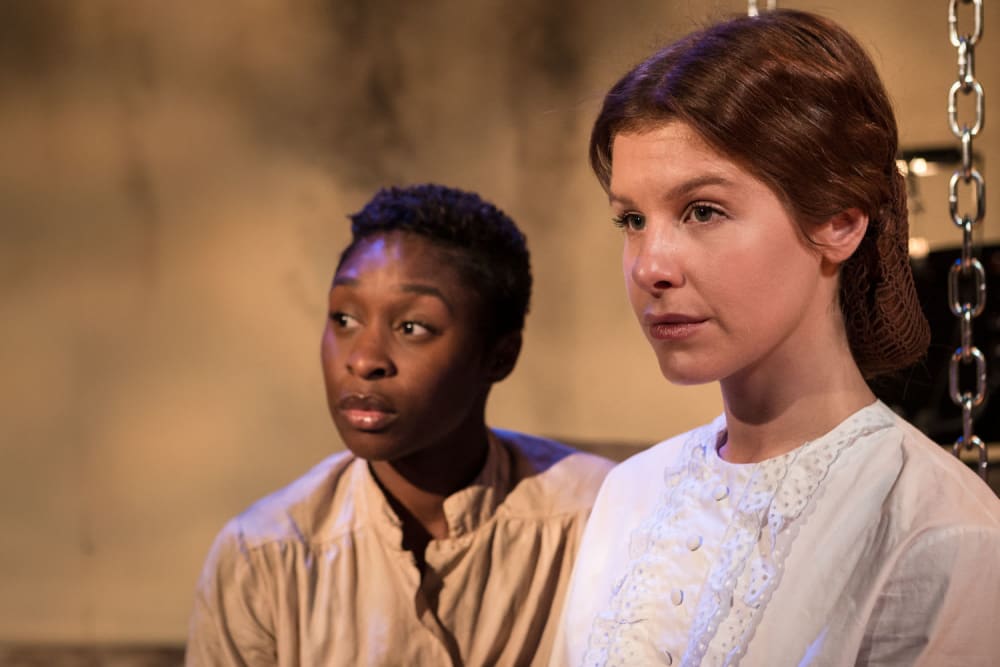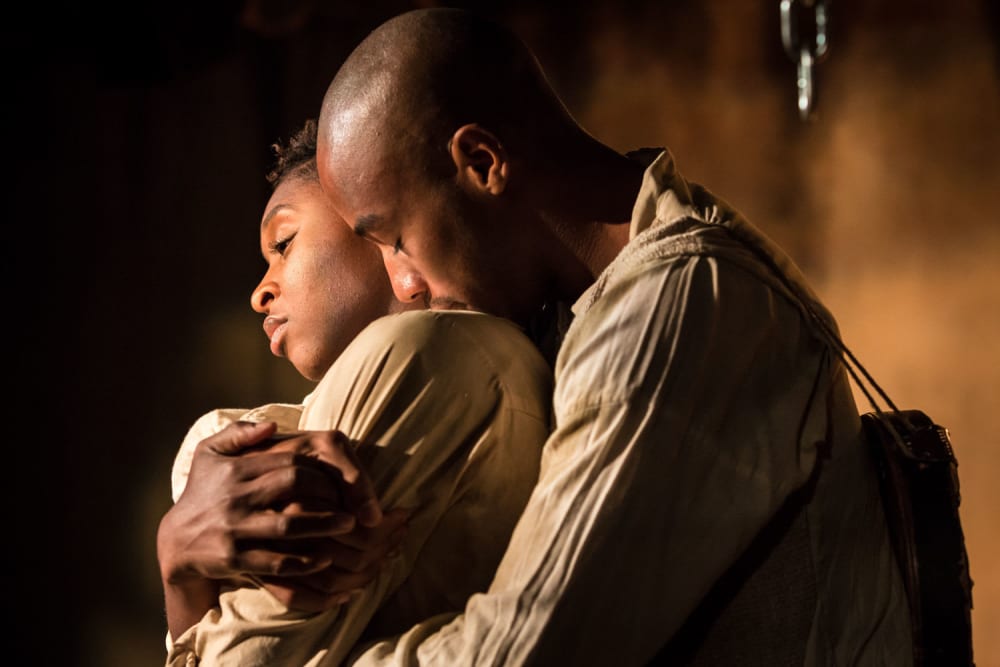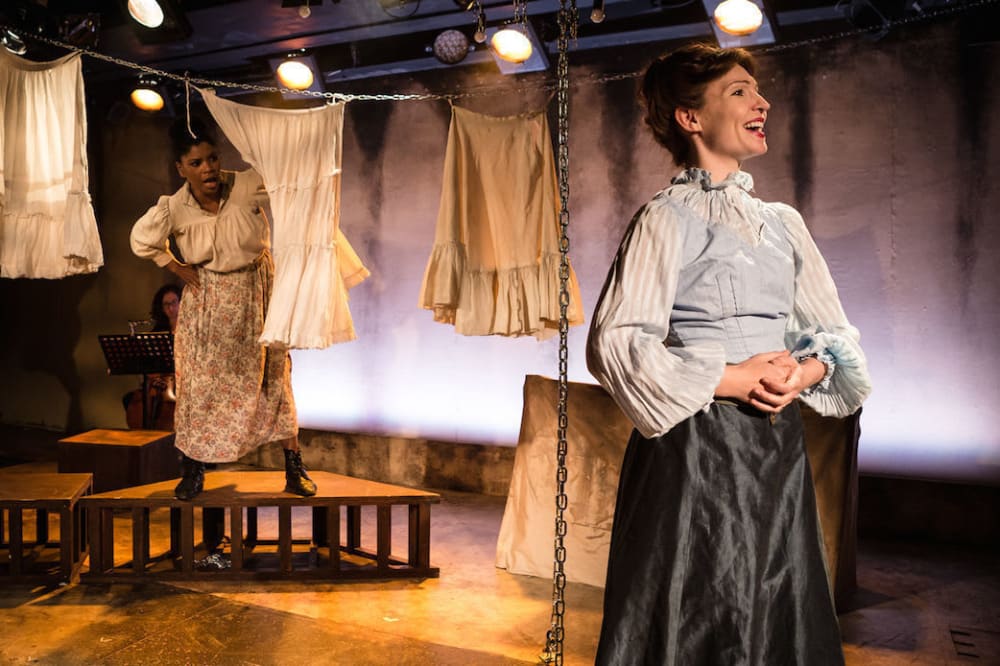 Drawing partly on real histories, poet Sherley Anne Williams's first novel combined the stories of a runaway slave girl and a white farmer owner deserted by her husband in the Antebellum Southern States.
Ahrens and Flaherty, creators of Broadway triumph Ragtime among other successes, turned it into a musical that premièred at Lincoln Centre in 2005. This is its British première in a very intimate staging where the splendid quartet who form the band are set on stage and between the audience. It is an up-close and emotion packed experience.
The two women narrate their own stories with a series of flashbacks to those times and it is all framed by a percussion-driven number, "We are Descended", in which the whole company looks back at their history with the beat passing from one person's drum to the next.
Back in 1847, fifteen-year-old Dessa is in love with handsome banjo-playing Kaine, a fellow slave on Master Steele's plantation, but Kaine is murdered and pregnant Dessa is sold on.
Jumping forward, Dessa is in gaol for killing a white man in a rebellion, waiting for her baby to be born before they hang her. She tells her story to writer Adam Nehemiah but tricks him to escape with two comrades.
They find their way to the Suttons' isolated farm where runaway slaves have been finding work and refuge and a plot is hatched which will take them to the North.
It is a dense and complicated story, fragmented in its telling and hard to follow precisely, especially when played too quietly and unprojected to reach audiences behind the speaker in this thrust stage presentation. Cynthia Erivo as Dessa Rose is one of those at fault but this does not prevent it from being a touchingly moving performance. Her Dessa is utterly delightful, especially when matched with Fela Lufadeju's charming Kaine. She captures the girl's resilience despite her suffering.
Cassidy Janson's Ruth is another touchingly felt performance with a strange quirk to her voice that matches the oddness of her situation. The tears may run down her face but it is her realisation when Dessa demands to know the real name of the black Mammy who brought her up so that, "I never knew one thing about the person I loved most in the world", that says most about white attitudes to colour and class.
They are exemplified again in Cameron Leigh's performance as her mother: the almost caricatured Southern lady, seen as others saw her.
John Robyns's writer Adam also plays a layer of Southern restraint over his attraction to Dessa and his rage and frustration after she tricks John Addison, and Alexander Evans double several white roles, none of them nice guys, and Miquel Brown, Abiona Omonua and Gabriel Mokake several black ones, all making a strong contribution to the choral forces in numbers that are influenced by spirituals, blues and perhaps by Stephen Foster. But the most powerful presence is often Edward Baruwa as Nathan, who becomes Ruth's black lover, a performance of stature in every sense.
Dessa Rosa has a demanding score calling on resources of woodwind, strings and keyboard somewhat atypically. There are moments when it is sometimes unclear whether the harsh high register is intended for effect or a sign of its difficulty, but they are balanced by richness sonorities and moving songs.
Ahrens's book has tried to cram in as much as possible of the novel and the result is too compacted. Both the story-telling and the development of relationships between the characters would benefit from character, but that would be at the cost of a much longer evening and it still remains a powerful story deftly fitted into this studio space in Andrew Keates's fast paced production.
Reviewer: Howard Loxton