Don Juan
Molière, in a new translation by Neil Bartlett
Lyric, Hammersmith
(2004)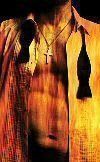 After ten years at the helm, this production marks the departure of Neil Bartlett from the Lyric Hammersmith. His final effort is very much his own, as not only is he translator but director and designer too.
Bartlett sets this version in indeterminate but modern times. The dress varies from Victorian to present day and the luxurious hotel is timeless but the language, especially Sganarelle's, is generally up to date.
The title of the play may be Don Juan but his manservant Sganarelle is arguably the finer character and part. Indeed, the playwright took it almost 350 years ago.
Paul Ritter has great fun as a rather camp, irreverent helper who turns a blind eye to his master's wrongdoings but also acts as his conscience. Somebody needs to. As a reward, he gets all of the best lines.
The womanising is shown only in a couple of scenes, first as the posturing James Wilby's Don Juan delineates his philosophy of philandering and then as he toys with two maids simultaneously. This is easy enough for a golden-haired pleasure seeker who finds "breaking a promise as natural as breathing".
His family suffers. His wife Dona Elvira, tempted into marriage from a nunnery, despairs and prays for him while his stern father, played by Giles Havergal looking like a statesman in a Vanity Fair cartoon, is almost speechless in his denunciations.
Eventually, it is the combination of a walking statue and heart-stopping nightmares that bring this heartless and rather sad atheist to his knees.
The play could be seen as an object lesson to young men who are proud to be known as "a Don Juan". All that this title brought to its originator was momentary joy and eternal misery.
Neil Bartlett signs off with something that looks good but seems overly stylised. In particular, James Wilby's anti-hero doesn't seem to be able to take himself seriously. As a result he comes across as neither wicked nor sympathetic and only shines in a single, very funny scene with a hapless creditor.
Reviewer: Philip Fisher