Dora
Based on Dora the Storer by Helen East
Unicorn Theatre
–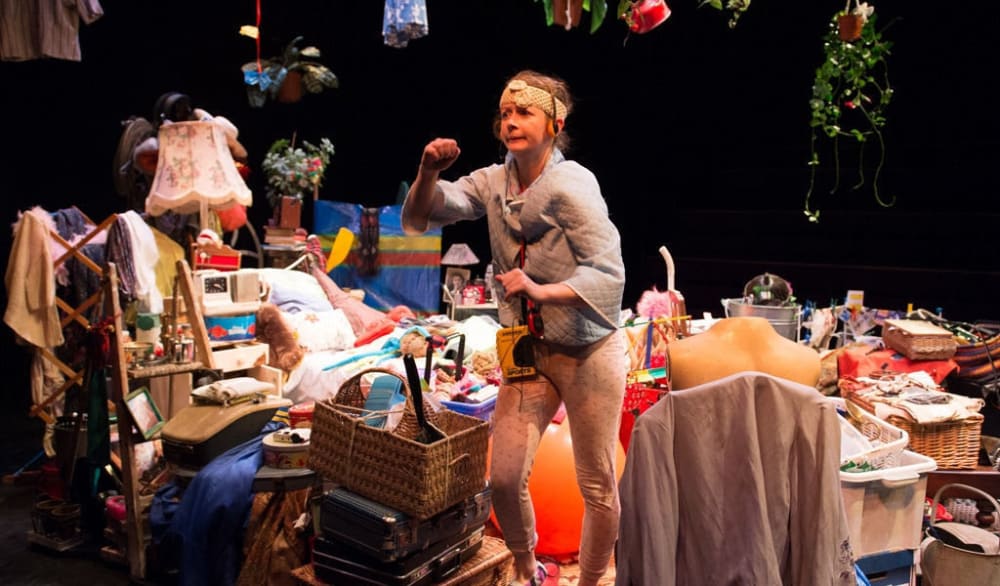 Dora is a storer, a hoarder. You could say she is in sore need of a declutter.
There is a bed in the centre of the stage when this fifty-minute play for the over-fours begins. It's surrounded by things that fill her room from the front door right through to the bathroom and on top of the bed.
There is no sign of Dora but when the audience are all settled you can hear something like snoring—is someone asleep there? Maybe it isn't a snore, for when a hand appears from under the bedclothes and switches off something it stops. Perhaps it was just the water bubbling that made the tea that is now poured from a pot.
It's only now an alarm goes off and Dora properly wakes up instead of just doing things on automatic. So she gets ready for the day. In what may just seem a pile of rubbish, she appears to know exactly where everything is and a system of calendar, diary and Post It notes seems to be her way of keeping her life in order.
She waters the flowers that hang over her head (along with a frock, a kite, and a road sign saying "Merston 5 miles - A149"). There is a dusty cobweb on the road sign; her feather duster won't reach it so she ties it onto her hockey stick. She may be untidy but she is certainly resourceful. She collects the mail from her doormat; finds a gardening magazine among it and in that an article she wants to cut out and keep, adding it to a big collection of clippings.
We follow Dora through her daily activities, getting dressed, going out, until some of the objects fall down from the ceiling along with a flyer announcing a jumble sale, and that sparks off the idea that she ought to donate something too it. As she tries to decide what to take, we hear the sounds of the memories that each object holds for her.
Having started to clear some of her possessions it becomes an obsession. Everything—well almost everything, she leaves herself the bed to sleep in and a chair -- but the rest is all carted off with an amazing facility to move masses.
That clearout has been traumatic. Dora doesn't have a coat anymore; she uses her duvet to keep off the rain as she thinks about going to the jumble sale herself to buy things and the audience are all invited to go to the jumble sale too.
It is performed by Hannah Boyde with very few words but immaculate timing directed by Purni Morell, Unicorn's Artistic Director, with design by Verity Quinn who has constructed a complex shelf system in a corridor decked with bunting to show off all the jumble sale items (and a crazily angled set of shelves to leave what you bring for the jumble sale out in the theatre foyer) and it is carefully it by Phil Clarke.
It is simple and straightforward but its oddity is engaging and the young audience I saw it with seemed to love it. I hope they all went home with something they wanted.
Audiences are asked to bring something for the jumble sale and in return choose something someone else has brought to take home with them. Anything left at the end of the run will be given to charity.
Reviewer: Howard Loxton