Dusty
Chris Cowey, Madpan Entertainments Ltd and Kim Weild with dramaturg Jack Bradley
Five Foot 2 Blonde Ltd and Darren P DeVerna
Charing Cross Theatre
–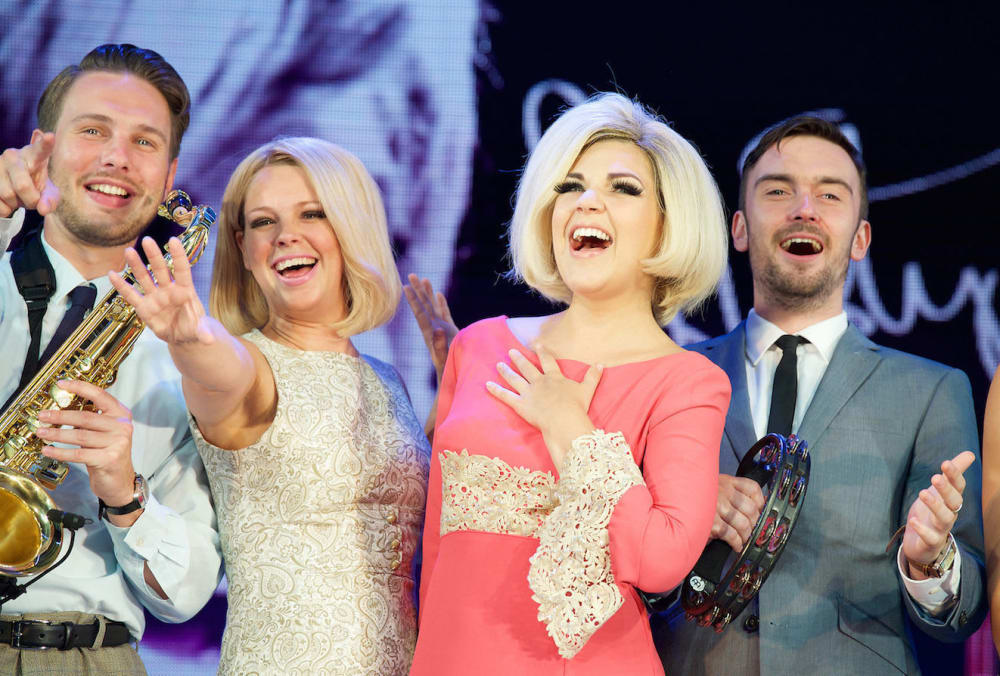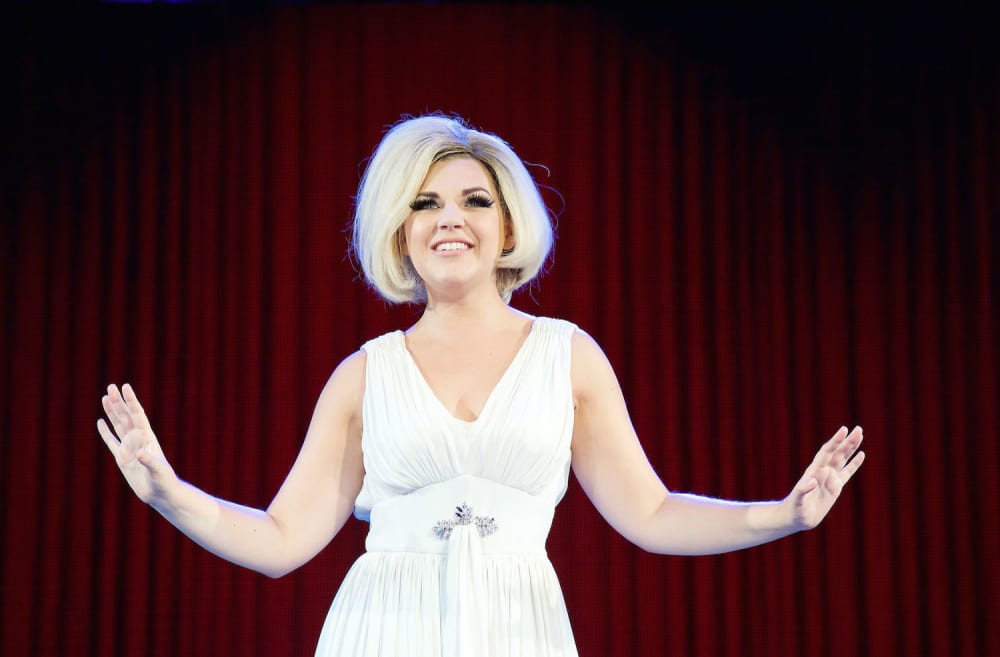 Originally due to preview in May and open early in June, this new musical's press night was delayed due to "technical problems". Now after further postponements resulting in more than three months of previews, it has at last officially opened with a largely different cast (including a new leading lady), and a new team of creatives.
This isn't the first musical about Dusty Springfield but with so much preparation surely it should be the best but sadly, despite the glitter of some of the costumes, it lacks lustre.
Like the Sinatra production still running at the London Palladium, it is a jukebox biographical musical that mixes film and television clips with live action. It is on a much smaller scale than that lavishly mounted show but a more intimate theatre and a simpler production can offer advantages, giving more direct audience contact, and this show also has the advantage of some full-colour holograms of the much-loved singer which bring her on stage like a ghost to replace live performer Alison Arnopp in some numbers.
Framed as an interview between journalist Dave Dean (Harvey Robinson) and Nancy Jones (Francesca Jackson), a childhood friend who remained part of her life, it is a very potted biography that follows her career from West Hampstead through theatres, television shows and recording studios to the making of her album Dusty in Memphis.
Though it ignores her later life, it gives a glimpse of her somewhat dysfunctional family, hints at her frustration and loneliness, suggests the perfectionism in search of a sound that had her recording in a lavatory and makes a nod in the direction of her lesbian involvements: there is a brief duet with the song-writer Norma Tanega (Sienna Sebek) who for a time brought her happiness.
This is the kind of outline of her life you could pick up from any reference book. There is no sign of any real research or an attempt to dig deeper. It is the songs' black and white clips from her BBC series and shows on US and Australian television that are the core of the show, looking surprisingly good compared with most tapes made before digital recording, and it is they that get the most enthusiastic reception from the middle-aged fans in the audience.
It is asking a lot of any performer to put them on stage next to the iconic person they are playing. Alison Arnopp isn't a look-alike and doesn't imitate Dusty's voice but delivers the numbers she sings with her own confidence.
The rest of the cast flank Dusty's video image in dance gyrations and the live stand-in isn't supposed to compete while the thin book gives her little chance to develop any real character and she is not helped by her wigs, though she is adept at putting them on without a mirror. Nevertheless they are much better that what some of the cast have to put up with. Perhaps they are supposed to be funny.
Jackson as Nancy (who I presume is fictional) gives her a lively personality: she doesn't have to deal with real-life comparisons. There is real sparkle in Witney White's Martha Reeves and a lovely piece of theatre when the two Vandellas make Dusty a replacement in their backing group mirroring the way that she is turned into one of the Lana sisters earlier in her story.
Phil Lindley's set of simple side stairways leading to a band platform forms a frame for sliding video screens that sometimes carry scenic images and can create interior spaces while a gauze front cloth is intended to mask some technological set ups. It moves smoothly—whatever the original technical problems they seem to have been sorted. What hasn't been solved is making this into a show worth all the effort, enthusiasm and energy that producers and cast have put into it.
It feels too much like a tight-budget TV documentary on a minor channel to match the expectations raised by its hype, but for devoted Dusty fans that may be enough. After all, it has run for three months already.
Reviewer: Howard Loxton