Fair Em
Sometimes attributed to William Shakespeare, adapted by Phil Willmott
Claire Evans in association with Steam Industry
Union Theatre
–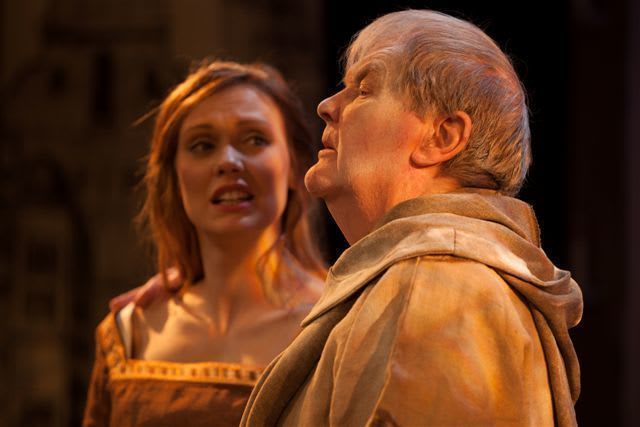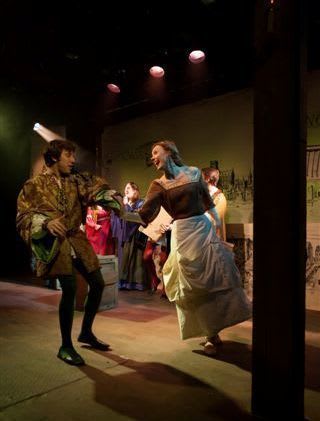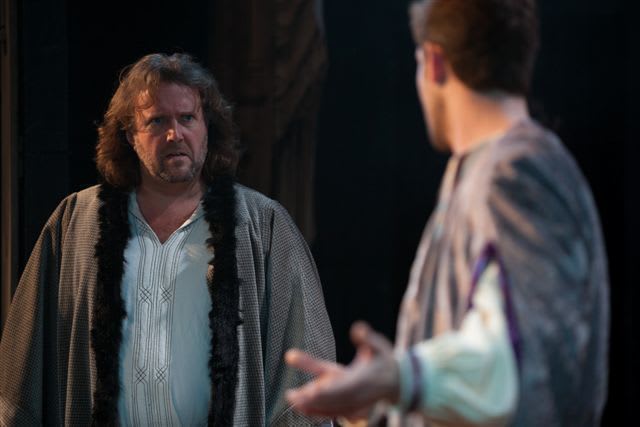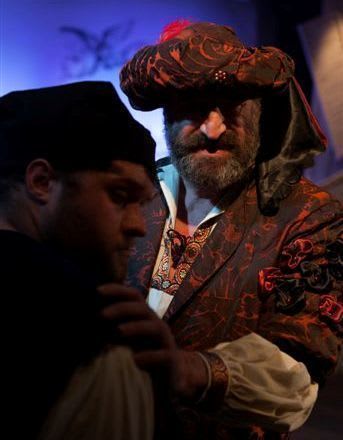 Fair Em, the Miller's Daughter of Manchester, is a comedy that Charles II's librarian had bound, together with Mucedorus and The Merry Devil of Edmonton, in a volume labelled "Shakespeare. Vol. I".
It was probably written around 1590 but it seems fairly unlikely that it has any connection with Shakespeare, though a place in the Shakespeare Apocrypha is a useful hook on which to hang marketing and, of course, there is no way to disprove it.
Director and adapter Phil Willmott is under no illusions about its authorship but that attribution was what first made him take a look at it. This seems to be very much his version, though the script that serves as the programme has no indication of what his cuts and additions are and it is played with an opening that is not in this text. However, the production is presented as an entertainment, not as an academic exercise, and my response is to what I saw, not to the texts of the two quarto editions that were published in the first half of the seventeenth century.
The play is set just after William of Normandy has conquered England and consists of two stories that are barely related until the final denouement. One is the tale of Fair Em, the daughter of Sir Thomas Goddard, who, with her father, flees disguised as a miller and his daughter, even as the Conqueror and his forces are banging on their door.
The other story is of King William's attraction to the woman painted upon the shield of the Danish ambassador. He is told that it is the Princess Blanch, daughter of the Danish King, and promptly determines that he is going to marry her. He sets off for Denmark to find his bride, travelling incognito as Sir Robert of Windsor. Denmark and Blanch are more than willing to conclude the match, but she is not quite the beauty he expects. Instead, William falls for Marianna, a Swedish princess, who is a prisoner of the Danes and already in love with the ambassador, the Marquis of Lubeck.
It is not history of course. William was already married to Matilda of Flanders (and that's another story of violence and an ambassador lover). The Elizabethans weren't worried about historical accuracy or anachronisms. The windmill that forms part of the set is justified by its sails being mentioned in the text, though at this date it would have been driven by water.
It makes perfect sense therefore that designer Philip Lindley costumes it in a sort of medievebethan that feels more panto Dick Whittington than Norman and provides a setting based upon Hollar's view of London with flickering candle lights behind the wings to suggest an early indoor playhouse. There are nice touches like the Conqueror's blood-splashed tunic and a cut-out boat that sails along the river to take William off to Denmark.
The plot has some of the silliness of a Savoy Opera, though no sign of Gilbert's satirical bite, and director Willmott has decked it out with period folk songs and a capella backing to some scenes, including a lively round for lowly country girl Em's aristocratic suitors as they lay down gifts with which they hope to win her over and cast away those of their rivals. There is a stately dance at the Danish court with formal change of partners, but Princess Blanch keeps cutting in to remain King William's partner. He tries to cut out Lubeck and dance with Mariana, which ends up in fisticuffs and chaos.
However farcical the action, the actors stay straight-faced and earnest (even when Robert Donald as aging mill hand Trotter gets one of the front row to hold his full chamber pot).
Some of the verse hints at medieval drama's rhymes and it gets spoken clearly and naturally with an intelligent approach, even if some of the characters are not themselves too bright. The style may verge on coarse acting but the actors give it an integrity and energy that has a panto quality without the "he's behind you" interaction. It opened after Twelfth Night, but then Elizabethan Christmases went on longer.
James Horne makes Sir Thomas a kindly, comfortable fellow, not at all put out at doing without his "former pomp" and Caroline Haines makes a charming Em despite having to pretend to be both deaf and blind as a way of ridding herself of unwanted suitors—though this trick goes wrong and she loses the one she though she really wanted.
Jack Taylor's King William charges around like a bull in a china shop and the Danish court, which sounds as though it is based in Essex, has Gordon Winter's blunt King and a delightfully boisterous Madeline Gould trying to make her Blanch look unattractive. As Mariana and her lover Lubeck Alys Metcalf and Tom Gordon-Gill have some moments of pathos, but not enough to interrupt the romping. David Ellis gives a nasty edge to the Em's beloved, Tom McCarron as her suitor Lord Mountney and Robert Welling as Lord Welling who finally gets her and there is strong input from the rest of the cast who are sometimes more comic than tuneful.
At least this follows some real Shakespeare in having a contrived ending where you wonder whether the final pairings could really achieve the happiness that its resolution appears to promise.
Reviewer: Howard Loxton