Falstaff
Giuseppe Verdi
Staatsoper, Under den Linden, Berlin
Released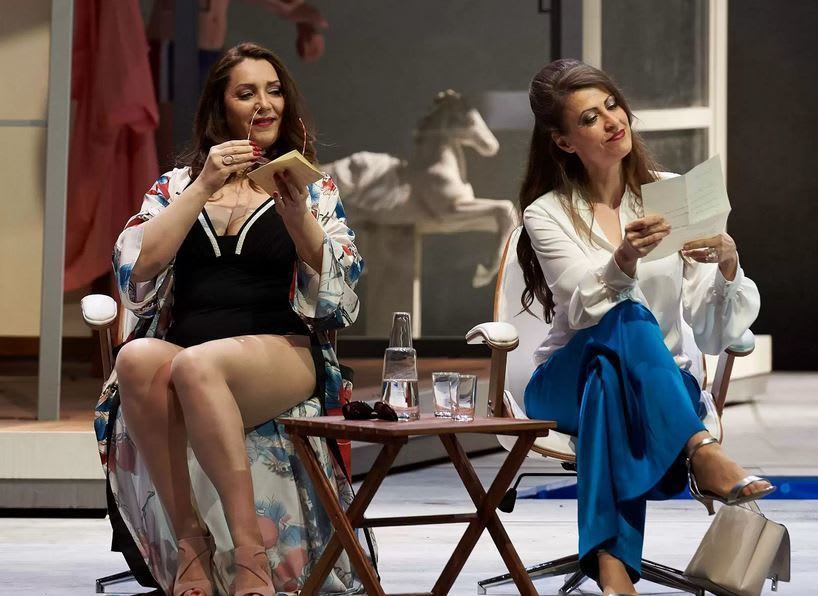 The fat knight is knightly no more, and, all those capons and sack notwithstanding, he's slimmed down a lot since I last saw him.
For this is not quite the Falstaff we know. He's living among some low-life toughs, frequenting what seems to be a pop-up tavern in a graffiti-daubed yard in a decidedly seedy part of town. It's quite a contrast with the nouveau-riche home of Alicia Ford nearby, where servants pander to guests idling around the pool.
Director Mario Martone sees some modern metaphor here for the haves and have-nots, or maybe the haves and used-to-haves. For one wonders how these two worlds intersect. If one didn't know better, it might be supposed that our eponymous hero, in leather jacket and 1970s sideburns, is an aging rock star whose former glory still opens doors.
Baritone Michael Volle, best known for his appearances in Wagner and Strauss, eats up the comic role with relish, his face a moving picture of emotions—amusement, anger, braggadocio. There is an unmistakable tone of bitterness, not simply cynical stoicism, as he declaims about the vacuity of honour, sacrificing smooth legato for maximum dramatic effect, as he stretches and pummels his lines with the masterly timing and delivery of a stand-up comedian.
There is an intriguing interplay with Daniela Barcellona's Mistress Quickly, with whom, as the tattoo on her bosom makes clear, he has previously been intimately acquainted.
It's a nice touch, for only a man of boundless vanity could imagine a former amour arranging assignations with two new ones, and that a few nose clippings, a silk shirt and gold chain will set him up for the job. And she clearly still has a soft spot for the old rogue, despite seeing him for the fool that he is.
Barcellona, like all the female characters, can run rings around the menfolk, and with her mellow mezzo tones comes close to stealing the show. Alfredo Daza as Ford is another star, delivering his great soliloquy E sogno? O realta? of jealous rage with blazing intensity and a voice to match. This is a comedy, but I was reminded of Verdi's Otello.
Meanwhile, a la casa Ford, Fenton has been thrown fully-clothed into the pool, which is more than the sweet-toned Francesco Demuro deserves.
It's not an opera of great arias, rather of wonderful constantly evolving melodic phrases that fly by—such as Puccini would flog for an entire scene. Barbara Frittoli's Alice Ford excels in her brief, rather Mozartian act 3 arioso, and there is the rare sight of a singer actually playing her on-stage instrument when she shows her skills as a professional guitarist in act 2.
Other vocal performances are rather restrained—perhaps in bourgeois Fordland, anything else would upset the neighbours, but Nadine Sierra's bikini-clad Nanette shows a lovely top (careful, lad) in her final aria as she floats on Sul fil d'un soffio etesio as if riding a zephyr from fairyland.
Having watched that midnight scene many times, whether in the Verdi or Shakespeare's Merry Wives of Windsor, I've seldom seen it successfully manage the difficult jump from broad domestic comedy into fantasy. Nor does Martone find a more satisfactory solution than most.
Designer Margherita Palli transfers the setting from Windsor Park to what appears to be a disused factory or power-station, inhabited by copulating couples and triples of variable gender, a context change that transforms the finale from one of silly, naughty flirtation into something rather nastier.
The choreograph here lacks invention, and the gaiety and warmth of its closing lines, Tutto nel mondo e burla, "The world is just a joke", acquire a more sinister undertone.
Daniel Barenboim maintains the clarity of Verdi's brilliant light orchestration, and keeps reasonable order in those passages of deliberate cacophony when male and female voices are singing in different time signatures.
Reviewer: Colin Davison