Doctor Faustus
Christopher Marlowe
Shakespeare's Globe
(2011)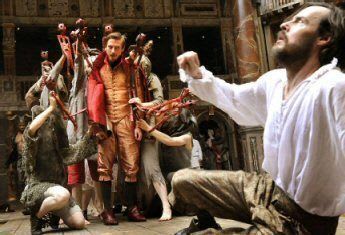 The story underlying Christopher Marlowe's timeless morality tale is known to all. It tells of Doctor Faustus, a scholar who is seduced into selling his soul to the Devil in return for a good time.
In Marlowe's version, Faustus gets 24 years of heavenless bliss from scary Mephistopheles before reluctantly succumbing to eternal damnation.
We have all been there but generally on a smaller scale. Who can resist the joy promised by one more drink/cigarette/chocolate/turn of the card - or whatever else turns on the average man or woman? However, for most modern citizens, the downside is no worse than a sore head, empty pocket, embarrassment or a cough.
This production rewards a little patience. Despite an excellent, live soundscape and some interesting images, especially of warring angels, the early stages as the story is set up can drag a little.
Paul Hilton turns the Doctor into a wacky academic, who is merely mildly eccentric until he conjures up an otherworldly visitor heralded by the recurring motif of a Georgia O'Keeffe ram's skull. His guest, with whom Faustus gradually builds an unexpected bond as they go on the razzle, takes the form of Arthur Darvill's Mephistopheles, a messenger from Lucifer himself.
The devil's right hand man arrives with an offer that sounds too good to be true and, in the popular maxim, if it seems too good to be true, it probably is.
Faustus is enticed by the idea of having his every wish come true for 24 long years. Wine, women and song are merely the start. The longer-term consequences don't figure in his calculations for a generation.
The play really moves up a gear as life becomes fun, for the protagonist but also everyone watching. The duo's episodic adventures are related with great good humour and liberal use of puppets of all sizes.
To add to the picture, Faustus' enjoyments are mirrored by hapless Robin, played with gusto by Pearce Quigley. Where the rich man has fun at the expense of popes and princes, poor Robin must make do with tavern keepers and the like but is still a riot.
The hour or so representing the good times is packed with novel visions and allows a number of good character actors to make their mark. The pick is Jonathan Cullen, glorious as both Gluttony in a fiendish montage of the seven deadly sins and the literally downtrodden Pope Bruno. Nigel Cooke is almost his equal in a number of cameos, equally effective as patrician and plebeian.
The ending is inevitable but still poignant and tops off an evening that starts slowly but which, by the end of its 2¾ hours, should win over its audience on a nightly basis.
Reviewer: Philip Fisher