Water
Filter and David Farr
A Filter Production in association with Lyric Hammersmith and Warwick Arts Centre
Tricycle Theatre, Kilburn
(2011)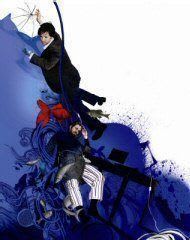 To say that climate change is the theatrical flavour of the moment is almost understating the case. Following Greenland, the National's collaborative investigation of the subject, Filter look at it a little more obliquely.
The company's theatrical style is rather like that of Complicite, so that, in McLuhan speak, the medium is the message at least as much as the plotting.
For just under an hour and a half, Water follows the (mis)fortunes of two deeply unhappy Brits whose paths almost cross in Vancouver.
Ferdy Roberts plays Graham Johnson, the kind of depressive who practically has "loser" imprinted on his forehead. He is an environmental officer who spends more time feeling sorry for himself than working. Johnson could hardly be more of a contrast with Victoria Mosley's Claudia Ford. She is the kind of high achiever who works 70 hours a week as a government aide, which plays havoc with her social life.
Graham gets drawn to British Columbia by the death of his estranged father Peter who, at the start of the play 30 years before, lectures us on the risks of global warming. There, for the first time Peter meets his disc jockey half-brother played by Oliver Dimsdale.
These brothers are like chalk and cheese, reflecting the two halves of Peter's life. In England, he had been unhappily married, before he met the love of his life in Canada and settled there. In doing so, the anguished environmentalist was obliged to compromise his deeply held political principles.
Claudia has been living with a cave diver called Joe (Dimsdale again) but her constant neglect eventually drives him away. While she attends a conference in Canada attempting to pull off a global political coup that could save the planet, Joe wants to break records for diving depths. This inevitably means that he is risking his life. Just to add a little spice to this relationship, Claudia discovers that she is pregnant.
While the story-telling holds the attention, it is far from the sensational but that is not really what Filter are about. They are at least as interested in the methods of presentation and happily do the stage equivalent of leaving labels on the outside.
The audience is therefore able to witness their considerable skills, always perfectly choreographed by co-creator/director David Farr and accompanied by music and sound effects created by the three actors and also their onstage Music and Sound Engineer, Tim Phillips.
The stage is set up as a studio with numerous screens and the cast whip us through a series of short scenes, often involving a character and an unseen other - interviewer, hotel telephonist etc., every one of whom is vocalised by the versatile trio.
The effects can be intoxicating, none more so than a beautiful final image as we witness a low-budget dive into a fish-filled aquarium.
Playing until 5 March
Kevin Catchpole reviewed this production on tour in Salisbury
Reviewer: Philip Fisher