Flight Paths
Glen Neath
Extant, Yellow Earth and Upswing
Stratford Circus
–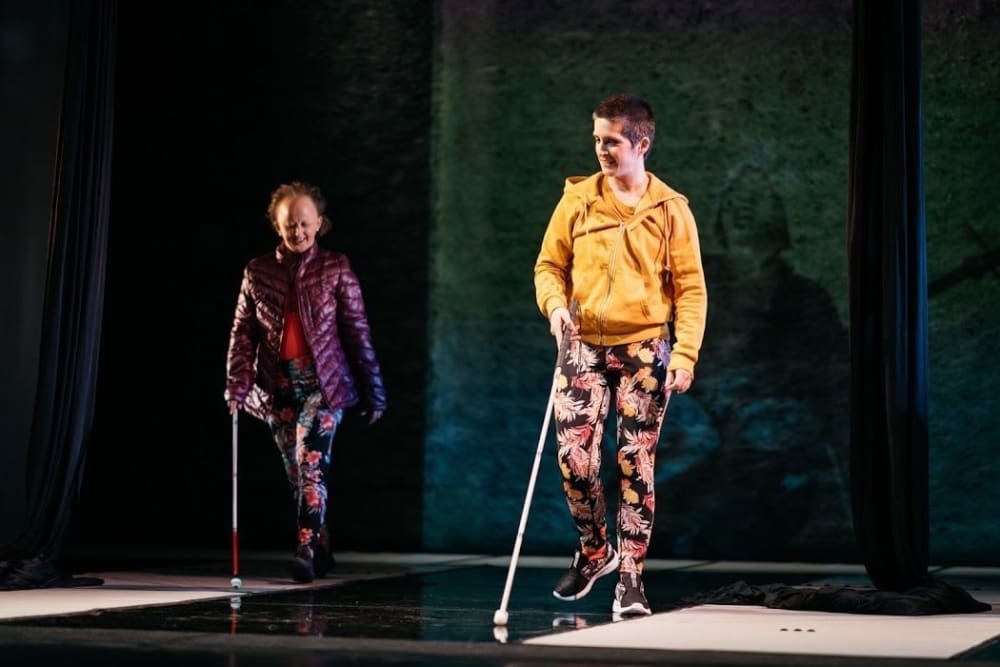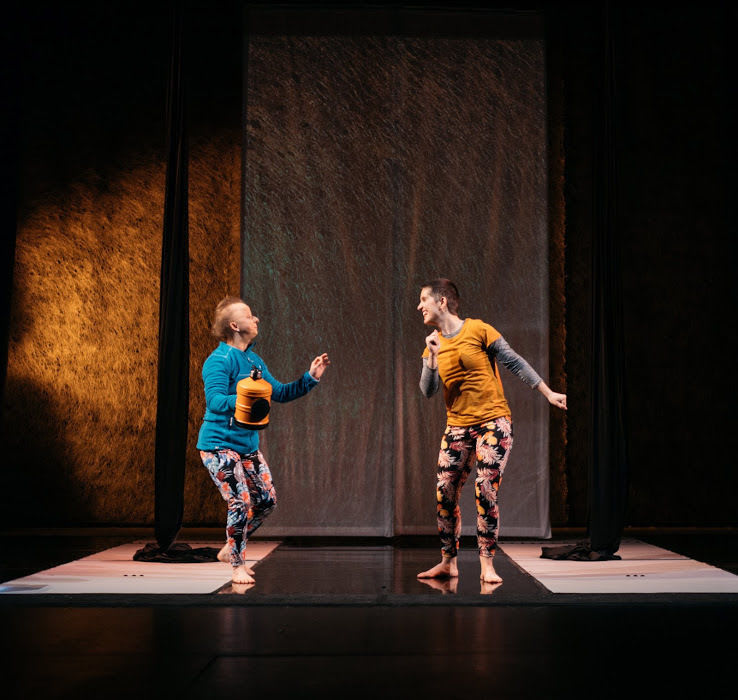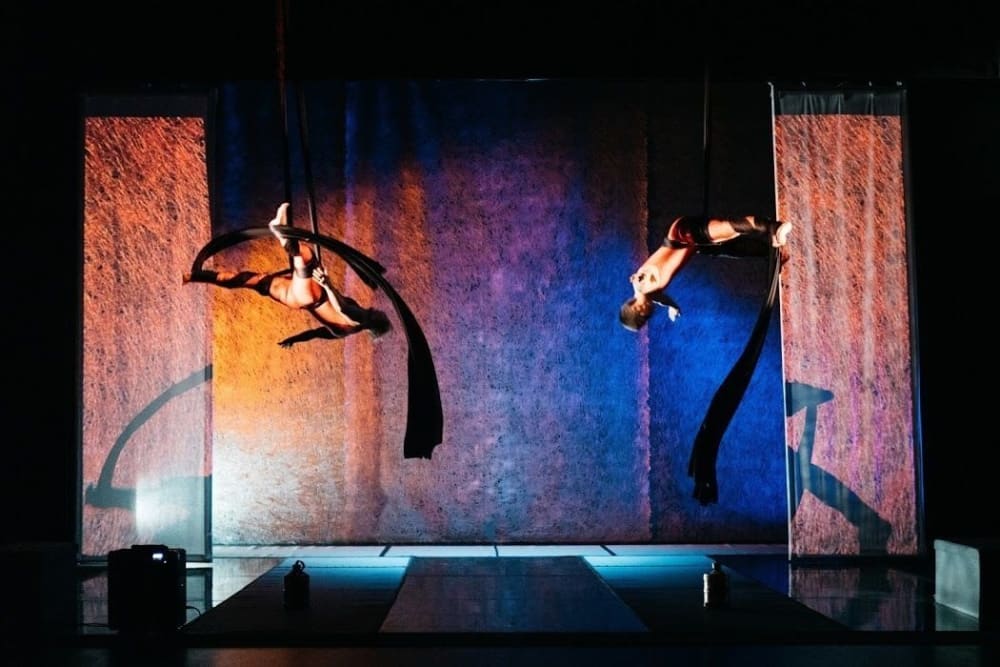 This is a very special production, inspired by the medieval Biwa Hōshi and later Goze performers of Japan and created with blind audiences especially in mind, but it is a multi-media presentation, elegantly designed and with plenty to look at, including circus lisse work.
It is a mixture of storytelling, circus class, music and performance for which writer Glen Neath draws on the experiences of an international group of performers and creatives including co-directors Maria Oshodi of Extant (a company made up of the visually impaired) and Kumiko Mendl of Yellow Earth Theatre and circus movement director Victoria Amedume.
The Biwa Hōshi were male shamans, musicians and storytellers, often blind, who played the biwa, a short-necked lute (and later the shamisen) touring the country as entertainers and recounting epic stories, especially the Tale of Heike, the story of a war between two powerful clans. The Goze, who came later and continued until modern times, were blind women musicians and storytellers who might travel from place to place or be part of a group in a city.
Flight Path's performers are in a way their successors and present themselves in a Japanese inspired setting designed by Becky Minto. There are hangings at the back of the stage like the noren that mark Japanese doorways, they move apart later and become screens for projections, the floor is laid out with rugs to suggest traditional tatami matting with black silk lisse cords hanging above them on which aerial acrobatics are performed.
The performers are American blind actress, aerialist and burlesque performer Amelia Cavallo and partially sighted (and legally blind) Australian former Paralympian Sarah Houbolt, now a circus and physical theatre performer, who are seen live. Blind Japanese musician Takashi Kikuchi, playing the viola, and blind soprano Victoria Oruwari appear on video and the voice of Japanese actress Megumi Kubota is also heard.
In eleven "lessons", a look back to Japanese story-telling culture is combined with the performers own history, including the struggle to get work permits and visas, and instruction in how to secure oneself on the lisse silks and to do a safe drop fall.
The mixture of media, with music a richly emotional element, the live performers' strong connection with the audience and their confident use of space make it all very watchable. For a blind audience, you might expect to have audio description but here it is not needed; though sighted viewers may not be aware of it, it is already an integral part of the script. In addition, and here this production is breaking new ground, is an attempt by audio technologist Tarim to give the blind audience a greater spacial awareness. Instead of a description coming from a stationary sound source, the performers bring in what in the action are used as water bottles but are actually loudspeakers. Manoeuvred through the show, they now offer a method of "spatial tracking" that matches sound source to performer position, adding another layer of aural interest.
For those blind or partially sighted, this aims to offer a richer than usual experience. In doing so, it also gives the whole audience an unusual and entertaining presentation of international talent.
Flight Paths can also be seen on 15 and 16 February at Theatr Clwyd in Mold, 19 and 20 February at Curve Theatre in Leicester, 1 and 2 March at The Albany in London and 5 March at Arena Theatre, Wolverhampton.
The company provides a touch tour before the performance and there are programme notes describing the visual staging on the company's web site.
Reviewer: Howard Loxton