A Free Man of Color
John Guare
Vivian Beaumont Theater, Lincoln Center, New York
(2011)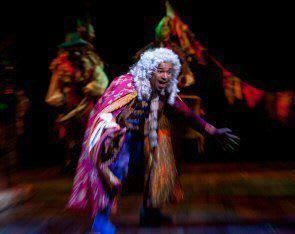 John Guare is best known in London for Six Degrees of Separation, his tale of a charming Black conman, Paul who claimed to be Sidney Poitier's son, which was revived at the Old Vic in 2010.
His latest play is a rambling drama taking us back to Louisiana in 1801 and the earliest days of the Union. It features a cast of 26 in Lincoln Center's spacious Vivian Beaumont Theater and has a protagonist who could almost be Paul's ancestor.
Jacques Cornet is the mulatto (the distinctions matter a lot in this play) son of a playwright, apparently Pierre (Le Cid) Corneille, and a black slave girl who was sold off soon after his birth.
However, young Jacques has made good in New Orleans, a rare cosmopolitan part of Thomas Jefferson's (16) United States. Placed on the frontier of the known world, it took to heart the words inserted into the American Constitution by the Third President himself that all men are made equal allowing racial equality, much to the distaste of some of its visitors.
As a result, by 1801, Jacques has become the wealthiest man in town, hobnobbing with the rich and famous.
Cornet, played with relish by Jeffrey Wright, is a real literary chameleon, which is part of the evening's fun. Guare offers thanks to an eclectic list of 24 individuals, everyone from Ossian to Napoleon and Shakespeare to Barbara Bush.
They have offered him a number of lines and plot themes, with Shakespeare repeatedly mined and evoked. However, perhaps greater influences are Byron and Moliere's Don Juan, Ben Jonson's Volpone and William Wycherley's Country Wife, whose story and name are both brazenly borrowed.
This modernised Prospero is joined in a series of picaresque adventures by his uppity slave Murmur played by rapper/actor Mos (Def as was) and Joseph Marcell as a Doctor cum narrator. The language is fruity and anachronistic and, in part thanks to scenic designer David Rockwell, the pace rarely lets up.
For around 2½ hours, Jeffrey Wright's character balances his need to get into every woman's undergarments with storytelling, rarely letting business or politics get in the way of a conquest.
The historical and political dimensions are never forgotten. New Orleans was a centre for diplomatic intrigue at the time, passing from Spanish to French to American control within a couple of years. Therefore, the story travels, with appearances from Napoleon and the Spanish royals, as well as their American counterparts.
George C. Wolfe, who spent so long at the Public, has done a pretty good job of bringing together this play's disparate strands, although concentration is required by those that are not steeped in American history.
A Free Man of Color may not be perfect but this is a rare piece of drama. John Guare has written a mightily ambitious play in every sense as historical romp meets literary crossword puzzle and the Lincoln Center is to be thanked and congratulated for bringing it to the stage.
Reviewer: Philip Fisher