Funeral Flowers
Emma Dennis-Edwards
Harts Theatre Company x Power Play & The Bunker
The Bunker Theatre
–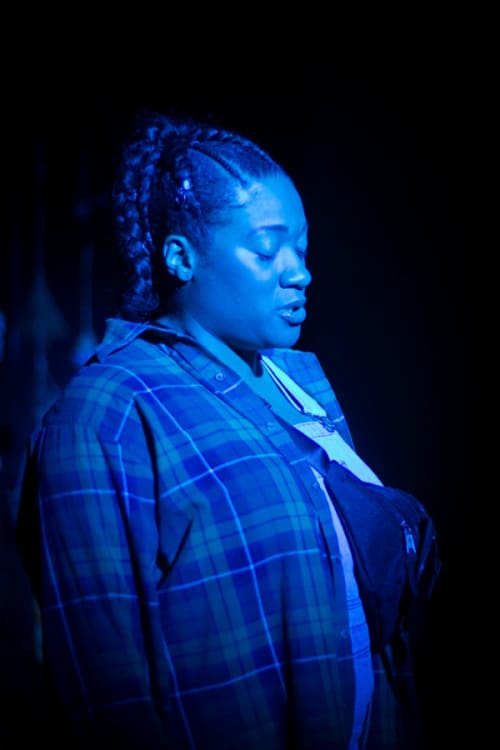 Funeral Flowers takes its name from a disturbing request from Angelique's boyfriend Micky. He tells her that he owes a drug gang leader Rampage a favour which he wants to be paid by Angelique agreeing to a sexual encounter with Rampage. If she doesn't agree, then he says she might as well prepare his funeral flowers.
In Emma Dennis-Edwards sixty-minute monologue as Angelique, a seventeen-year-old black woman, we hear of the character's deprived background, her mother in prison, an absent father and her kindly foster carer Sam. She speaks to us conversationally, with some humour. Occasionally, she switches to different accents to let us hear what other characters have said.
Flowers hang at the back of the stage and the smell of fresh flowers fills the theatre.
Angelique is on a college floristry course and has been saving considerable amounts of money to open up her own shop. But a late night party with Mickey makes her college life difficult when a video of her goes viral.
Although Angelique is a voice not often given space, her story seems to simply replicate the stereotyped tabloid view of foolish, vulnerable youth being abused by cruel drug gangs while the woolly liberal authorities remain clumsily remote and ineffective.
It is easy to spot the melodramatic direction the play is moving and apart from Angelique all the characters are little more than cartoon sketches, from an account of the drug-addled Mickey to her rather posh sounding middle-class teacher Carol.
The attempt to generate an immersive, more intimate experience adds nothing to the story, but it can be distracting. Most of the seats have been removed so that initially over half the audience are seated on cushions. A group of young women are nominated to arrange flowers in an urn, one woman gets to carry a suitcase across the stage and halfway through the show the entire audience is invited to sit in a circle on the floor of the performance area.
None of this adds to the drama of the play or helps us to understand and support a generation of young people whose lives have been blighted by government cuts.
Reviewer: Keith Mckenna