The Funny Side

The Corner Store, London
(2006)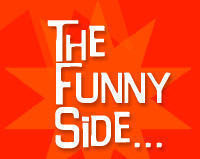 The Funny Side has been playing The Corner Store since April, and judging by the sell-out Friday night crowd this week it is already a firmly established favourite on the London comedy circuit. The venue is perfect for traditional standup - a long, narrow room with a bar at one end and a platform just big enough to for one man standing very still at the other. No space to pace the room or rely on elaborate props or effects here - just a mike and a man who has to be funny.
Friday's acts were varied in style - Robin Ince, a thirty-something Islingtonite bemoaning the teenagers having sex in his back yard, Papa CJ, a first generation Indian on a mission to point out the irony in Indian call centres and British paranoia about immigration ("why worry - we can stay at home and take your jobs"), and a last-minute stand in for Martin Davis, Tommy Campbell, who seduced half the women in the room, oddly, by telling tales of his blow-up bed.
All three acts were slick, polished, and very, very funny. Ince's Islington NIMBY clutching at the last straw of his youth was first up. Ince is perhaps slightly too much in his comfort zone with this act, and you get the feeling that if he tried something with a bit more edge he could be brilliant. That said, the jokes were very funny, Ince himself is hugely likeable and his delivery is flawless. He went down a storm with the Friday night crowd, who had decided by the end of his act that it was going to be a good night.
After Ince's slick and familiar thirty-something observations, Papa CJ introduced an edge to the evening. Recently arrived from India, his main theme was British paranoia about all things foreign, principally Indian. While younger and less experienced than Ince, which showed from time to time in his timing, Papa CJ's material is fresh and up to the minute with a sly sting in the tail. With more experience and confidence, he will go far.
Tommy Campbell arrived as a last-minute stand-in in a cab from Camden. From his laid-back performance, you would have thought he'd just been called out while watching a DVD and popped in to tell us about the trials of life with his live-in girlfriend. Sexy and understated, and relaxed enough to limit his subject matter in the knowledge that his delivery was enough, he had the female half of the audience practically following him out of the door.
This review would not be complete without a mention of Grant Westbrook's compering skills. Westbrook has been with The Funny Side since its opening in April, and judging by his performance on Friday night, must be responsible in large part for its success. In ten minutes flat, he had the crowd laughing, the potential hecklers sussed and sorted and the subdued office party on the front row warmed up and ready to roll with the first act. It is not often that an audience is sorry to see the compere leave the stage, but after ten minutes of Westbrook, we were disappointed to find that he was not, in fact, the first act himself.
The Funny Side is at The Comedy Store on Wednesdays, Fridays and Sundays. You'll need to book in advance for Friday nights, but at £10 for an evening of original, laugh-out-loud comedy, it's more than worth it. Book now in preparation for those January blues.
Every Wednesday, Friday and Sunday
Reviewer: Louise Hill