Gauhar Jaan - The Datia Incident
Tarun Jasani
Mukul and Ghetto Tigers
Omnibus Theatre
–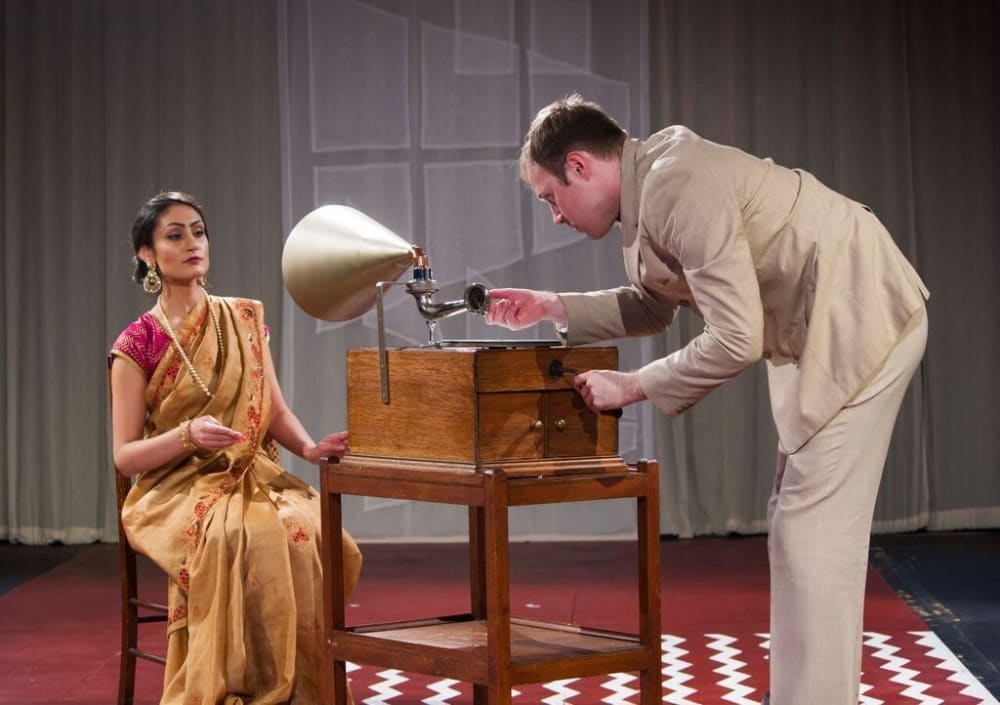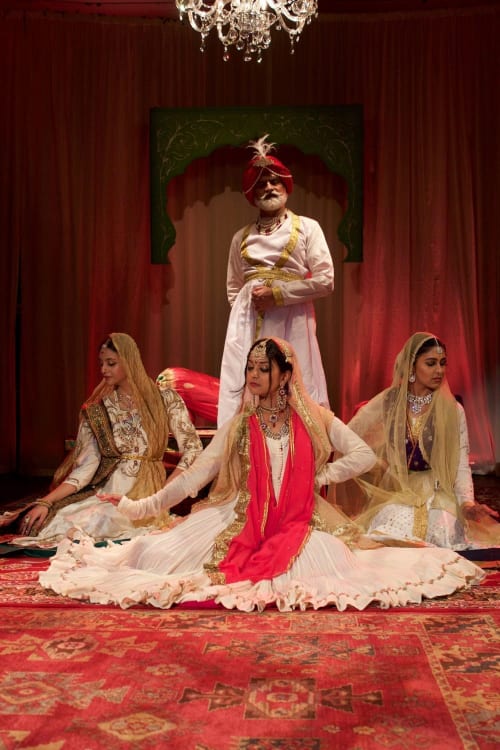 In 1902 The Gramophone Company (founded in 1898) sent engineer Fred Gaisberg to India to make recordings of traditional music and hopes to record the voice of already famous singer and courtesan Gauhar Jaan but there seem to be problems relating to what people are calling "the Datia Incident".
That is the framing device that Tarun Jasani uses to present not one but two versions of a scandalous story that became attached to this famous singer.
The play doesn't make it clear when it happened but the 9th Maharaja of Datia, Bhawani Singh Bahadur was celebrating the circumcision of a son with a concert featuring a host of singers to entertain his guests—the only way (he regretfully announces) that he can demonstrate his power and position now that he can't do it through military victories.
He and his Chamberlain Bakshi Saheb have booked Gauhar Jaan to be one of the singers but they have heard of her arrogance. She is not down for the final top spot in the programme so a confrontation is inevitable and there is a song that she is famous for that is one the Maharajah can't bear to hear.
When Gauhar arrives at the palace, she is certainly arrogant but it turns out there is also a back-story: she is there to avenge the way that the Maharaja's father abused her mother when she was very young. She carries an invisible weapon made up of just seven notes.
Those seven notes are the song that drowned out the cries of the Maharaja when, aged eleven, he was abused by his uncle, his cries for help drowned out by the singer.
As the play continues, dialogue is heard offstage that has been heard already onstage. Now for the other side of the story.
The Maharajah has seemed an old fool. Bakshi Saheb has advised him, "it is better to keep your mouth shut and appear stupid than open it and confirm it." He also recommends a gentle approach: "when you live next to a river, make friends with the crocodiles." The Maharaja does produce a plan: a friendly offer that the singer courtesan can't refuse. But what is he up to?
Jordon Kemp plays Fred Gaisberg, linen-suited and restrained in contrast to the Indians he encounters (Jas Steven Singh as a cleaner, a traveller and a merchant) and even more compared to the opulent court of Datia, though Harmage Singh Kalirai suggests a rather hesitant, insecure Maharaja, only relaxed when puffing on his huqqa. By comparison, Devesh Kishore's Bakshi Saheb is bursting with confidence whether handling Gauhar or managing his ruler. It is a performance that brings out the play's humour.
Although there are dances for other palace courtesans, they are not singers and we never hear Gauhar sing either—but though the Maharaja seems to have silenced her, she did make those recordings, recordings that were to change the music world right across India. That's how the play ends: with Gaisberg putting needle to wax as she is about to begin her first song.
It is a story that makes you want to know more, slyly funny and intriguing and beautifully mounted. It is played in traverse and designer Sophie Jump has created an opulent atmosphere with rich carpets and a grand divan and costumes with an abundance of gold braid and jewels.
Instead of seeing (and hearing) Gauhar making that historic recording, director Mukul Ahmed has had the clever idea of switching to a scratchy piece of filming, a fake documentary that ends up with full show credits. It's a final joke that doesn't work for me for I really would like to hear what Gauhar sounds like.
Reviewer: Howard Loxton