Golf the Musical
Michael Roberts
Ha Comedy Club, West 46th Street, New York
(2011)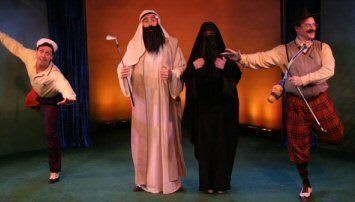 Presumably, if you have got this far, you are a golf addict or, just conceivably, widowed to one. For anyone who is expecting a paean to the Volkswagen or has no interest in having their good walks spoiled, there are a great many other shows that will be far more appealing.
Golf The Musical is a revue-style show with music, book and lyrics by Michael Roberts that spends 1¾ hours gently poking fun at golf and those who delight in trying to perfect their game.
A quartet of performers sing, dance and tell anecdotes connected with the sport. The tone and content are equally light but that will matter little to golfers. Such victims are likely to be so delighted to find their foibles presented on stage by recognisable duffers that they will be telling all of their friends to hurry along to the Ha Comedy Club on West 46th Street to share in the fun.
Much of the humour is of considerable vintage, while the piano music reeks of the old standards. That is part of the formula, which has already proved successful both here and on the West Coast.
There are several highlights to enjoy. The wonderfully named Lyn Philistine uses her glorious voice to bemoan the fate of a golf widow in one of the wittiest songs, My Husband in Playing a Round.
Leading up to the interval Christopher Sutton, who sports a symbolic green jacket and has by far the best of the swings on show, as well as a dry wit and pleasant light singing voice, attacks that poor sap Tiger Woods, using all of the best double entendres.
The other pair, Tom Gamblin and Brian Runbeck, team up for a nostalgic homage to two golfing addicts with a side-line in moviemaking, Bing Crosby and Bob Hope.
The foursome get together to send up Presidents and Golf, making one think that the world and, more particularly, the USA might be better places had one or two global leaders stayed on the course rather than interrupting their golf holidays with trips to the White House.
Under the direction of Christopher Scott, the show does exactly what the punters want. It will give them a few sometimes risqué laughs and increase the urge to get back on the links and play a few rounds in the hope of finally breaking 100/getting into single figures/hitting the ball (delete as appropriate).
Reviewer: Philip Fisher