GoLive Dance and Performance Festival
Curated by Donald Hutera
Giant Olive
Lion and Unicorn Theatre
–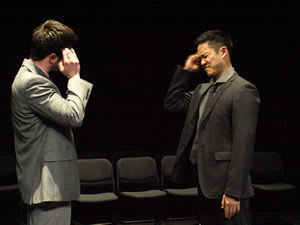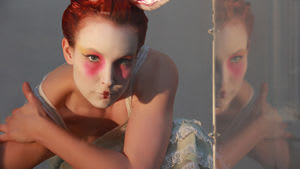 This Kentish Town theatre above an attractive gastro pub is unusual among such venues because it presents dance as well as drama.
It began some years ago with Antonia Francheschi's Pop 8 and work by Ballet Black and now it is well into a three-week season curated by critic and arts writer Donald Hutera, which is presenting more than sixty different dance works, some with more than one performance.
I caught two programmes, both on the same day, of six short works (one of which was in both shows) and two longer ones with a bonus piece of street theatre between the shows.
The first programme began with How to Build a Shelf, created and danced by talented teenager Soopa Noodle. It is a piece about self discovery that perhaps takes its title from one of those flat-pack furniture kits that once unpacked are difficult to assemble. The dancer tries all kinds of limb combinations and contortions and maintains what look like totally unsustainable balances flipping through street-dance gyrations.
It is an amazing piece of whole-body dexterity performed first quite slowly and in silence then, when the piano score by Mark Salona starts, with great fluidity as it takes off into more confident explorations.
This was followed by Me, Myself and I by Elizabeth Peck of Threads Dance Company and musician Sarah Sarbandi. Crouched at the feet of composer and violinist Sarbandi, Peck is like an anguished suppliant, hands like talons stretched to claw her back, self-accusing in isolation to a soundtrack of brief utterances played backwards. When the statue-like musician raises her violin and begins to play, Peck begins to unwind. Erect, her movements uncertainly take on balletic forms, but still marred by tensions.
The third work was a solo by Hayley Barker, an Associate Artist of The Point, Eastleigh. She calls it Womanish and describes it as a work-in-progress that delves into the creative worlds of pioneering 20th century female authors, but for me the relevancies were Lewis Carroll, Beatrix Potter and Alison Utley. With long lop-ears and crimson make-up puckering to a rodent mouth, her rabbit-woman quivered with paw in mouth.
Shyly ruching up her gauzy, lace-trimmed dress, this creature gains a coy girl. Is this really the way Barker sees 20th-century women writers and their creations? T is certainly a very clear and critical image of a particular kind of woman.
After the interval comes Uranus. A near-naked Moreno Solinas enters in near darkness, sheds his briefs, curls his body on a low rostrum, his rear towards us, and begins to sing. But where is the sound coming from? Yes, the title tells you, it skilfully "mouths" each syllable, matching his excellent singing voice too.
The tune sounds familiar. Is it a Neapolitan song or a piece of by Verdi? Tactfully adjusting his position to maintain decency, Solinas adopts an upright posture and, now facing us, take his fingers for a walk, giving the story of an erotic encounter, then bursts into verse.
The audience is encouraged to complete those lines he leaves unfinished and it turns into a safe-sex homily before he advances somewhat menacingly into the audience before ending up cuddled by someone in the back row. Uranus is both witty and challenging and performed with utter confidence.
This programme ends with Marina Collard's Still Going, a piece in which she looks at her relationship with dance and whether it is time to retire. A film which plays throughout pans through sere grey foliage with a faint glimmer of sun on distant trees. After a while the dancer emerges from darkness. She tests her body in dance extensions, unsure and tentative but gradually growing in confidence and that far of hint of sunshine begins to read more as a sunrise than a sunset.
The second programme of the day again began with Noodle's How to Build a Shelf, which on a second viewing was just as impressive. This was followed by Peta Lily performing a condensed version of her 2008 theatre show Invocation in which an actress who has switched to working in a "proper job" explores her experience of corporate life.
Her physical performance, directed by Di Sherlock, supports a text scattered with lines that Shakespeare wrote for the Scottish Lady as she takes her audience on a hilarious journey. It is a tale that feels heart-rendingly honest and many a struggling or former thesp will recognize as it sets the very things commerce demands directly against the things required of an actor. (There is a strong possibility that there will be a chance to see the complete Invocation at this theatre next year.)
The final item in this second programme was Work Songs by the Dangerologists, choreographed and performed by Broderick Chow and Tom Wells. Another look at the ethos and pattern of office life played on a set that includes a real time clock, a ticking metronome a shredding machine and a floor scattered with A4 paper, it begins with a situation where both men have to share one chair.
This results in some inspired and extremely complex choreography with split second placing and timing. That technical skill persists throughout this much longer work, physical action continuing throughout whether supportive or contradictory to the spoken dialogue. There is both personal and professional confrontation that fuels a stretched-out wrestling bout, an episode of audience interviewing, and a look at different aspirations. This pair are amazing.
As an added extra, there was also an outdoor performance which took place on the pavement outside the theatre between the shows. Walking Paths, created by Elise Nuding and performed by Chatchanok Much Hermachandra and Helen Cox, consists of a pattern of walking, running, leaning, pushing, lifting and drawing controlling chalk lines on the pavement that follows constantly changing rhythms and dimensions, sometimes given added flavour by the addition of local street life. It can be watched as a complete work or sample sections for it is based on a system of repetitions and is performed with dedication.
In this one evening—and the Festival runs for 21—I found new work that was exciting and performances I was impressed by. If this sounds like your thing then check the detailed programme.
Only two or three of these works will be getting a further performance but Hutera's programming promises another two weeks of other eclectic delights to be discovered. Check it out on the theatre's web site.
Reviewer: Howard Loxton