Hag-Seed
Margaret Atwood
Hogarth Shakespeare
Released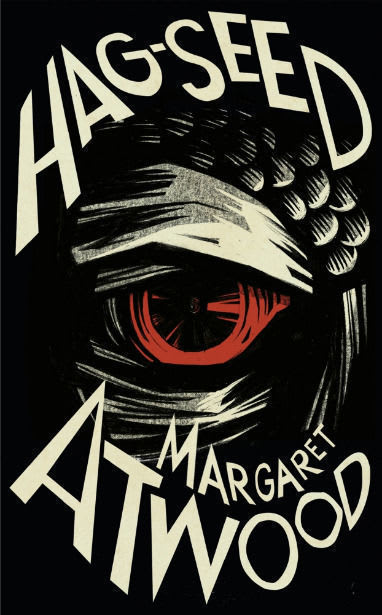 The Hogarth Shakespeare series is proving to be a constant delight. For those that have not spotted earlier publications, this is a project to pair top novelists with Shakespeare plays.
In this case, award-winning Canadian writer Margaret Atwood has invented a new take on The Tempest, set in Canada today.
The backstory features Felix Phillips, the artistic director of a theatre festival that those in the know are likely to identify with that held in Stratford, Ontario.
One hopes that the factual connections end there, since Phillips is cynically pushed out by the company's business manager with the support of a board member who just happens to be a prominent politician.
Felix disappears into the wilderness entering a cave-like existence for a decade or more before deciding that life should have more to offer than depression and ongoing mourning for a lost wife and daughter.
In true Shakespearean style, there is a play within a play as the protagonist bravely takes on a job as theatre-therapist at Fletcher Correctional Institution, a prison by any other name. Ironically, many readers might be amused that both Miss Atwood and Phyllida Lloyd have chosen to write works about The Tempest, framed by a prison setting.
The new teacher-director's methods immediately click with a group of relatively well-behaved prisoners, typically conmen and thieves rather than murderers.
Working together, they set up an annual series of Shakespeare productions culminating, at least in terms of this novel, in their interpretation of The Tempest.
Margaret Atwood has a wonderful understanding of the theatre business and tyro directors could do worse than pick up a copy of Hag-Seed in order to learn a great deal about their trade and the play through the eyes and activities of Felix.
The novel builds dramatically to the production, which takes on additional significance since the individuals who have been instrumental in Felix's downfall and are now prominent federal politicians decide to attend.
Margaret Atwood very cleverly shows how prisoners can benefit from acting and behind-the-scenes stage activity. This is spiced up for the prisoners and the reader by the inclusion in the cast of Phillips himself, inevitably playing Prospero. In addition, generating understandable excitement amongst his charges, he negotiates a guest appearance by his former Festival Miranda, a dancer/choreographer/actress named Anne-Marie Greenland, seemingly following a charity auction to get this lady's name in print.
The novelist goes considerably further than merely depicting prisoners floundering around in adventurous costumes. She draws parallels between Shakespeare's play and the contemporary world of Felix Phillips in a satisfying fashion that changes what is anyway a highly enjoyable novel into a thrilling page turner with an ending of which even the Bard would be proud.
Reviewer: Philip Fisher