Halfway Bitches Go Straight To Heaven
Stephen Adly Guirgis
LAByrinth Theater Company
Atlantic Theater Company Linda Gross Theater, New York
–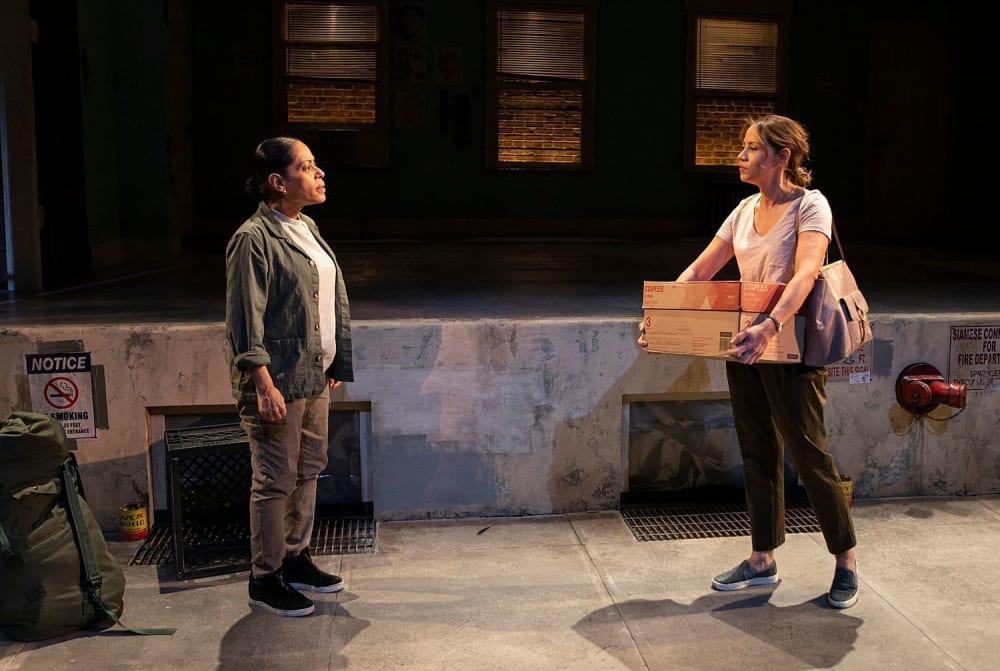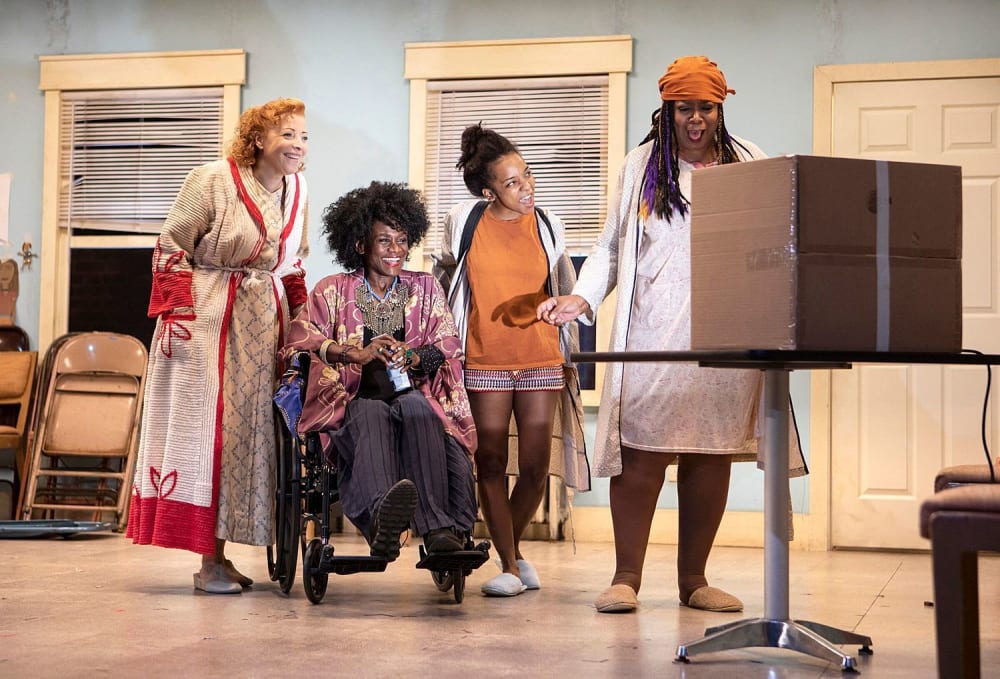 There really isn't anybody who writes plays like Stephen Adly Guirgis. Not only does he have a unique authorial voice but his works have the scope and sweep normally associated with Shakespeare or, to use a modern equivalent, the very best boxed sets, featuring as many characters.
As always, his work is presented under the banner of LAByrinth Theater Company, featuring many of its regulars expertly directed by John Ortiz.
In three intense but gripping hours, Adly Guirgis creates his own little world, peopled with sadly believable characters burdened by the woes of today's underclass.
Halfway Bitches Go Straight To Heaven, a phrase borrowed from a rap poem written by Kara Young's 15-year-old Little Melba Diaz, takes place in a rundown Manhattan halfway house for women managed by a dedicated, indefatigable lady who cares far too much, Elizabeth Rodriguez as Miss Rivera. Its inhabitants comprise a wide cross-section of bad people, primarily from ethnic minorities, although most have their good moments.
So much happens that rather than a review, the play deserves a postgraduate thesis (and will probably get one in the fullness of time). A few of the more memorable stories and characters include the plight of trans Venus, sensitively portrayed by Esteban Andres Cruz. Their self-appointed mortal enemy is a seriously troubled former soldier, Liza Colon-Zyas quite terrifying in the role of Sarge.
The older generation is best personified by morbid, wheelchair-bound former actress Wanda Wheels and Rockaway Rosie, a calm soul who seems out of place in this institution. They are respectively played by Patrice Johnson Chevannes and Elizabeth Canavan.
As well as the adults, there are also trapped kids, one in thrall to her mad mother and losing her own opportunities to blossom, while others somehow remain buoyant in the hardest of circumstances.
In this madhouse, even David Anzuelo's tattooed Catholic priest is a scrapper, having formerly been something as bad as many of his flock.
Life, death, the universe and even a little love come under the microscope, as well as alcoholism, drug taking, casual violence and long screeds of verbal abuse, but also speeches of great poetry and beauty that speak volumes.
Having created something like 20 unique contributors (including a babe in arms and a goat called Mr Skittles), each with his or her own problems, Stephen Adly Guirgis then fleshes out their lives.
In doing so, he makes viewers care deeply about the plight of people whom they would cross the street to avoid in real life, which is the main value of this piece. In amongst all the horrors, there is also enough black humour to make the experience more bearable.
Neil Pepe who runs Atlantic Theater Company is to be congratulated on staging such an ambitious and presumably costly piece of theatre. One can only hope that he is rewarded with a transfer to Broadway and, in the not-too-distant future, London too.
Reviewer: Philip Fisher