Hamlet
William Shakespeare
Directed by Yukio Ninagawa
Barbican
(2004)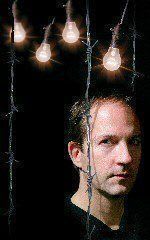 Yukio Ninagawa is renowned as Japan's greatest living theatre director. Therefore, his British transfers are always anticipated with much enthusiasm.
This Hamlet combines Eastern and Western theatrical traditions but while it has some memorable moments and performances, doesn't fully come off. Somehow, it rarely manages to capture the excitement or poetry that one expects.
The action is played out on a bare stage, cleverly lit. The costumes lack unity varying from the Ghost's Samurai through Japanese robes to Rosencrantz and Guildenstern's modern dress and the Norwegian soldiers' parkas.
Michael Maloney is a wry, diminutive Hamlet who is as sane as they come. This is believable, as his "mad" speeches to Claudius and Polonius are explained away as fun at the expense of fools. He is at his best in these scenes; with sword in hand; and in a fine rendition of the speech mourning Yorick.
Peter Egan is better as the solid, Samurai ghost than a statuesque Claudius and indeed, the production feels static since Ninagawa keeps all of his actors unmoving, wherever possible.
Robert Demeger is a sometimes inaudible and always fussily prosaic Polonius. The most interesting supporting performances come from those playing his two children. Adam Dodd is a fine, dashing Laertes whose heart breaks at the loss of his sister, while Laura Rees is a fragile Ophelia whose final madness is entirely convincing.
Maloney seems rather old for Hamlet, especially when compared with 23-year-old Ben Whishaw at the Old Vic earlier in the year. This is balanced though by the ages of Egan and Frances Tomelty's Gertrude.
Ninagawa has created a very individual looking Hamlet but too often, there seems to be a spark missing as he strives for great formality, at the expense of real life.
David Chadderton reviewed this production at the Lowry, Salford.
Reviewer: Philip Fisher