Here But There
An interpretation of Anton Chekhov's Three Sisters
Teatro Vivo
Theatre Museum
(2007)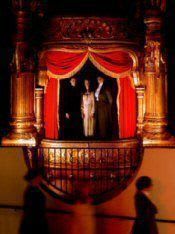 This is a promenade production that lasts nearly two hours without an interval, but don't worry about that: give and take a little manoeuvring to get a better view, you can spend three of the four acts sitting down. It treats the lower levels of the Theatre Museum as the salons and corridors of the Prozorov house. Cast and audience move, often rapidly, around them giving a greater pace and urgency than I have ever experienced when seeing this play in more conventional spaces. The three young women of the title and their friends are far from languidly bored provincial people. It is not their boredom but their frustration that dominates this production. They seem always on the move; their lives are busy and the tensions of the household palpable.
No one is credited with the translation and adaptation. I have not been able to compare scripts but there seem to be a number of cuts - the piano playing and the humming top have gone, the council employee Ferapont and a couple of the young officers are missing and Vershinin seems to do a little less philosophising - but the plot and the spirit of the piece are there and presented with great fluency by a talented cast.
Alex Watson as Olga is both the loving, caring eldest sister and at the same time has a critical abruptness and hint of disapproval that probably ensured that it was Masha and not she for whom her father first found a husband. Life with that father must have been pretty constraining for poor Masha to have accept schoolmaster Kulygin. Did Kas Darley's emotional Masha really once think James Henry Parker's portly Kulygin impressively clever? Parker gives him a touching gentleness and devotion that gains our sympathy, though we can still share Masha's revulsion at going home to him each night.
Every one says how pretty and delightful the youngest sister, Irina, is, but even at the beginning of the play - when Sophie Austin's production makes little of the fact that this is her twentieth birthday - as Susannah Holland plays her, one guesses she had been a rather spoiled favourite. She's somewhat shrill and, now that she doesn't have to follow her father's regimen of getting up at seven, even more determined to have things her way.
Could brother Andrey have gone on to be a professor in Moscow? Michael Chadwick's performance doesn't rule it out: if only he had not become besotted with Laura Hooper' self-centred and eventually domineering Natasha who storms through the play once they are married. The old nanny, Anfisa, is very much part of the family. Rebecca Peyton makes her engagingly eccentric and the production allows her to be seen with domestic staff, played by members of the Theatre Museum's Theatre Live! youth groups, discussing the romance between Andrey and Natalia or rushing in to tell us that the town is going up in flames.
The soldiers of the local battalion, for whom there is always open house, seem military only in their uniforms. Jon Sayer's gives world-weary and often vodka-fuelled Chebutkin, the regimental doctor, an odd charm and entertainment value that explains why people put up with him. Perhaps, because things were so on the move I missed some of the interaction with Captain Solony that establish the oddity which Irina finds so off-putting. Gabriel Bisset-Smith has to counter his own brooding good-looks would make him a natural for the ladies, but there are moments when he suggests a strange detachment while Richard Shanks, as Lieutenant Baron Tusenbach, makes him a pleasant enough young man, sincere and caring though lacking the charisma that would attract Irina. James Witt's battalion commander, Colonel Vershinin at close quarters seems a little young to have had two previous marriages but is confidently played. Is it just his lovely voice or is that text has been cut that made one unaware of the way he goes on until he himself refers to it in the final act? It rather belies the idea of Irina not liking him at first and only slowly falling for him - but perhaps those lines had gone as well.
The whole cast cope admirably with the challenge of some very awkward spaces vocally. They have powerful voices and are not afraid to use them, yet do so without destroying the intimacy of the event. Partly this is because the director has had them speaking to characters at some distance and in movement, but they have the confidence to stay in character and both play directly to individuals in the audience and say excuse me as they push past or through a knot of spectators.
This is one of those odd things about a promenade with good actors, secure in their characters. Sometimes there is a public situation, the audience could be a crowd or passers by - or in this play be servants in the household, but essentially we are people who are and are not there. If the characters might be ghosts appearing to us, then we too might be ghosts to them. Of course, this becomes a little easier with a costume, for it is clear who are the audience and who the actors, and spectators soon learn to ignore those not in period costume.
I do have quibbles: cuts and choice of locations remove some information. The beginning of the 'fire act' has lost the family sorting out clothes and help for homeless townsfolk and, because it is not placed in Olga's bedroom, we don't realise that Natalia has got her way and claimed Irina's room for her first child Bobbit. It is not so important: it is clear than Natalia has taken over. More worrying is that, by using the servants to move the audience to new locations, this production gives the impression that scenes following directly after each other, which makes for confusion. Text clues may make it clear that time has passed: there has been a marriage, Natalia has had first one baby, then a second and people have taken on new jobs: but the physical logic is that the action is continuous. If someone is new to the play this must be difficult to interpret, though perhaps with their attention held most will not be aware of any problem. This is by no means a complete or definitive Three Sisters. It is, as it describes itself, as 'interpretation,' and it is an extremely good one. Theatre is essentially about the experience and this experience is a good one.
At the Theatre Museum 11-21st July (Wednesday-Saturday).
An earlier version was performed at the Manor House in Hither Green.
Reviewer: Howard Loxton