Hippolytus
Euripides, translated and directed by Mitchell Moreno
Orange Tree Theatre, Richmond
Part of the Orange Tree's Trainee Director Programme
(2004)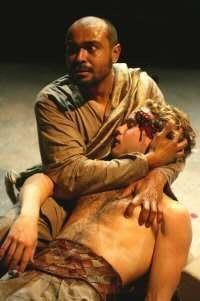 With summer comes the showcase for young directors who have been through the Orange Tree's Trainee Director Scheme. This is now a venerable tradition stretching back to 1986 with graduates who include successful directors Sean Holmes and Rachel Kavanaugh.
The first play in the 2004 Showcase is a new translation of Hippolytus by its director, Mitchell Moreno.
The play tells the tragedy of Phaedra (Sally Mortemore)'s love for her haughty stepson Hippolytus (Oliver Le Sueur). This is a passion that knows no bounds.
When she is spurned, we find the truth of the saying "hell hath no fury like a woman scorned". In order to achieve revenge, Phaedra will give up her life. In doing so, she condemns the entirely innocent Hippolytus at the hands of his father, Theseus (Gary Calandro).
This is a rather static production that suffers from an overall feeling of grimness and too much doubling by the actors. Two members of the three-person chorus reappear either shirtless or with a sash to denote a change of character.
The best performance comes from Chrissie Furness as the nurse who not only looks after Phaedra's bodily problems after she goes on hunger strike but also shows much ingenuity in attempting to bolster her mental state.
Sam Dowson's design is minimalist and eschews showiness until the later stages where Hippolytus' death is depicted with illuminated puppetry and some rather beautiful butterflies appear.
Reviewer: Philip Fisher