The Hypochondriac
Molière, in a new version by Richard Bean
Almeida Theatre
(2005)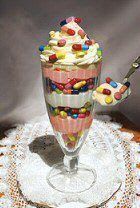 The combination of French genius, Molière, and one of the most successful contemporary British comic playwrights, Richard Bean, seems like a marriage made in heaven. Give the wedding a good director and a strong cast and laughs are guaranteed.
Bean has not been constrained by a requirement to stick with tradition and his translation is both ultra-modern and very robust. When combined with the wood-lined ante-chamber and 17th century French costumes, both designed by Giles Cadle, the latter possibly seen at their best when Henry Goodman's Argan struggles to vacate his bowels at the beginning, there is an odd but very workable mix of old and new.
The storyline is simply enough. Argan has been persuaded by charlatans that he has little time left. In this short period, he wishes to cram in passion for his busty, unfaithful wife, overacted by Ronnie Ancona, considerably better (known) as an impressionist than a stage actress.
He also has other family troubles as his lovely, fresh-faced elder daughter (Carey Mulligan's Angélique) has fallen for Cléante played by Kris Marshall. That would have been fine with Dad if he had not already fixed a marriage with his idea of marital perfection, a doctor who will minister to him without charge.
John Marquez is extremely funny playing the bumbling and boring Thomas Diafoirerhoea, a man so stupid and unattractive that nobody in their right mind could imagine him as either doctor or husband.
The ensuing showdown between father and daughter, stirred up by the young lady's awful inheritance-seeking stepmother, leaves the girl with a choice between life in a convent or with an ignorant and lank-haired, slow-witted dunce looks like nothing so much as a tic-ridden, runty dog.
That there is a happy ending at all owes much to the wit and ingenuity of two members of Argan's extended household, his brother, played by a suave Stephen Boxer, and his maid, Toinette who seemingly has more sense than the lot put together.
Under Lindsay Posner's direction, there are few quiet moments in this new version of Le Malade Imaginaire. The laughs come thick and fast and this owes much to the comic skills and timing of Henry Goodman and John Marquez. However, the show is stolen by Lyndsey Marshal who provides a bravura performance as Toinette.
She acts as a mistress of ceremonies and delivers the comedy whether verbal or visual with just the right balance between innocence and deviousness. She must also have a strong stomach since, unlike many writhing members of the audience, she was not at all fazed by her characters' stool duties.
As with his recent Royal Court success, Harvest, Richard Bean has thrown in an unusual ending that does not entirely gel with what has gone before. He has not ended the play with the play's traditional ending - Argan persuaded to become a doctor and abide by the old maxim of "physician heal thyself". Instead, he has brought in a historical dimension.
Molière performed in many of his own plays and on the fourth night of Le Malade Imaginaire, the playwright who took so much fun in lampooning the medical profession expired on stage, as he will be seen to do night after night in this successful Almeida production.
"The Hypochondriac" runs until 7th January
Reviewer: Philip Fisher