Indian Tempest
Adapted from The Tempest by William Shakespeare
Footsbarn
Globe Theatre
–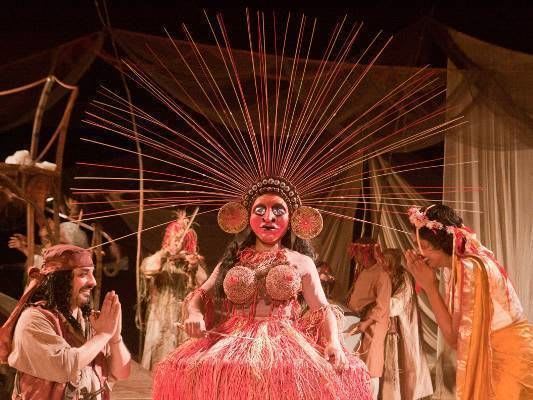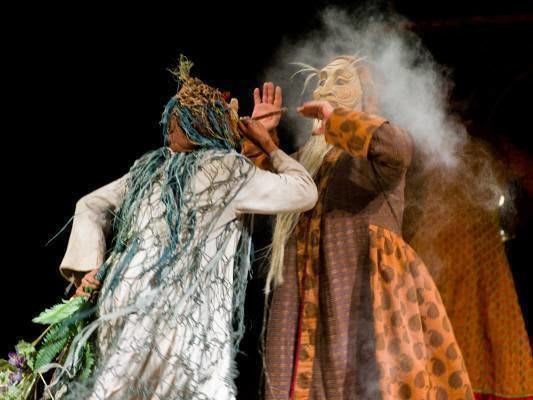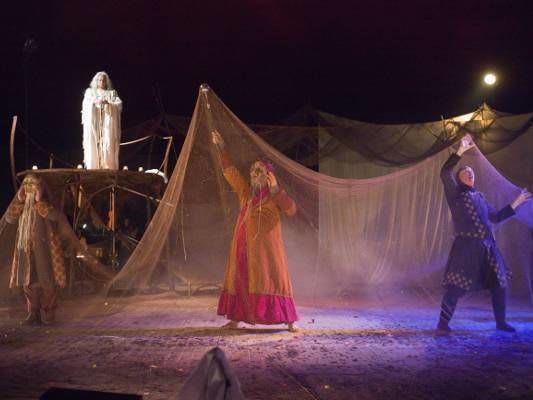 Created in Portugal (for Guimar­­aes European Capital of culture 2012) in collaboration with Abhinaya Theatre Village in Kerala by now French-based British company Footsbarn, this is freewheeling Shakespeare delivered in a mixture of Malayalan, French, Sanskrit and sometimes heavily-accented English.
Though a brief programme synopsis may help, for those who do not know the play this language mix may make it hard to follow, but the physical emphasis of this company's work ensures the audience is entertained whether the couple of young Asian kids behind me or my adult English companion (who did not know the play at all). Footsbarn's clowns may "speak no more than is set down for them" as Hamlet demanded, but that doesn't restrict their antics. That might not have pleased the royal Dane but the Globe audience was delighted.
Footbarns's version at one point has not one but three Prosperos on stage. Reghoothaman Damodaran Pillai's swami-like, authoritarian Prospero conjures another self to tell the story of his exile and illustrates it with a puppet Prospero and Miranda in a tiny boat. However, much of the emphasis of this production is placed on Paddy Hayter's gruff-voiced Caliban. You can't always understand what he says but he wins the audience over and delivers his great "The isle is full of noises" speech with physical punctuation which in other hands might have ruined it but here add to its magic. It is with Caliban that Footsbarn end the story.
It is comedy that it is to the fore, even among the ever-present magic. Manipulative Prospero's torturing spells and painful prods are sometimes savagely funny. Big-nosed, white-faced spirits with long necks leer down into the audience when they bring in the magic banquet and Shaji Karyat's Trinculo and Vincent Gracieux's Stephano are a double act that even resorts to fart gags as they cavort above the heads of the groundlings. By contrast, Gracieux is also handsomely romantic as a French-speaking Ferdinand who charmingly serenades Kani Kusruti's girlishly amazed Miranda with a chanson.
Gopalakrishnan Kundamkumarath is an almost ever-present Ariel with quicksilver arms, an engaging sprite who delights the audience and shares his thoughts with a shiver of the shoulders, an Ariel who really earns his freedom.
Inevitably, for an English-speaking audience, an unknown language or heavily-accented does not deliver the richness of Shakespeare's verse and splitting the long, thirteen-line sentence of Prospero's "Ye elves of hills, brooks and standing lakes…" among the company doesn't help its sense, however effective each element. This is not a production for international performance where the verse inevitably becomes less important than the entertainment and, in their quirky way, that is what Footsbarn deliver.
With colourful costumes, shadow play and grotesque masks (which help the doubling and even character sharing that help make this company seem much larger than it is), Indian Tempest is a visual delight and gains enormously from its lovely music. Composed and played by Kasia Klebba and Chandran Veyattummal (sometimes supplemented by members of the cast), this becomes an integral part of the production and in true Globe tradition Footsbarn ends its show with an audience rousing number that has everybody clapping.
Reviewer: Howard Loxton