An Inspector Calls
J B Priestley
Coliseum Theatre, Oldham
(2008)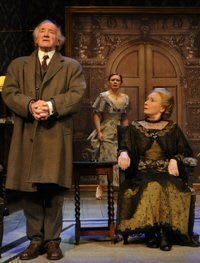 Director Robin Herford revives J B Priestley's most popular and enduring play, originally written to spread Labour Party values for the 1945 general election, for Oldham Coliseum Theatre.
Just before the outbreak of World War I, the middle class, factory-owning Birling family is celebrating daughter Sheila's engagement to Gerald Croft, also from a factory-owning family, when the mysterious Inspector Goole calls on them. He tells them of the terrible suicide of a young woman that evening, and then proceeds to implicate every member of the gathering for acting in some way against this woman in the past. Although Goole extracts confessions, questions arise about whether their acts make them responsible, whether the man is a real inspector and whether the suicide really took place.
The play has managed to secure itself a firm place in the traditional popular repertoire despite its unapologetic preaching of a socialist political standpoint, as the politics are cleverly combined with elements of detective mystery and even a touch of the supernatural thriller.
It has become a difficult play to go back to as any major production is still in danger of being overshadowed by Stephen Daldry's stunning 1992 production that discarded the box set that Priestley himself hated and opened up the play in such a memorable way. Herford's production, with a design by Michael Holt, goes back to the box set to some extent, but uses tall, imposing interior walls, emphasised even more by false perspective, that become transparent to show huge portraits of each family member as the inspector turns his attention to him or her. The picture frame symbol is repeated in the design at various points in the set and around the whole stage.
Apart from these elements, this is directed and designed largely as a traditional drawing room drama that could have been seen in UK theatres any time in the last half century or more, but as such it works very well. There are some very good performances, particularly from the younger members of the cast. Natalie Burt is particularly excellent as daughter Sheila, with a strong performance from Peter Bramhill as her brother Eric and also from Gregory Finnegan as Gerald.
There does appear to be a separation in acting styles generally, though, between the younger and the older actors. Eileen O'Brien fits in very well with her portrayal of the strong, proud, upper-middle-class Edwardian wife Syblil Birling. Christopher Wilkinson's performance as patriarch Arthur Birling works well sometimes, but there are times when it slips into the style of an old-fashioned drawing room comedy. Paul Webster's Inspector Goole also has some effective moments, but he does seem rather awkward and nervous in the part at times, plus he avoids eye contact with the other characters and often hides his face from the audience by turning upstage.
These few reservations aside, when a performance of this play is well-paced, which this production certainly is, it can still be very effective, producing a very satisfying combined gasp and laugh from the spectators when they collectively 'get' where the plot is about to lead them. The Coliseum's mixed but very loyal following will no doubt enjoy the production very much if the response from the packed auditorium on the press night is anything to go by.
Reviewer: David Chadderton