In the Club
Richard Bean
Hampstead Theatre
(2007)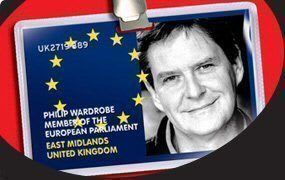 Somebody is going to have to vacate a West End theatre to make space for this hilarious comedy/farce. The combination of an award-winning writer and a director whose career has recently hit the stratosphere works perfectly in a satire on European political excess.
Richard Bean, whose Harvest was the Critics' Circle Best Play of 2005 has penned a tremendous script, while Hampstead regular, David Grindley, who has a Broadway transfer of Journey's End that is soon to be succeeded there by Pygmalion starring Claire Danes under his belt, was always likely to be the right director for a pacy, intellectual farce.
Most farces take up the first half blandly introducing the characters and setting the scene for a breakneck half-hour of high quality entertainment. Richard Bean has not quite got the hang of this, since the first hour of In the Club, from an exceptionally funny opening onwards, is packed with great jokes and comic situations.
After the interval, the audience gets all that could reasonably be expected with streams of misunderstandings, four doors used to excess, a star losing his trousers and a series of prostheses including a couple of wigs, an archbishop's leg, a kinky hand and a bright pink facsimile of a penis.
In the Club is set in a plush room in the best hotel in Strasbourg. This is occupied by ambitious British Labour MEP, Philip Wardrobe. He is played by James Fleet, best known for his TV work playing Hugo Horton in the Vicar of Dibley and his performance as Tom in Four Weddings and a Funeral.
The setup is a classic, directed by a gorgeous Russian PA played by Sian Brooke, who also starred in Harvest. The actress demonstrates a real affinity with farce keeping a straight face in the right places, linking scenes and running like a demon as trouble brews.
The complications start up soon enough, as Carla Mendonça, playing Wardrobe's girlfriend Nicola Daws, is due to arrive in town in an effort to give him the child that the couple long for.
Also on the way is another beauty, the chairman of something or other, Beatrice Renard, played by Anna Francolini. As so often in this genre, she is a nymphomaniac but with enough political power to make the British MEP kowtow.
The older generation is represented twice over. First, there is bluff Yorkshire pig farmer, Eddie Fredericks. Richard Moore gives a performance to die for as a man who calls a spade a spade and almost anything else that he comes across a gyppo. Supposedly more serious is Philip's chief whip, Carol Macready as the ineffably stern but very funny Frau Flugelhammerlein.
There is even a real theatrical plot that follows the efforts of the hapless Wardrobe as he makes a play for European presidency. The story also includes the impending introduction of Turkey into the European Union, corrupt practices practised by MEPs, failures of international communication, letter bombs and the efforts of an organisation called Human Rights Now.
Then there is sex, lashings of it, and a spy in a cupboard. This all ensures a stream of serious political jokes to accompany the sexual and physical shenanigans.
For two hours leading up to an ending packed with pathos, David Grindley's perfectly drilled team rush around Jonathan Fensom's spacious set, some rarely meeting but fighting when they do, others cracking jokes with aplomb and even remembering to advance the political plotting as they pass through.
Despite a prejudice against farce from most selection committees, there has to be a possibility that Richard Bean will once again win some Best New Play (or Comedy) Awards for In the Club. Indeed, one would not like to bet against the chances of Grindley and Fleet (at times bringing to mind Paul Eddington in Yes Minister) come the end of the year either.
It is rare to spend two hours of unadulterated pleasure in a theatre, even for somebody who occupies theatre seats on a constant basis. This play has been a year or more in the making and is beautifully crafted, well written and as funny as anything currently on the stage. Forget Boeing Boeing, In the Club should undoubtedly become the must-see comedy of 2007.
Reviewer: Philip Fisher