Jeepers Creepers
Robert Ross
Leicester Square Theatre
Leicester Square Theatre (The Lounge)
–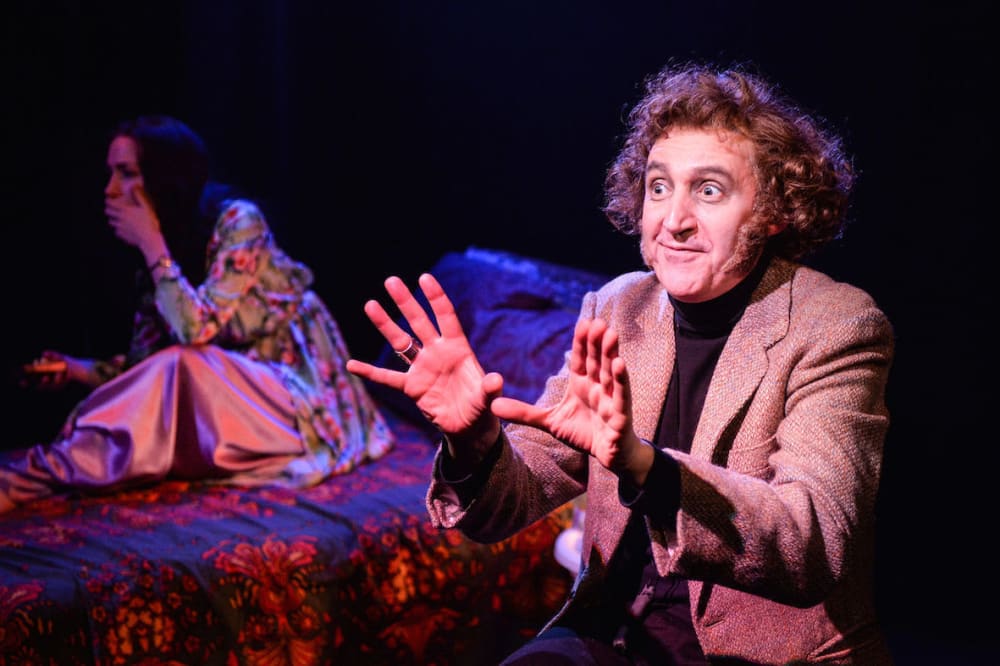 "Jeepers Creepers, where'd ya get those peepers?" The song Satchmo sang makes an appropriate title for Robert Ross's biographical play about Marty Feldman. It's his bulging eyes and the curly hair you immediately think of if you ever saw Marty, especially as Igor in Mel Brooks's film Young Frankenstein.
Ross is Feldman's biographer. He knows his stuff, but here he presents Feldman's life through a series of scenes between Marty and his wife Lauretta set in the marital bedroom. They take them from 1974, when Marty is about to start filming with Brooks, until his death in Mexico City in 1982, aged just 48.
Backward references fill in some of Marty's background but it is not always clear what is fact and what his fertile invention for effect whilst Lauretta is always urging him to play down humble origins and present something more fitting a Hollywood image.
As a life story, it becomes very muddled, especially for younger people who may not recognise references to television programmes for which he wrote scripts decades past or to friends and professional colleagues. Spike Milligan they may know of, but Michael Bentine? Less likely, as Feldman pursues an almost non-stop tirade of reminiscence and joking, hardly pausing to pour yet another drink.
David Boyle's Marty delivers this torrent of words as though stopping to think will reveal an inner emptiness, a desperate insecurity; it sounds almost pre-programmed. It is laden with gags but there's little time for laughter, almost no time to register quips like "I'm the only actor the studios insured against being figured" (as opposed to disfigured).
In the dozen years the play covers, Feldman clearly didn't click with the Hollywood set-up and as things go wrong he seems to be getting the same treatment as his idol Buster Keaton but then he seems a loose cannon who isn't even trying to play it their way. Boyle captures the lost man, sneaking off for a fresh bottle or passing out on the floor, but this is a Feldman dead behind eyeballs that no longer fascinate.
Robert Ross's book Biography of a Comedy Legend makes Feldman's life story clearer; as his play develops, it puts its emphasis on his relationship with ambitious wife Lauretta, though these scenes are of course fictional: Ross refers to his play as "a fantasy".
Lauretta loves the Hollywood lifestyle, she is obviously frustrated by Marty's inability to play it their way but, as he says, "I just wasn't born to be sophisticated".
Nevertheless, Lauretta is devoted, even putting up with his infidelities ("Success," he says, pointing, "has gone to my crotch"). It is not so much the script as Rebecca Vaughan's controlled performance and her interaction with Boyle that suggests the strong bond and the love that persists between them, despite tensions and frustrations that see them smoking their way through pack after pack of Camel cigarettes.
Director Terry Jones keeps his production moving, despite most of the stage being occupied by a bed. He worked with Feldman, so knows what the man was like, but is this rather sad figure him? A comedy writer and performer who performed in life but in his own image not as others would cast him?
Jeepers Creepers seems to want laughs but plays against that—perhaps it is truer than you would think—but, despite the vigour of Boyle's performance, taking the inner energy from the man and depriving anecdotes of responsive laughter doesn't help the play.
Reviewer: Howard Loxton