Jinkx Monsoon and Major Scales: Unwrapped
Jerick Hoffer and Richard Andriessen
Soho Theatre & Tim Whitehead
Soho Downstairs
–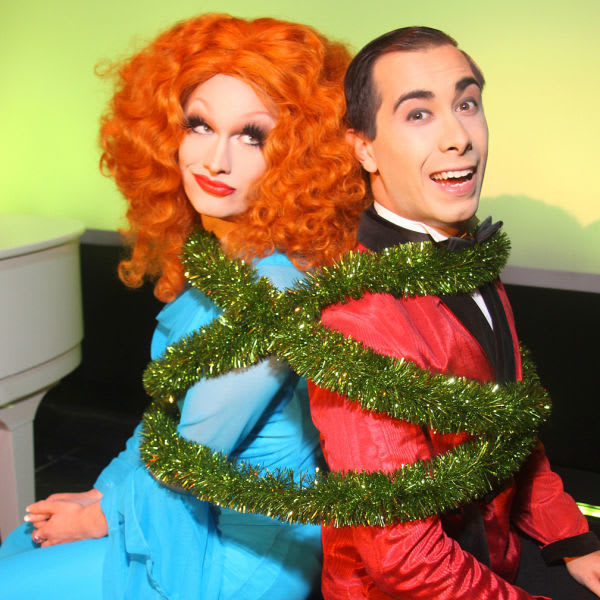 Drag diva Jinkx Monsoon (Jerick Hoffer) and her keyboard companion Major Scales (Richard Andriessen) who got audiences hooting with their The Vaudevillians at this venue in the Spring are back with the latest edition of their seasonal show Unwrapped.
Jinkx, who gained the title "America's Next Drag Superstar" when her show won RuPaul's Drag Race in 2013, isn't your lip-synching drag queen. This is a performer who combines the skills of cabaret and stand-up in material specifically aimed at a GLBT audience but you don't need to be queer to be caught by the force of her caustic humour which had the audience roaring with raucous laughter.
Unwrapped is a Christmas show that complains about having Christian values shoved down your throat (and that's not a double entendre—her humour is much more serious), she's a Jewish girl who never got Christmas presents. "What would have been the right present for a 10-year old boy who already knew he was trans anyway?" she wonders.
She asks us to think of the man of the moment. "Jesus?" queries Major. "No, Santa Claus." In her an auburn wig and a glittering red dress with white fur trimming, she could be a voluptuous female version. "He belongs to Coca Cola," she snaps—and indeed they did invent the American version.
But first, there's a look at some of some seasonal songs (carols) which become strongly Germanic with a hand rising up in a fascist "Heil!" She dissects the disaster of family Christmases, gives a grotesquely accurate impersonation of Cher, humiliates audience members to the delight of their fellows, even getting two up for interview squeezed up next to her.
Among the songs (and can she hit the high notes!), the bits of her history and her complaining, she slips in a suggestion that we stop giving such importance to gender and let people be what they want to be.
While Major Scales may appear to be playing second fiddle (that's a metaphor, it's a grand piano), he is a vital part of the show and gets his own spot when Jinkx goes off for a quick change as well as keeping the whole thing on track. Though it doesn't run like clockwork but in response to the audience, with whom Jinkx and Major have rapport in plenty.
Scheduled for 75 minutes it over-runs ten more, there is so much laughter.
Reviewer: Howard Loxton