Keeping Up Appearances
Roy Clarke
The Comedy Theatre Company
Darlington Civic Theatre and touring
(2010)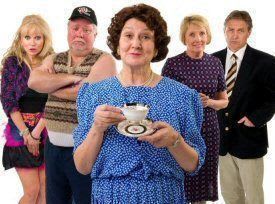 Staging a theatre production of Roy Clarke's classic television sit-com, Keeping Up Appearances, is an ambitious undertaking. Already our theatres have been swamped with a plethora of such shows, including Dinnerladies, Dad's Army, Porridge, 'Allo, 'Allo and Last of the Summer Wine, and one wonders how long this appetite for gems of the small screen transferring to the stage will last.
Yet the Comedy Theatre Company's production has a lot going for it. Firstly, the original writer, Roy Clarke, has written an entirely new script especially for the stage. This is a big advantage over many of the others, which are merely four half-hour episodes performed in succession. Secondly, a stellar cast has been assembled and the characterisations are as near as you could possibly hope to get. Indeed, there are no weak links to be found in this production.
Rachel Bell has the daunting task of stepping into the shoes of Patricia Routledge as the social-climbing supersnob Hyacinth Bucket (pronounced Bouquet, if you don't mind!). From the instant she appears, from the rear of the stalls, she nails the part and has the audience in the palm of her hand.
Former 'Allo, 'Allo star Kim Hartman is superb as nervy next-door-neighbour Elizabeth and Brookside's Steven Pinder is a suitably highly-strung Emmet. Gareth Hale only needs to shuffle onto the stage as Onslow to generate laughter, whilst Christine Moore is great as the slovenly Daisy. Debbie Arnold completes the line-up of principal characters as the lascivious Rose. Her performance should, perhaps, carry a government health warning as I'm sure she had an extraordinary effect on the blood pressure of more than a few men in the audience.
Two new characters appear in the play – Mr Milson (David Janson), a computer geek and plaything for Rose, and Mrs Debden (Sarah Whitlock), the formidable chair of the local charity committee.
Fans of the original television series will not be disappointed by this hugely enjoyable production, And for that matter, neither will anyone else.
Runs at Darlington until Saturday 17th July, then tours to Blackpool, Stoke, Glasgow, Worthing, Colchester, Peterborough, Eastbourne, York, Hull, Whitley Bay, Derby, Bromley, Buxton and Windsor.
Reviewer: Steve Burbridge