Knightmare Live
Ray Bullock Jnr
The Corn Exchange Newbury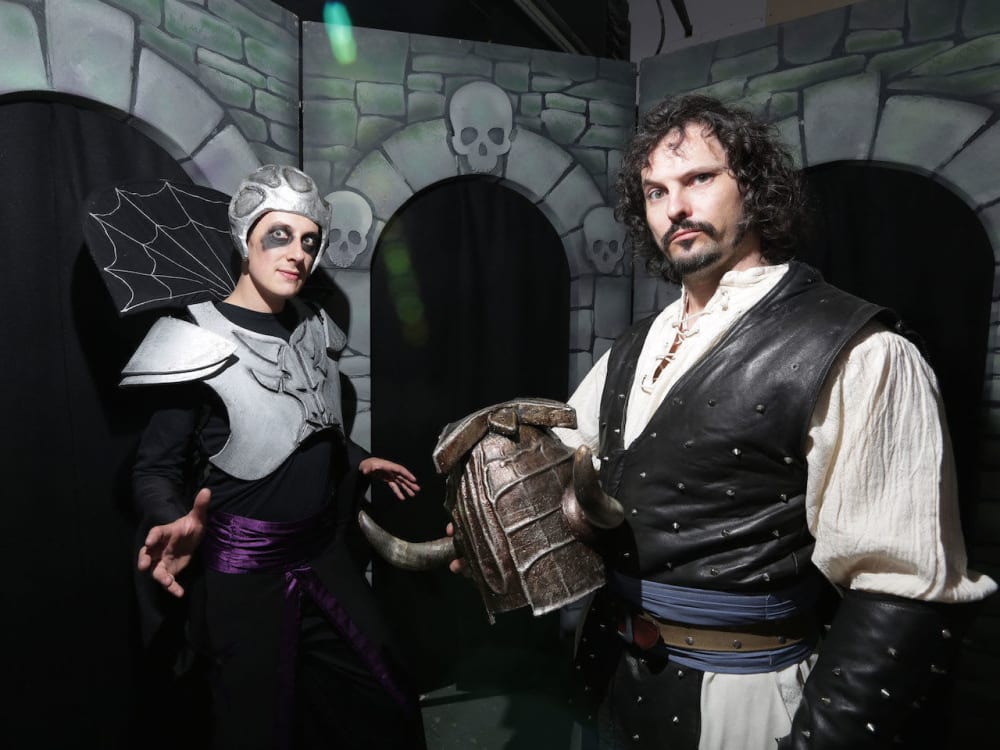 Knightmare Live is a knockabout, hilarious stage version of the cult children's television series of the 1980s.
The Corn Exchange's audience were obviously devoted fans of this adventure game with its castle dungeons; goblins, witches and cunning word clues and puzzles and joined in with much relish and enjoyment.
Tom Bell is excellent as the evil Lord Fear, encouraging us to boo in true pantomime style as he warns us, "This is no entry level stuff."
His adversary is the wise Dungeon Master Treguard, the splendid Paul Flannery, who aids the three adventurers, volunteers picked from the audience.
In this performance it was Nadine, Alan and magician Morgan from Morgan and West. They are about to journey on a perilous quest to find a goblet.
One of them will wear the immortal 'Helmet of Justice', oversized, ornate headgear that covered the entire face, and, as Nadine said the famous catchphrase, "Where am I?" with the response, "You're in a room", the audience cheered wildly.
Much of the fun in this show is derived from the interaction between the actors and the audience as they shout out helpful and sometimes not so helpful ideas with some wonderful ad-libbing from Bell and Flannery.
As the quest continues, various objects can be won from a red velvet covered table such as a crown, a banana and other random articles collected from the audience.
Unfortunately, Nadine did not make it to the second level and was "killed" by the Grim Reaper, as she couldn't change the hands on a clock to 12:00. She was replaced by Alan and we were told that the prop was broken, which caused much hilarity.
The set was extremely low budget, which added to the fun. It included a huge wall gargoyle with eyes that spun independently of each other and gigantic spinning blades that were to see Alan meet his grizzly end but not before he managed to take a 'selfie' on his mobile 'phone.
The scene with floating heads at the entrances to the dungeons was sheer slapstick; even the cast were having fun with all this buffoonery.
There was excellent support from Paul Duncan McGarrity as a club-wielding goblin and Jessica Fosteken as a grizzly old witch.
For most of the audience this was a nostalgic trip back to childhood and they enthusiastically loved every minute of the journey.
Reviewer: Robin Strapp