The Laramie Project
Moisés Kaufman and the Members of the Tectonic Theater Project
KIT Productions
Sound Theatre
(2005)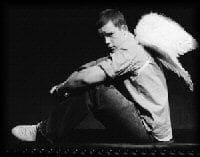 It is always good to welcome a new theatre to the London scene. Sound Theatre is something of a hybrid, having much in common with its near neighbour The Venue.
It has a 200 seat auditorium located just off London's Leicester Square in a barely converted nightclub. It still boasts all of that fashionable exposed metal piping, together with control boxes and mesh grids from its former existence.
Designer David Farley makes the most of the small stage space by allowing it to reach right into the stalls seating so that there is a danger on occasion that, audience and actors could get mixed up or collide.
The play that has been chosen to open the new venue is an important social work of docu-drama created in the style popularised by Robin Soans and the Out Of Joint in this country.
Strangely, the play's protagonist and hero, Matthew Shepard, takes centre-stage throughout without appearing. This is because in October 1998, he suffered a horrible death in a homophobic hate attack in Laramie, Wyoming, still seemingly part of the Wild West o,r as one character describes it, Cowboy Country.
Matt Shepard was a 5ft 1in tall seven-stone weakling who was openly gay. By 1998 in most of America, this would have been nothing unusual. However, in a state where there was not a single gay bar and men had to take the bus to Colorado for an evening out, many - including a variety of Christian preachers - regarded his like as akin to the devil.
The piece was created following a trip by members of the Tectonic Theater Project including Moisés Kaufman, currently directing This Is How It Goes at The Donmar, to Laramie to interview citizens involved both directly and peripherally in the events leading up to Shepard's death.
Under young director Ruth Carney, an ensemble cast of eight takes us to Laramie and introduces us to some fifty residents and visitors. They gradually build up a portrait of the dead boy and the community in which he lived.
For the vast majority of the locals, intolerance was the norm and therefore despite protestations of innocence, they have all contributed to the kind of atmosphere in which queer-bashing became almost a sport rather than an abomination.
Miss Carney has done best with the older actors and, in particular, there is a fine performance from Geff Francis, whose best moment comes as he delivers a speech in the guise of Matthew's father pleading for clemency on behalf of one of his son's brutal murderers. In addition, John Lloyd Fillingham and Margot Leicester provide the solid performances that one would expect.
A real revelation is Samantha Robinson-Leigh, a young actress who appears to be making her professional debut. She is really moving in a number of different roles and there is little doubt that she has a fine career ahead. Unlike the other younger actors, she also gets pretty close to getting the accent right.
It would be good to feel that America had learned something from the tragedy of Matthew Shepard. However news stories this week have majored upon a possible schism in the Christian Church as a result of the appointment of a gay bishop and in the light of what many would regard as unbelievable intolerance, it seems that we are not yet out of the climate that killed a sweet young man.
Reviewer: Philip Fisher