Lawrence after Arabia
Howard Brenton
Hampstead Theatre
–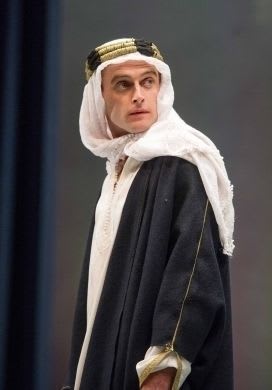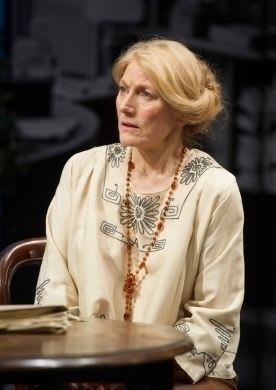 In his day, Lawrence of Arabia enjoyed the kind of idolisation today reserved for the likes of Mick Jagger and David Beckham.
In this two-hour-long drama, Howard Brenton attempts to bring the desert warrior to life, painting theatrical portraits of George Bernard Shaw and his wife Charlotte along the way.
The evening starts out at the Shaws' Hertfordshire home of Ayot St Lawrence, where Jeff Rawle in the guise of the mischievous Irish playwright is tormenting Rosalind March as his wise secretary Blanche Patch. The cause of their difficulties is the writer's hiccupping attempts to create a play about the life of St Joan, whom it is hinted could be seen as the T E Lawrence of her time.
All of that goes on to hold, first as a brash and intrusive American investigative journalist / photographer arrives on the scene and then the subject of his pursuit, "Tom" Lawrence, played by Jack Laskey.
In fact, the man who arrives in flying officer's garb is masquerading as Aircraftman Ross in a desperate attempt to escape from and deny his own fame.
After Geraldine James's Charlotte Shaw offers to edit the manuscript of Seven Pillars of Wisdom and then produce a shortened, more commercial version, eventually published as Revolt in the Desert, the back wall of Michael Taylor's set opens into a desert.
Only briefly do we witness Lawrence in heroic Arabian mode, bonding with Prince Faisal and making promises that the Imperial Brits were never likely to keep.
Ultimately, T E Lawrence was an enigma, as demonstrated by his own books, some published pseudonymously, and the efforts of biographers. Like the Beckhams of today's world, having enjoyed fame, probably fortune and rare excitement playing a dual role in the desert, nothing thereafter could ever live up to the thrills and spills of that lifestyle.
Going a step further, the play also hints at the problems that homosexuality would inevitably cause for a public figure close to a century ago had they been made public.
Class also rears its ugly head, thanks to the intercession of William Chubb playing Field Marshal Edmund Allenby, representing an establishment scandalised by the thought that an army colonel might try to join the ranks, albeit only in the air force.
Howard Brenton has taken this opportunity to bring his own interpretation to the life and work of a rare character, injecting possibly fictional controversy with his suggestion that Lawrence deliberately played "literary Russian roulette" with his career and reputation.
John Dove directs a worthy historical piece that provides a good exploration of character, particularly Lawrence himself and Charlotte Shaw, but is a little light on dramatic action.
Reviewer: Philip Fisher