Look Back in Anger
John Osborne
Royal Lyceum Theatre, Edinburgh
(2005)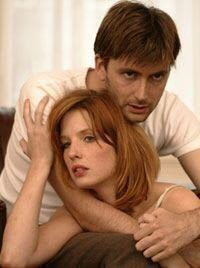 If the rest of this spring's shows at the Lyceum come anywhere close to the quality of Look Back In Anger, Edinburgh theatre-goers are in for a stunning season. If not, at least the Lyceum has started 2005 off with what may be the strongest production I've seen at this theatre since I arrived in Edinburgh in the autumn of 2003.
Look Back in Anger is the story of a married couple's tempestuous relationship. Although it premiered in the late fifties the humanity of these characters is still completely accessible. In this production, husband Jimmy Porter is played by David Tennant, with Kelly Reilly playing his wife Alison. Jimmy's pal Cliff (Steven McNicoll) and Alison's school chum Helena (Alexandra Moen) are the opposing external forces that wreak havoc on the Porters' marriage, and Gareth Thomas makes a brief appearance as Alison's father, Colonel Redfern.
Without the crackling chemistry between all four of the younger cast members, this could have been a very, very tedious play - one of those shows in which characters do a lot of standing around shouting at one another. It's not that what they're saying isn't important or devastating - almost invariably Osborn's words strike right to the heart of situations that are both heartbreaking and infuriating - but as happens in all the best productions of well-written drama, what the actors bring to the story simply elevates the play to a whole new level of intensity.
With the help of director Richard Baron, the company accomplishes moment after moment of pure, fearless honesty. Whether this takes place in the form of Jimmy's impassioned ravings, Alison's desperate silences, Cliff's unhesitating advocacy on behalf of the Porters, or Helena's calculated scheming, time and again those involved with bringing this production to life are astonishing in their ability to expose the inner workings of these characters.
Osborn's characters are cruel and merciless with one another, tearing one another's heads off one moment only to plead for understanding and love in the next. Audience members will see this demonstrated over and over again from the early moments of the piece, and should realize what a rare privilege it is to witness such an all-consuming display of talent from a group of such high calibre.
Trevor Coe's set is complicated and gorgeous, and especially in the first scene it makes use of colour in such a way that audience members discover each character unfolding from a dull background, breathing their way into life as the show gets underway.
The show runs until 12th February, and as Edinburgh is only a day's train ride from any part of the UK, no theatre-lover in either Scotland or England has any excuse to miss seeing this sensational production - until (as will happen if there's any justice in the world of theatre) the run sells out.
Pete Wood reviewed this production at the Theatre Royal, Bath
Reviewer: Rachel Lynn Brody