Luv
Murray Schisgal
Buckland Theatre Company
Park Theatre (Park 90)
–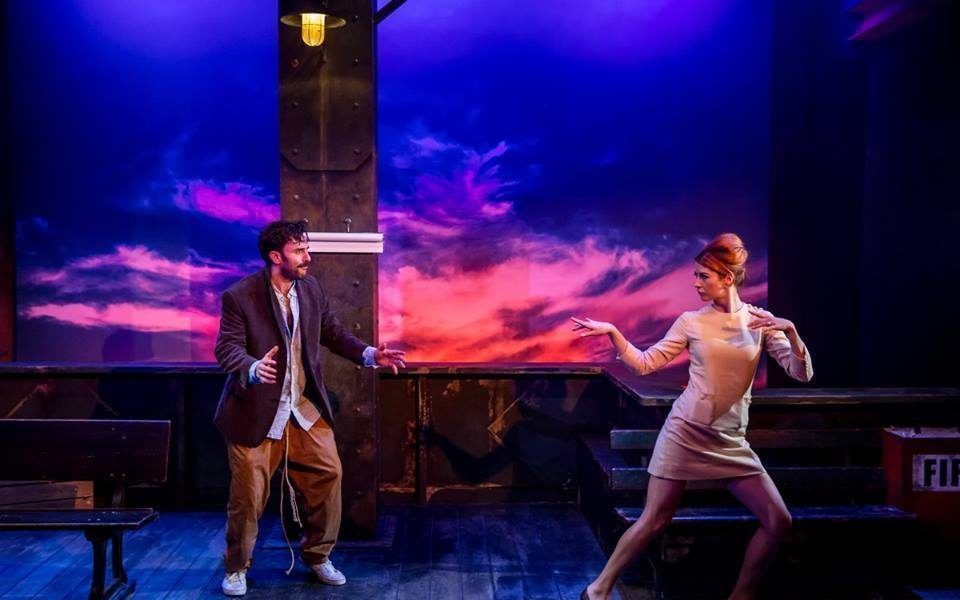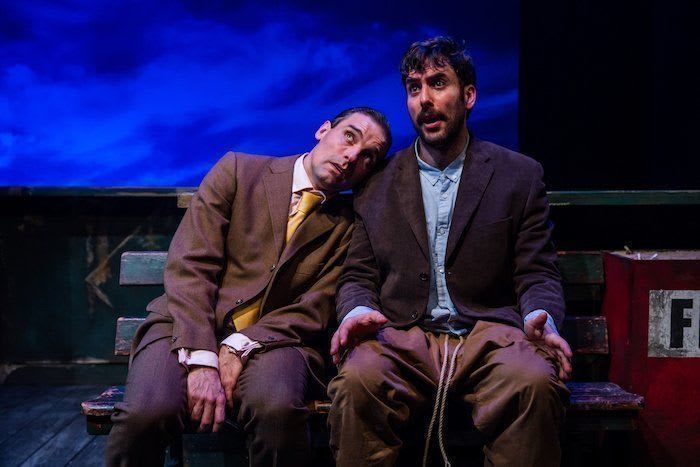 Prolific writer Schisgal's play, first seen on Broadway in 1964 (after a London première in 1963 according to Doollee), might seem at first a typical Broadway product but it is an intriguing mixture of boulevard comedy, vaudeville and '60s absurdism with an undercurrent of philosophical questioning.
The setting is the footpath of a New York bridge over the Hudson where a down-and-out-looking fellow appears. He's unkempt with his trousers held up by thin rope, bearded and has a haunted look. When he scribbles a note, sticks it on a metal post with spittle, throws off his coat and climbs onto the parapet, you aren't entirely surprised.
That's when smartly-turned-out Milt Manville turns up. There couldn't be a bigger contrast. When Milt notices what's going on, he recognizes the would-be suicide as old school fellow Harry Berlin and he interrupts the action.
Its 15 years since they last met. Then, Harry was the one who had advantages; now it's Milt who's in the money. But? Yeah, he may not be a manic-depressive with the strange physical and sensory paralyses that Harry is stricken with but he has his problems. His wife, for instance, because now he wants to marry someone else. He's almost as miserable in his situation as manic-depressive Harry who has never been loved or even in love.
They hatch up a solution: Harry and brain-box wife Helen ought to get on. If they fell for each other, Milt could get his divorce. It looks like everyone could be happy. But of course it isn't quite that simple. Life and love are complicated and not constant.
Director Gary Condes makes the sudden transitions in style seem natural in this fast-paced production. Riffs in which characters vie to claim the most awful childhood or the most difficult marriage take up ever-more excessive challenges to prove their love, burst into song and dance, or endure multiple river dunkings, let alone some trick effects are all part of telling the story. Its variety is grounded by Max Dorey's very solid looking set.
Charles Dorfman could not be more lugubrious as Harry, or more ecstatic when he finds happiness. Nick Barber's Milt is so flauntingly successful on the surface, but they are a splendid pairing. Their voices alone mark out the contrast, their timing exact.
Elsie Bennett as Helen Manville, clever but unexciting wife of Milt, puts up with her husband touching up her make-up, even plucking her eyebrows, before he presents her to Harry. "Why," she complains, "did they sharpen my intellect so, making it impossible for me to live with a man." Harry seems the answer but, four months after the have got married she's reading Simone de Beauvoir.
She's clever but also wants to be a conventional wife and have children and a graph that she produces shows their marriage has still not been consummated. Bennett gives us both sides of this woman and all three performers manage to tread a thin line between parody and pain that makes Schisgal's comic look at the vagaries of love painfully pointed.
Press night was interrupted by a technical breakdown but the cast picked up the momentum unfazed and pressed on with the comedy. This revival is indeed very funny.
Reviewer: Howard Loxton