Macbeth
William Shakespeare
Tang Shu-Wing Theatre Studio
Shakespeare's Globe
–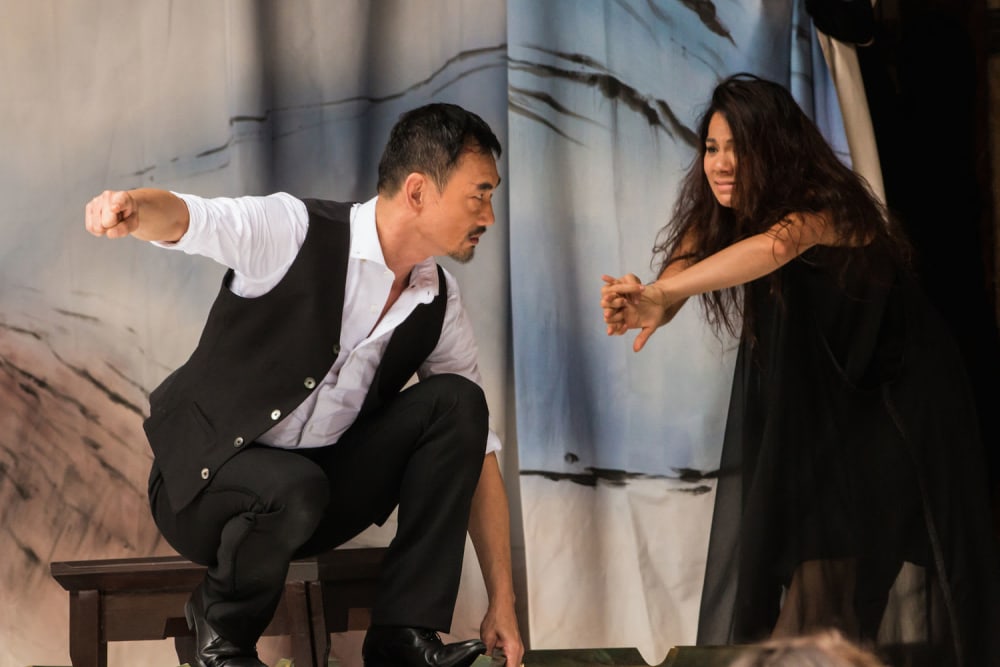 This is a Cantonese version of the Scottish play co-commissioned by the Globe and the Hong Kong Arts Festival from Tang Shu-wing Theatre Studio and directed by Tang Shu-wing.
The Theatre Studio, formerly known as No Mans Land, which was founded in 1995, is the resident company at the Hong Kong Arts Centre and is known for its physical theatre and minimalist aesthetics.
The programme lists the actors but does not identify casting so I do not know who played what roles, nor is anyone credited with the translation and adaptation into Cantonese.
However, it seems a very clear-cut telling, though why it has been framed as a dream is not apparent. It is a dream shared by a modern couple who themselves become Macbeth and his lady in it. Perhaps to provide a dream logic to the costume choices, though such a stylised production hardly needs one.
There are a number of major cuts and rearrangements and, if the surtitle scene-by-scene English synopses are anything to go by, some very personal interpretations. Lady Macbeth, for instance, is already suggesting framing King Duncan's grooms for his murder even before he has arrived at their castle and her death is described as suicide.
Characters and scenes not essential to the plot are gone: no place for the "Bloody Sergeant" or the humour of the Porter, or Malcolm's final victory. Intriguing and very effective is the way the murder of Lady Macduff is transposed to be acted out when reported to her husband and Lady Macbeth's sleepwalking staged as her doctor reports to her husband.
Set designer Cahn Chi Kuen Ricky spreads a white cloth over the stage and hides the renaissance scena behind cloths painted with snowy mountain slopes. Tam Ka Yee's costumes present the robes of ancient China in rich but sombre silks.
But at the centre, the modern dreamers retain their 21st-century dress, Macbeth changing his leather gilet for a smart black suit when he is King, his wife changing her dark dress for a gown of royal crimson. It is a defining picture of ruthless contemporary ambition set within an ancient story.
The witches are white clad, so too the thugs engaged to murder Banquo and Macduff's family. Some lovely parasols may have had some kind of symbolism, though not one I could interpret, except that if reduced to white ribs it was a ghost who carried it.
This Macbeth is young and charismatic, a fluid mover with flowing gestures to match some speeches. His Lady Macbeth is a controlling wife played with incision and authority. Both have considerable stage presence: indeed all this company seem comfortably to command the whole house with their playing.
The production smoothly blends naturalism and formal stylisation. Entrances and exits are always in slow motion. There is one such, especially effective, when Macbeth's forces advance down one side of the stage as his opponents enter on the other.
This is maintained until they are all in place but, when a fast entrance or exit, the slo-mo will be only for the first or last steps on or off stage. Is this a revival of an old tradition or a concept perhaps to remind us that this is all supposed to be a dream?
Actors may stay frozen on stage when they are not present: Macbeth, for instance, after hearing of his elevation as Lady Macbeth reads the letter that reports it, springing back into action to join her for his return to Glamis.
Characters appearing as they are being talked about: Duncan as they talk about his murder as well as later as a ghost (though when Macbeth sees Banquo at what becomes a very formal dinner for a few lords, no ghost is visible, it's just in his mind).
The scene immediately preceding Duncan's murder gives some idea of the production's style. As Macbeth speaks of seeing an imaginary dagger, a black-clothed prop presents one before him, withdrawing it and moving around the stage so that the Thane must follow until, at last, he grasps it as real and lunges forward striking the air. At the same time, Duncan, who has already appeared behind him, falls forward producing red ribbons from his mouth to be carried out by the prop man.
Vocally, it seemed well spoken and always audible, though Macbeth blurred his diction, the concentration of the physical movement reflected in the intensity of the voice.
I must confess that, rather than being caught up in the story, I was fascinated by watching what was done with it. It is a fairly easy piece to follow if you already know the play. Familiar passages seemed to be getting elegant and full-blooded enactment, the production intelligent if idiomatic.
The house thinned a little at the interval: tourists perhaps just wanting a taste of a Globe experience not choosing this Chinese production. From the interested rest and the many Chinese among them, it got a rapturous reception.
Reviewer: Howard Loxton