The Maids
Jean Genet translated by Neil Bartlett
Phizzical Productions
Watermans, Brentford, followed by a UK tour
(2009)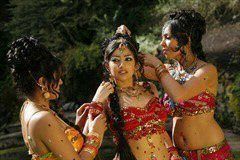 Once upon a time, Jean Genet's shocker about two maids, who dress up in Madame's finery and dream of bumping her off, made up the short, saucy half of a double bill. Then a few years back Martin Crimp's heavy-handed adaptation turned it into an overlong evening playing two and a half hours without an interval.
Phizzical Productions have wisely elected to stage Neil Bartlett's 80 minute version with its strong homo-erotic touches, which readily lends itself to Genet's preference that the maids, who seethe with murderous hatred for their mistress, should be played by men.
Indeed for the opening performances at Watermans designer director Samir Bhamra has gone one step further, casting all three roles with male actors, two with an Indian background, the third an English actor who lives and works in London. For the design Bhamra also gives his staging the full Bollywood flavour of colourful drapes, costumes and set decorations, plus a soundtrack of Indian musical harmonies.
Yet to be seen at the time of writing, the production also boasts an alternative cast of three young actresses with Indian connexions and training, who will play their roles in the second half of each week of this touring production.
Genet buffs will recognise that Bhamra is not ploughing new turf. Four years ago at the Lyric Studio another company located the play in an Indian household with an Indian actress as Madame, but with two English actors cast as persons neither entirely female nor male. Confused? Well, that's Genet for you.
Of course the burning question is does the play work at Watermans in its present formulation? The ambiguous answer is that it's quite good in parts with a particularly watchable Madame played by dancer actor Pritesh Chauhan.
He invests the role with more charm than I recall from any previous production. Indeed, given this generous creature of sweetness and light, fluttering with anxiety that her boyfriend Monsieur has been set up on a criminal charge by a malicious informer (guess who), it is hard to see why the Maids are so miserable about serving her.
The strongest performance comes from Robby Khela who plays Claire with a fine sense of femininity without ever seeming camp. Gestures are delicately langorous, the voice pitch perfect for female, with a well developed and detailed transformation from his Madame impersonation in the opening scene to the nervous handmaiden, fearful of being found out, and the brutal dénouement that, like Greek tragedy, takes place offstage.
Jeremy Williams plays the central role of the sneering Solange with power and blistering resentment. But his well projected delivery at present lacks pace and vocal coloration. Perhaps he came late to the cast and it would be interesting to see how he develops his performance during the three month run of the production.
But overall this is an effective re-thinking of the play in an exotic setting which never labours the sub-continental influences while also doing full justice to Genet's themes of sexual ambiguity, power games and conspiracy.
Reviewer: John Thaxter