Making Noise Quietly
Robert Holman
Donmar Warehouse
–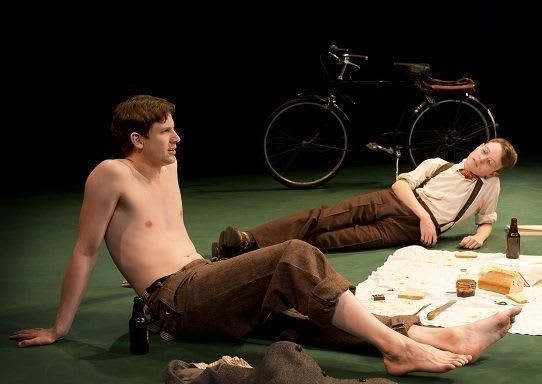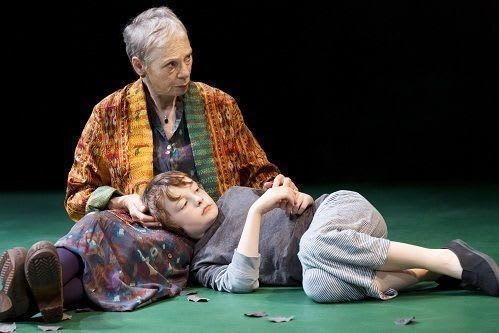 Following a resounding success with her opening foray as Artistic Director of the Donmar, The Recruiting Officer, Josie Rourke's second commission represents its polar opposite. Where Farquar's comedy is packed with joyous, raucous fun, Robert Holman's writing is considered and thoughtful, getting to the heart of a series of unusual characters.
Making Noise Quietly is now a quarter of a century old but feels as fresh today as it must have done when it appeared in this Rourke's previous home The Bush under the direction of John Dove all those years ago.
The evening actually comprises a trio of short, loosely-connected plays that cover a 45 year period starting in wartime, now meticulously directed by a perfect choice for the material, Donmar stalwart Peter Gill.
Being Friends
The first play is set in the Garden of England on a summer's day when everything is well with the world—that is if you can ignore the planes flying overhead and the bombs that they drop.
Jordan Dawes's Oliver Bell is a well-muscled conscientious objector. The young man's Quaker principles have forced him to leave university a year early to work on the land. He seems reconciled to a fate far kinder than that which had befallen an uncle a generation before, obliged to spend the whole of the Great War imprisoned at His Majesty's Pleasure for his religious beliefs.
The afternoon's sunny tedium is broken by the arrival of bespectacled Eric Faber, immaculately played by a very funny Matthew Tennyson.
To describe Eric as camp is understating the case, but the TB-suffering artist / writer recognises and wallows in his own homosexuality while charming his new friend with humour and a delicious-looking picnic.
In only 40 minutes, they move from strangers to close friends who seem likely to entertain each other far into the future.
Peter Gill handles subject matter of the type that has characterised several of his own plays with deft skill, ensuring that the interchanges and burgeoning affection between the two young men remains engrossing throughout.
Lost
The second play is considerably shorter, addressing the subject of loss during the Falklands War. It is another two-hander that throws together John Hollingworth as a naval officer hailing from a long line of admirals and Susan Brown. She plays the mother of his close friend, who also turns out unexpectedly to be his brother-in-law.
For reasons that are never made clear, an irrevocable rift has developed between Ian and his parents, making it far more difficult for his close friend to break the news of the young man's death as a result of the sinking of HMS Glamorgan.
In fact, Mrs Appleton takes the news surprisingly calmly, finding it much more difficult to reconcile the breach that led to a five-year silence so marked that she was not even aware of her son's marriage a year later.
Making Noise Quietly
After the interval, we move on four more years and on to mainland Europe in 1986 to join what appear to be an English father and son and an older German female artist in the hour-long final piece.
Looks can be deceptive since young Sam, played extremely well by Lewis Andrews on opening night, was briefly Alan's stepson before both were deserted by their mother / wife.
Foulmouthed squaddie Alan, convincingly portrayed by Ben Batt, is rather a Jekyll and Hyde character who, following a troubled childhood, desperately needs army discipline to keep him in order.
Very quickly, we discover that he and Sam have much in common, not least because each is feral and has difficulty expressing himself, the boy literally being unable to speak following his recent traumas.
Sara Kestelman's Helene, who turns out to be a businesswoman enjoying a long summer holiday in the Black Forest, decides that she can tame them both and shows considerable bravery in doing so.
She reveals hidden depths of fortitude, together with a sinister tattoo on her left arm during a deft performance by an actress who shows great empathy with her character.
Showing diverse skills borrowed from the worlds of analysis and horse breaking, Helene borrows from her own deeply troubled past to help the menfolk overcome some of their own problems and end a really enjoyable evening on an uplifting note.
Reviewer: Philip Fisher