Mankind
Robert O'Hara
Playwrights Horizons, New York
–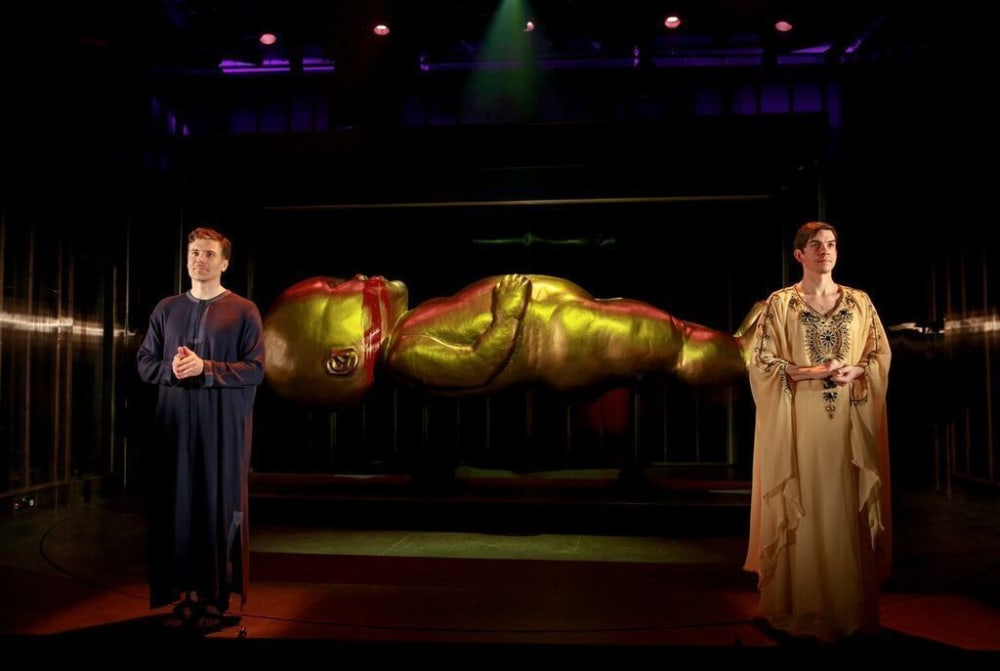 Although it has some similarities to Sir Alan Ayckbourn's The Divide, which opens at the Old Vic next month, and by extension The Handmaid's Tale by Margaret Atwood, Mankind is a genuinely original theatrical work.
Robert O'Hara has written a dystopian satire that starts off like many a play through the generations. A couple are in a bedroom the morning after an enjoyable night, when one announces to the clear distaste of the other that a baby is on the way. The first big surprise is that the couple is gay and Bobby Moreno's Jason really is carrying a child.
Quickly, though painfully, he agrees with Anson Mount playing Mark that the only solution, given the casual nature of the relationship, is an abortion. The issue is that in this society abortion is illegal. Despite the accents, viewers may begin to wonder whether the repressive regime is somewhere overseas today.
Gradually, Mark and Jason's predicament is explained to a degree by the announcement that the last woman died half a century before and no female has been born for twice as long.
One of the comic highlights of the two hours is the ensuing conversation about the men's parents. In no time, O'Hara has woven a wonderful dialogue involving "Dad and Dad" on both sides, confusing an already impenetrable issue by moving up a generation to "Dad's Dad and Dad's Dad" etc.
Jason's attempt to get a back-street abortion leads to imprisonment, where Crybaby is born and, the heavens be praised, she is a she. This makes her parents instant tabloid TV fodder and with serious money involved they lap it up, until the sad demise of the only female on the planet.
In an attempt to rescue the situation, the boys somehow engender a new religion that takes on the strange name "Feminism". In Inca style priestly garb, they become its prophets, starting new hares racing in a twisting plot that gets even more involved.
Mankind is very funny and watchable, although to benefit fully from such novel ideas and quick-fire delivery under the direction of the playwright, a second visit might reveal further jokes and hidden depths.
However, the play does considerably more than amuse, asking viewers to think deeply about many of our values today. Under the microscope are topics that include religion, abortion, gender equality and even politics and the media.
This production benefits from what looks like a very generous budget for scenic designer Clint Ramos and his costuming colleague Dede M Ayite who make the most of it, using a revolve effectively and creating a concept and outfits that are perfect for a play that both mirrors and mildly lampoons sci-fi movies through the ages.
It is to be hoped that following this run at Playwrights Horizons, a Broadway producer will step in to widen the appeal of this innovative play, after which a London transfer might well find highly receptive audiences.
Reviewer: Philip Fisher