Mark Morris Dance Group – Two Mixed Bills Programme B: Excursions, A Wooden Tree, Jenn and Spencer, Festival Dance
Mark Morris
Mark Morris Dance Group
Sadler's Wells
–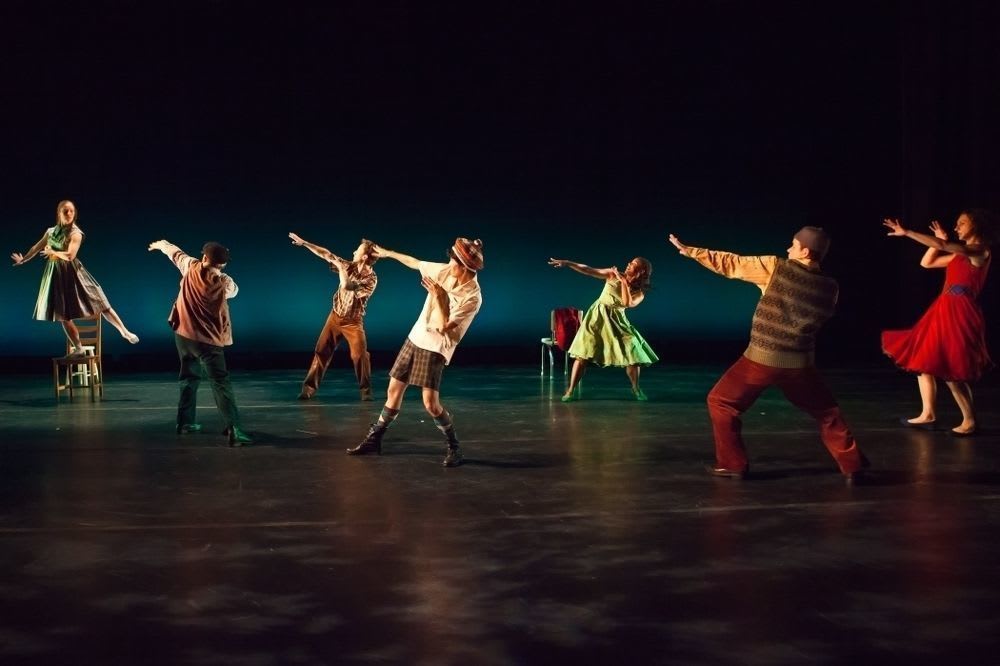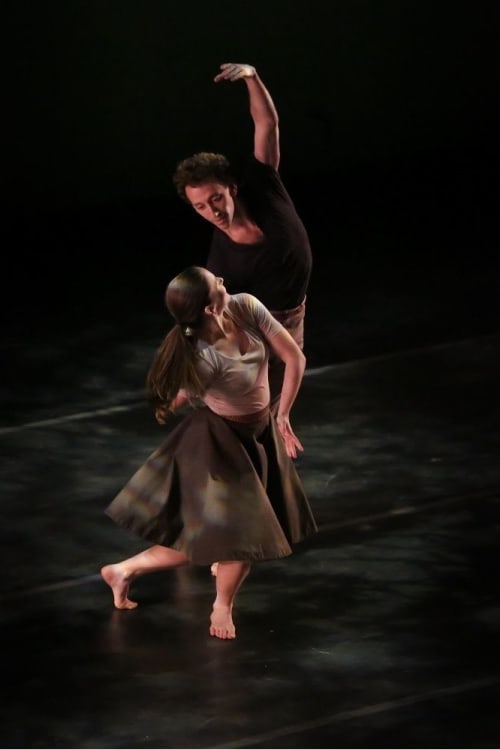 Love and joy are at the primal beating heart of Mark Morris's creations, which his second mixed bill exemplifies even more than the first.
Programme A was the delicate aperitif; Programme B is the delicious main course and sweet pudding all in one. Four dance pieces created in the last five years trace a beautiful line from playfulness, silliness, nostalgia, through to erotic love and the eternal simple pleasures of dance.
Morris takes Samuel Barber's Excursions for the Piano, Op. 20 Americana sounds, a bit of jazz, a bit of blues and hoedown, and describes city life from early morn till glad morning again, dewdrops twinkling on a drooping line.
Calisthenics, cheeky hands on cheeky bums, six dancers rise and shine, circle the square and walk the block to the music's regular beat. Playful and athletic lovemaking, and creatures that invade sleep, night terrors that the welcome dawn drives away, all enormous fun.
More silly fun—from Ivor Cutler—follows. Fourteen of his recorded witty ditties are given expression by eight dancers in Hovis advert clothes—flat caps and woolly hats, knitted tank tops, plaid shirts, baggy cords, and fifties frocks, a bit Dennis Potter Blue Remembered Hills.
It takes an American to bring out in mimed visualisation all of Cutler's whimsical childish and child-like snapshot satirical observational humour that the British are renowned for.
It takes an outsider to see the essential, and Cutler from his Glasgow Jewish Eastern European background coupled with years teaching children pins down his and our eccentricities perfectly.
Remember being asked to be a tree in junior school—well, here it is. A Wooden Tree, as well as a Little Black Buzzer for your Morse Code, a Rubber Toy, and The Market Place for picking your bride.
British seaside postcard innuendo, and songs of country matters that make for country dancing, lewd thoughts and lewd gestures, the puzzle of love—I Love You But I Don't Know What I Mean, and Trouble, Trouble (why can't a man love a man and a woman love a woman, because when a man loves a woman there is always trouble…).
Emotional trouble there is in Jenn and Spencer. After the interval, silly things are put away, and serious love enters in. A duet for Jenn Weddel and Spencer Ramirez to Henry Cowell's Suite for Violin and Piano expresses the folly and ecstasy of love in all its shadings, in pre- and post-coital entanglement.
Souls and feet touch, legs wrap and lift the other, palms gesture, abstract and romantic, allegro and andante tranquillo, Jenn in plum silk long shift, both night and evening gown, Spencer in white shirt and grey suit trousers open a window into their private world.
Private and public meet in Festival Dance, a particular Morris-ian homage to dance from nineteenth century Europe danced by six couples in bare feet and the casual clothes of America, old world formality loosened up by new world informality.
A couple stand in a pool of dappled light, the trio strikes up Johann Nepomuk Hummel's Piano Trio No 5 in E Major, Op 83, the strings sing, the piano tinkles, they dance alone, but their classical reverie is broken by dancers ebbing and flowing across the stage, individual stories within the framework of a court ball.
Echoes of waltzes, formal dance in prescribed formations, flicker through this festival of dance. On frisky feet, the girls are spun in circling social dance. An important couple is regaled and cushioned by an entourage until all this fades and the first couple are left standing in fond embrace where we first found them.
Was all this in their minds and hearts? In Morris's heart and mind, which he shares with us so that we can enter in the dance. Wouldn't the world be a better place if we all gave ourselves up to dance?
Love and joy come to you, and to you your wassail too; and God bless you and send you a Happy New Year... Mark Morris and his dancers are an early Christmas present.
Reviewer: Vera Liber