The Masque of the Red Death
After Edgar Allan Poe
Punchdrunk
BAC
(2007)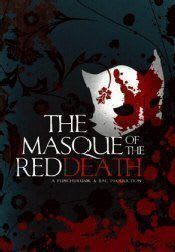 I knew I would be seeing Punchdrunk's successor to last year's massively successful Faust later than most of my colleagues and you've no idea how difficult it is to avoid reading or hearing comment on a show which has created as much buzz as this one. Their take on some of the gothickly macabre short stories of Edgar Alan Poe is now sold out with people on eBay bidding over £100 for a ticket. I loved Faust and I wanted to come to this show fresh to give you my opinion unaffected by those of others or without any foreknowledge that might prove an advantage in navigating my way through its action
Produced in conjunction with Battersea Arts Centre, it takes place in their Victorian building, formerly the town hall, and spreads through almost all of it for this, like Faust, is a site-specific, environmental production that lets its audience roam through three floors from cellarage upwards up stairs and along corridors through former council chambers and offices. Some spaces will still be recognized by BAC habitués as former bar, main theatre and studio but the whole has been transformed by director and designer Felix Barrett and a huge design team into a succession of lavishly decorated and evocative spaces. There are cloth-swagged ceilings, four-poster beds, graves and dungeons, and a forest grows around the great central staircase of the old entrance hall.
The Red Death is, of course, the Plague and, as they enter, each audience member is given a white mask to wear, designed after those hook-nosed masks that seventeenth-century medics thought would protect them from contagion. This separates the audience from the performers, giving them an anonymity that en-masse helps make them become a background to the actors.
Instructed to proceed solo, so that each person makes their own exploration, you pass the layers of heavy drapes and through dimly lit corridors which help you get used to the low light levels and then it is up to you where you go and what you discover. Unlike Faust, which used mainly large, accessible spaces, here you have a building with many separate rooms, not all of whose doors will open - though I have a suspicion that some may not prove locked if you retry them.
One of the first rooms I found was an empty study with books and papers all related to the plague, so much I could discover even in dim light, though without glasses, which don't fit well beneath a mask, deciphering proved difficult. That was my last encounter with anything linked to the title story until much later in the evening, when the audience do attend the famous Masque. Until then you must find what you can.
Sometimes you can follow a character from room to room and follow a sequence of events; sometimes you can open a door and stumble on a private encounter, turn a corner and almost step on a figure writhing on the ground before you, be accosted by a footpad in the bowels of the building, or join a crowd of spectators watching a dramatic scene unfold with thunder and lightning flashing overhead.. You can find yourself in an opium den or a shop where perfumes or perhaps poisons are being prepared, a room with death masks or pickled body parts, hospital beds being dragged into position by a nurse, watching the slow deliberations of a fortune-teller or surprise a scene of what appears to be incestuous coupling.
I made my way into a theatre dressing room and, pushing my way between clothes racks and actors at the mirrors, found myself in the wings of a music hall stage with acts in progress -- but the usual ways of to the front side of the curtain were barred and I spend ages trying to find how to get there. What you find and what get out of this show is down to a mixture of luck and determination. It helps to do the unexpected: I dived between clothes hanging in a closet and found a room beyond and, from that, ducking below a low arch emerged into a room where a scene that was probably from The Fall of the House of Usher was in progress.
There are at least nine separate stories to catch up with, but you will be lucky if you find them all and, even if you do, you may not recognize them. Punchdrunk do not seem to be interested in telling a complete narrative but rather give highlights and glimpses. Whereas Faust was such a well-known part of European culture that it was possible to fit most episodes you found into the story, here there are too many possibilities. Unless your knowledge of Poe is more than my hazy memories of old Roger Corman movies it is better to take each experience as it comes than look for any structure.
If narrative structure is lacking, the structure of the whole production is amazing. Actors move through the building to play in a sequence of locations while other scenes take place in the spaces they have vacated, the timing and organisation is meticulous. I think the bell that, at intervals throughout the evening, tolls the approaching doom of the title story may be a key element in the timing but it must take enormous planning for characters whom you last encountered somewhere completely different to enter a scene at just the right moment.
There is a concentration about all the acting, whether scenes and interactions are played with quiet naturalism or full-blown melodrama. This is predominantly physical rather than verbal theatre, especially in the often frantic choreography of co-director Maxine Doyle. In one sequence (I've no idea from which story) a young man throws a catatonic woman about, hangs her on a wall to strip most of her clothes off, then flings her around a bed in all directions before deflowering her. The dancers need not only highly tuned physical skills but extraordinary special awareness to enable them to fit their complicate choreography into the spaces that the audiences leave them. Spectators soon become aware that they must give space to the actors but they don't necessarily know a performer is behind them or where they are going to want to lunge next. This all adds to the excitement. It is an excitement that is sometimes tinged with apprehension for there is threat here too.
When, finally, one reaches the final episode, when death triumphs over all, the message is simple and straightforward, but what else should one take from this show? It is much more about sensation and excitement than anything else. There is a strand that emphasises exploration, deduction and interpretation in the careful construction of the room settings and the contents displayed in some of them but is this otherwise much more than a ghost train or a populated house of horror?
Emphatically 'Yes!' I say but, whereas Faust carried its clear centuries-old moral, there is a degree to which this show could be accused of being 'all sound and fury and signifying nothing!' Punchdrunk have demonstrated enormous skill and imagination in their experiential creations. I would like to see them take this further and offer work round a more serious subject and, yes, perhaps strengthen the narrative element. Theatre has always sought to open up the audience's imagination and has always depended for its result on what an audience brings to it -- but there is sometimes a tendency too far for contemporary performance to leave too much to the spectator, as though work is being made only for the sake of making it. I would hate a company as accomplished as Punchdrunk to go along this road.
17th September 2007 - 12th January 2008
Reviewer: Howard Loxton