Matchbox Theatre
Michael Frayn
Hampstead Theatre
–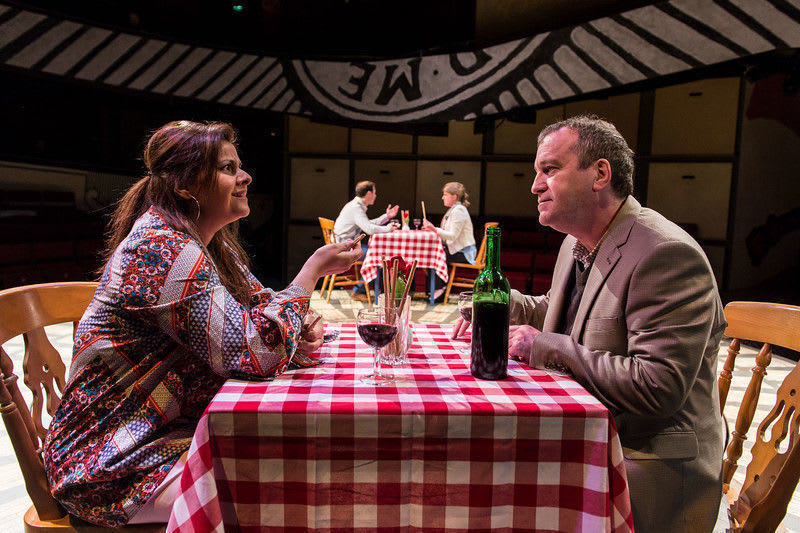 Now subtitled "An Evening of Short Entertainments", Matchbox Theatre has been transported from book form last year to Hampstead Theatre's main stage, set up in-the-round.
The transformation has been facilitated by the direction of Hamish McColl and the efforts of six versatile actors.
Now reduced to 23 entertainments, each averaging around five minutes in duration, it provides a rather bitty couple of hours. Many of the pieces feel as slight in the theatre as they did on the page, but pleasingly the best handful are very funny.
For the most part, McColl has faithfully taken the original pieces and worked with his actors to deliver them as written.
He comes into his own when slightly more adventurous. For example, as Esther Coles plays the ultimate bore in lengthy conversation with the local council, the director cleverly splits the one-sided dialogue into three parts, embracing other playlets while turning it into a running gag.
Similarly, Chris Larner, who originally appears from beneath the centre of a literally circular stage, benefits from actually playing the Contraphonium of the title.
Perhaps predictably for a man who spent so much of his life creating for the theatre, the selections that relate to the trade show the greatest perspicacity.
Outside Story, which was the pick of the original book, also tickles when played live. This is a double act featuring Tim Downie as a TV anchorman and Mark Hadfield playing his stressed reporter outside the National Theatre. The shtick is that the man on the ground is obliged to report straight-faced on events that sound suspiciously like the plot of a well-known play set in Denmark.
Taking little more than a couple of minutes, Blackout Number, which metaphorically shines a light on scene shifters, got a very positive reaction from an audience well able to understand such things.
Interval/Memorial, taking place on either side of the, well, interval is particularly strong as the curtain raiser to the second half. Larner as a warm-up man/MC enthusiastically reports on events that took place during a mythical interval, interviewing a trio of typical theatre-goers who have each undergone life-changing experiences during their 15 minutes outside the auditorium.
The evening closes with a clever satire on the commercialisation of theatre and, by extension, society more generally. This features a pair of actors trying to go about their business in the classical play, while being asked to pander to the whims of sponsors and their misbehaving guests. It showcases the full cast, which is completed by Felicity Montagu and Nina Wadia.
While some parts of Matchbox Theatre gently amuse and others are really funny, the whole is too lightweight for a satisfying, full-scale production.
Reviewer: Philip Fisher