Me
Emma Dodd
Little Angel Theatre
–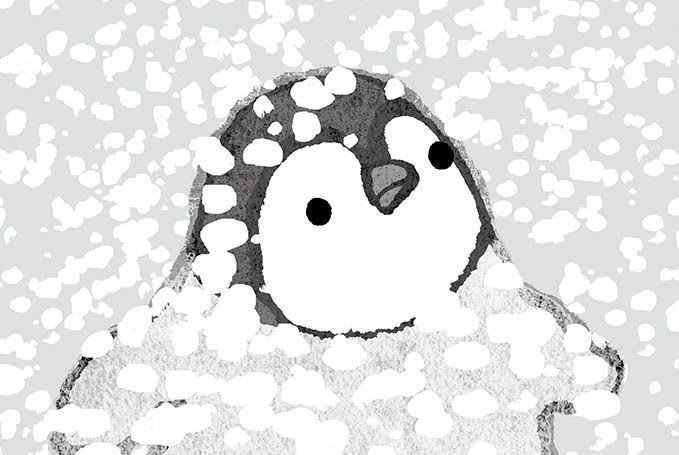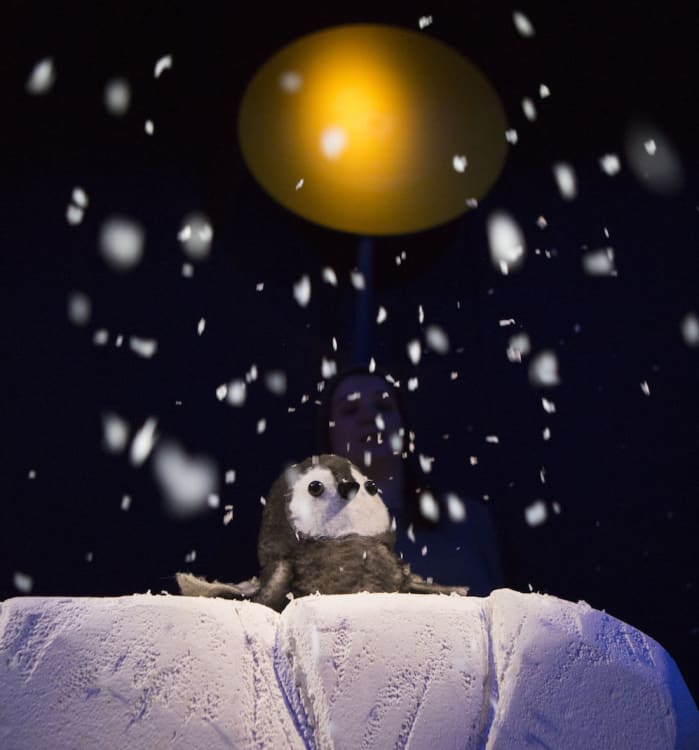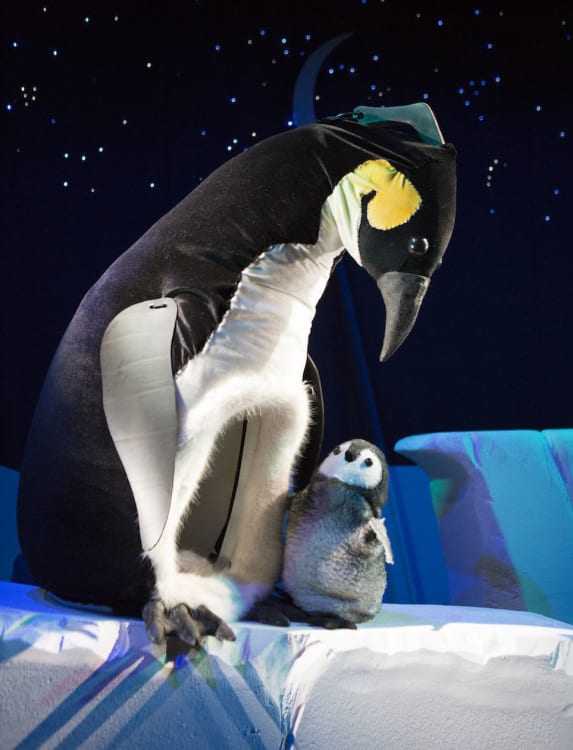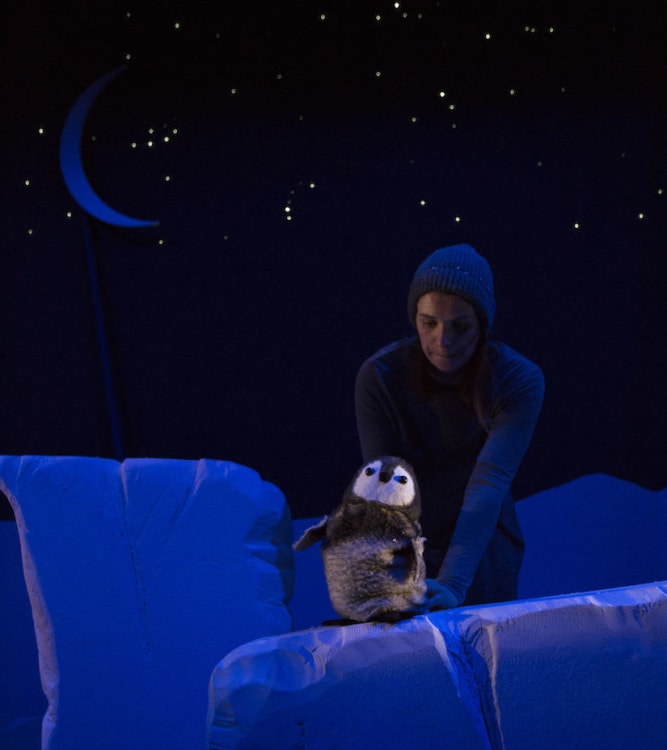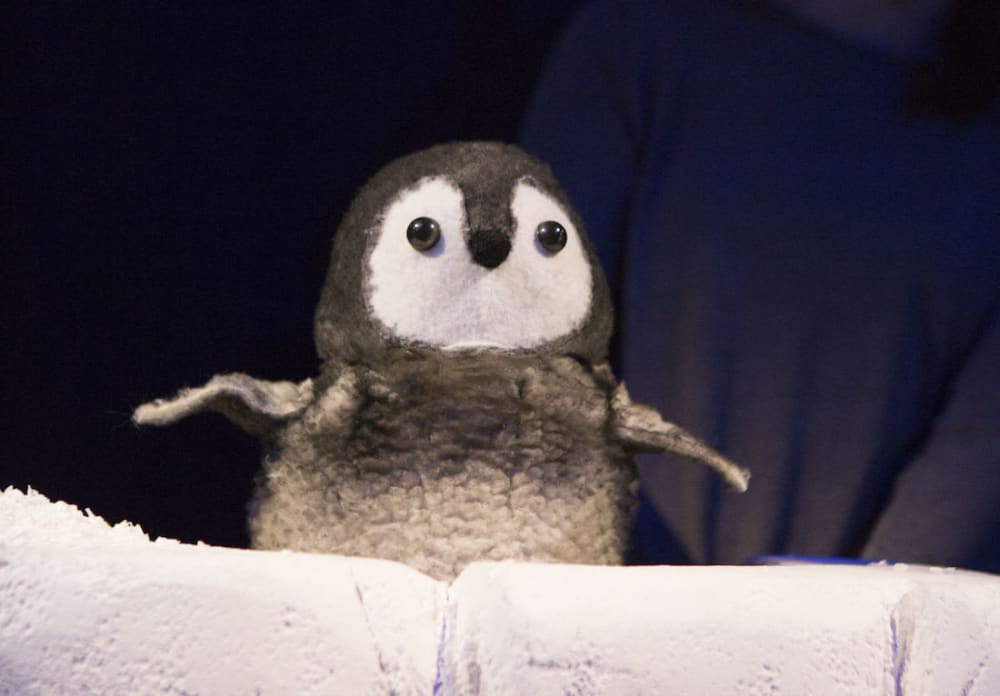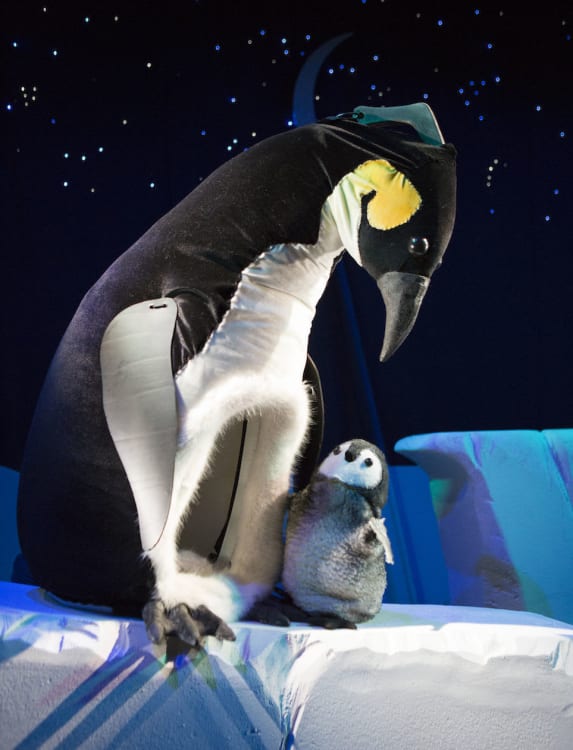 This is a very simple show, based on Emma Dodd's picture book, for two- to six-year-olds about a newly-hatched little penguin discovering the big, big world.
It's a simple, repetitive story in which this penguin chick tells us, "the world is big and I am small; the world is fast and I am small, the mountains are steep… the ocean is deep… the wind is strong… the winter is long…".
First, we see a parent bird brooding a large egg which hatches, cracking first before little Me pushes a way out.
We watch as Me gets steady on his/her feet, starts to move around, slides down slopes, slips into the sea, learns to swim, to stand up, struggle against the waves and the wind that all seem so big when s/he is so tiny, a parent sometimes giving a lesson or coming to the rescue and being a reassuring haven for the little one can see the biggest thing to them is Me.
The show is performed by Lori Hopkins who tells the story and manipulates all the puppets. Designed and made by Jimmy Grimes, they don't seem to have articulated wings or feet but are like stuffed toys—bigger than life-size for the parents and tiny for Me. They don't really walk or waddle like real penguins but bounce along or through the air in the same way that small children themselves animate soft toys.
That's something I don't like in puppetry but for this particular age audience it seems acceptable and when they are sliding on their bellies or swimming it works very effectively. There's an excellent underwater sequence complete with penguin breath producing air bubbles and a blue gauze ocean bunching up into waves.
In fact, I mistakenly took an earlier sequence when the adults zoomed through the air to be underwater. Penguins don't fly, nor can they grip with their wings, so there's some bad natural history, but this isn't a biology lesson: it all follows the style of tot-age play and the young audience found it perfectly natural.
Simon Plumbridge provides a set of sweeping curves and a floating iceberg and David Duffy's lighting pinpoints attention. Arran Glass provides an excellent score to add drama and atmosphere and perhaps had some extra voices to encourage the audience to join in some calls of "where are you little one?" as the parent bird looked for Me. The little girl behind me was very vocal and her brother was kicking his feet with excited involvement. When the sun set, the moon rose and they saw the night sky they were delighted asking, "how did the stars come out?"
This is too simple a piece for older age groups but Lori Hopkins creates good rapport with her audience and maintains this even when she has to concentrate on the puppetry. It's a short show, less than 40 minutes, so fits young attention spans. As well as suggesting the big world is an exciting place to investigate, it is a reassuring reminder that loving parents look after you. It's ideal for pre-school years.
Reviewer: Howard Loxton