Meow Meow's Little Match Girl
Meow Meow and Iain Grandage
Malthouse Theatre in association with Meow Meow Revolution
Queen Elizabeth Hall
–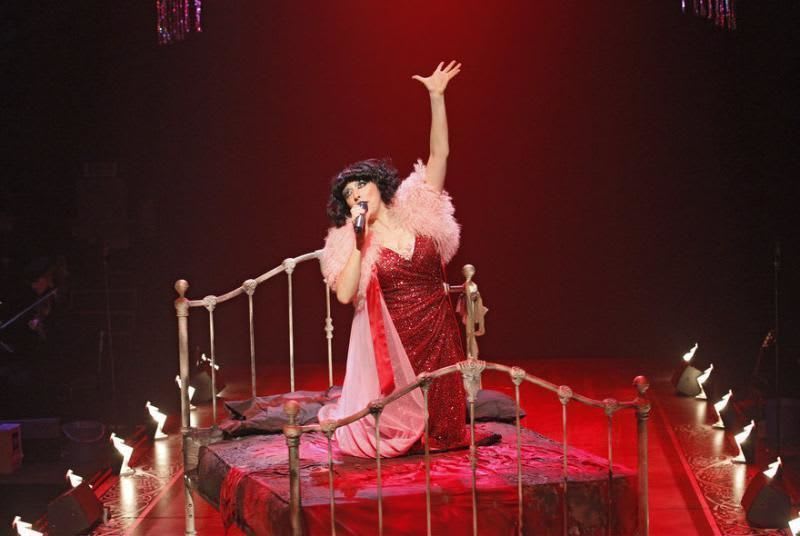 It may be Christmas but this isn't Hans Christian Anderson's fairytale, though that was the inspiration for this astonishing performance.
Australian cabaret diva Meow Meow (real name Melissa Madden Gray) does complain of the cold and remembers the hungry and homeless, the world's thousands of street children so the said waif of the tale is not forgotten.
Though she strikes all her matches and explores the aisles in her search for warmth and illumination, even ripping it from the walls, Meow Meow provides it through a range of numbers that eclectically range from her own compositions with Grandage to those of Noel Coward, Serge Gainsbourg, Laurie Anderson and Megan Washington and even themes from Purcell and Wagner.
Created at the Malthouse Theatre in Melbourne, this Little Match Girl is directed by Marion Potts, the theatre's artistic director with designer Anna Cordingley and lighting designer Paul Jackson also part of the Malthouse team.
They turn the Queen Elizabeth Hall into a glitter-hung environment bathed in red light with giant mirrorballs and a huge, glamorous chandelier. Below, instead of the usual platform, is a thrust stage, banked by audience and lit like a flare path, with what seems to be a helicopter pad in the middle.
When the lights go down there is the tiny, innocent face of Miss Meow Meow picked out in the darkness. Then, in sudden brightness, it is a bed not a plane that appears spinning on the heliport, with a naked man face down on it and our diva in a dazzling red gown and white fur spouting what sounds like gibberish but may well be German.
When the babble subsides, she asks where she is, wakes the man, asks his name and then sends him packing. I can't begin to describe what happens afterwards. Well, I could but it would spoil it to tell you for, if you don't know, it almost certainly won't be what you would be expecting.
Miss Meow Meow is like a bossy Sloane Ranger who will suddenly take the guise of an Eartha Kitt or an Ethel Merman. Her singing can be innocently childlike but can also range from the molasses rich to the raucous. One moment all charm she can suddenly turn, she is never predictable. Whether crouched over the glow of an exit sign or incandescently airborne, she demands attention in her demonstration of triumph over disaster. She risks being irritating and boring but personality overcomes that.
Towards the end of the show, there are some magical visuals and a mood that is greatly enhanced by the contribution of fellow performer pure-voiced Chris Ryan. For me their combination is the high point of a very unusual non-stop hour and a half.
Reviewer: Howard Loxton