Missing in Action
Brendan Murray
Proteus Theatre Company
Tadley Community Centre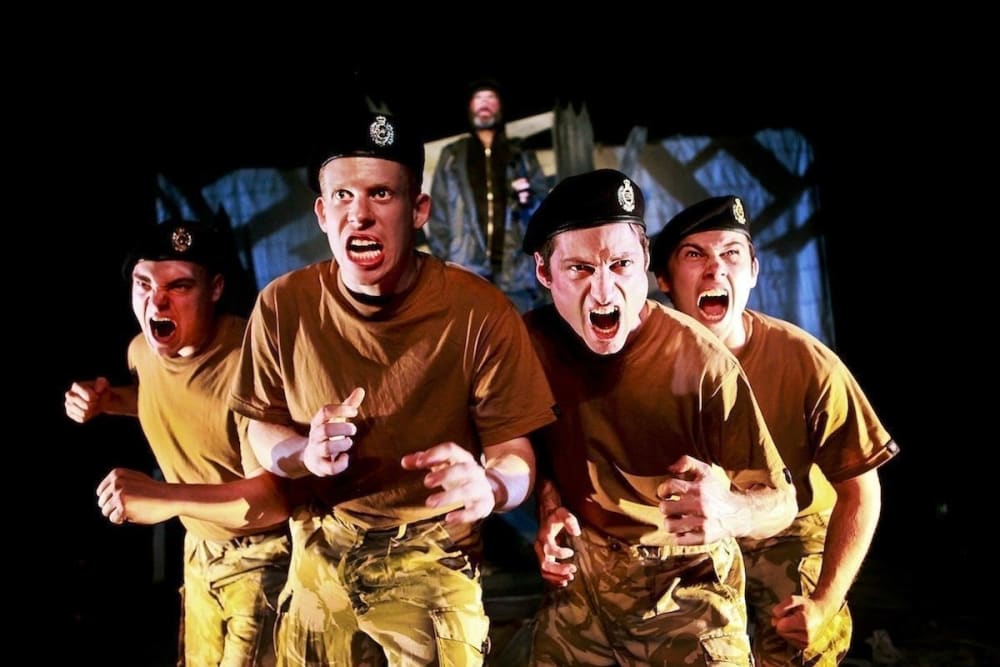 Proteus Theatre Company based in Basingstoke has been touring high quality theatre for the past thirty years and is very much part of the local community. Their latest moving play Missing in Action, written by award-winning writer Brendan Murray, is based on testimonials from ex-servicemen and their families.
It is a powerful, emotional play that takes the audience on an uncomfortable journey as it traces the lives and fortunes of two teenage mates who sign up to become squadies in the engineers and their consequent tour of duty in Afghanistan.
But the play really starts outside the Tadley Community Centre where an apparent tramp is sitting dishevelled, cold and begging. Little does the audience know that he is an actor playing the part of the down and out soldier Spider who is to feature strongly in the plot.
Zoot Lyman plays the young Christopher Yates with confidence together with his boyhood friend Darren Webb—hence the nickname Spider—the splendid Paul Valentine. They are recruited, go through a rigorous programme of basic training and the joys and pride of the passing out parade before being deployed abroad.
Tragically, Christopher is killed in action and Darren is filled with guilt at the loss of his companion, particularly since he was in the sick bay and not on patrol with his friend. The atrocities he faces become the subject of recurrent nightmares, particularly the death of an Afghan baby killed by mistake.
Ashley Christmas gives a tour-de-force performance as the grieving mother, Lynda Yates, who finds it impossible to let go of the memory of her son. You can't help but empathise with her heartbreaking loss.
When Darren returns home, he is unable to settle into family life and is constantly in a fog of memories. His marital relationships are strained beyond breaking point and his ensuing actions result in imprisonment in Colchester barracks for assaulting a soldier and a subsequent dishonourable discharge from the army.
Louisa Quinn is totally believable as the confused wife desperate to rebuild their marriage and for Darren to love their baby daughter Gemma, but he finds the strains impossible to bear and leaves home to live on the streets to try and come to terms with his experiences.
As a constant reminder to the plight of soldiers throughout the decades, Paul Huntley-Thomas as the older Spider links the story with a succession of war poetry from the pens of Houseman, Kipling, Owen and Sassoon, which adds a poignancy to the modern, unfolding drama.
There is strong support from Stuart Dimond and James Laurence Hunter as the ensemble soldiers.
Missing in Action, sensitively directed by Mary Swann, is a gritty, hard-hitting drama that places the agonising suffering of post traumatic stress disorder firmly in the spotlight and is compelling viewing.
Touring throughout Hampshire until January.
Reviewer: Robin Strapp