Miss Saigon
Music by Claude-Michel Schönberg, lyrics by Richard Maltby Jnr and Alain Boublil
Adapted from the original French text by Alain Boublil with additional material by Richard Maltby Jnr
Nottingham Theatre Royal
(2005)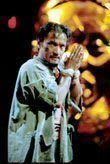 Before it started its run, Miss Saigon had broken box-office records for Nottingham, taking £1million in advance sales. You might not think that's particularly impressive when you consider the last show to do that amount of business at Nottingham's Royal Centre was Cats in 1995. Seats were cheaper then. But Cats played the Royal Concert Hall - which has double the capacity of the 1189-seater Theatre Royal.
This "new" production of the third most successful musical in the history of British theatre has been designed for smaller stages so it can play cities which missed out on the original tour.
It's reported that Sir Cameron Mackintosh himself wanted Miss Saigon to be staged in the Theatre Royal - not only for technical reasons but also because of its more intimate atmosphere than the next-door Concert Hall.
It's eleven years since I saw Miss Saigon in the West End and I'd forgotten what a powerful piece it is. That's because it's a love story which doesn't just tug at your heart strings - it wrenches at them and pulls you in all directions. The finale rivals Blood Brothers as the most emotional ending you're ever likely to witness.
The updated version of Miss Saigon is sassy and sensual. There's a new cast who are energetic and effervescent. And the message about the futility of war is just as pertinent in post-Iraq days as it was at the end of the Vietnam war.
From the beginning you have to admire the versatility and adaptability of the performers who have a limited amount of space to work in yet produce a dazzling display.
Ima Castro has played Kim before both in this country and on the Asian tour of Hong Kong and Singapore. It's not difficult to see why as she slips comfortably and impressively into the role. She changes quickly yet convincingly from an innocent, naïve teenager into a fiery, doting mother who'd do anything to protect her son.
Ramin Karimloo gives an excellent performance as Chris, passionate and caring yet torn between his love for Kim who he has to leave behind and his American wife Ellen who eventually is horrified to find out about his secret relationship.
Leo Tavarro Valdez, a veteran in the role of The Engineer, plays it to perfection. The Engineer can be a cruel, manipulative character but Tavarro Valdez injects enough cheekiness and vulnerability to turn him into a loveable rascal despite his foibles.
John Partridge impresses with his powerful yet controlled voice as John, Chris's GI friend, and the singing generally is of an amazingly high standard.
Stealer of the show, though, is four-year-old Matthew Choi who plays Kim's son Tam. Matthew is a Miss Saigon veteran and started the run in Nottingham while local youngsters were being rehearsed for the role.
Despite guns going off around him, being thrown around like a puppet and people singing very close to his face, Matthew never flinches and gives an astonishing performance. When The Engineer wants to be embraced, Matthew kisses him on the cheek - then wipes his lips clean! Definitely a star in the making.
You'll probably only be able to hum a couple of tunes from Miss Saigon on the way home, The Heat Is On and The American Dream. Despite that it's a magical musical that's superbly done. If you've not seen it, catch it on the new tour. If you have seen it, it's definitely worth another look.
"Miss Saigon" runs at the Theatre Royal until October 1st, then tours to Edinburgh, Belfast and Manchester.
Tjis production was reviewed by Peter Lathan in Sunderland and David Chadderton in Manchester
Reviewer: Steve Orme