m¡longa
Directed and choreographed by Sidi Larbi Cherkaoui in collaboration with the dancers
Sidi Larbi Cherkaoui
Sadler's Wells
–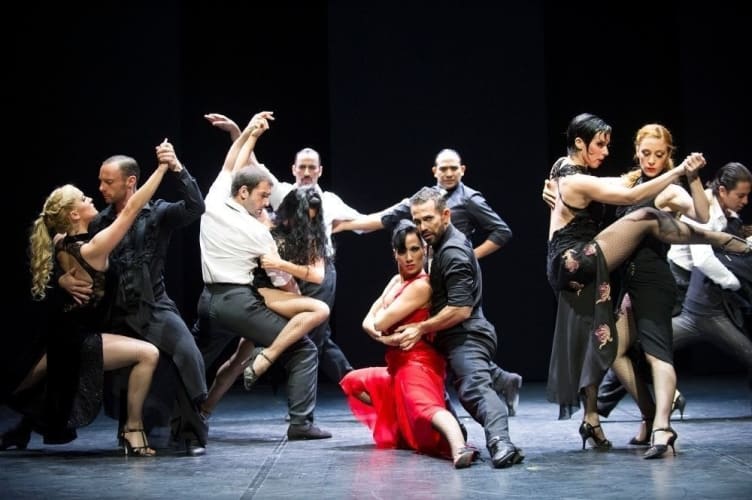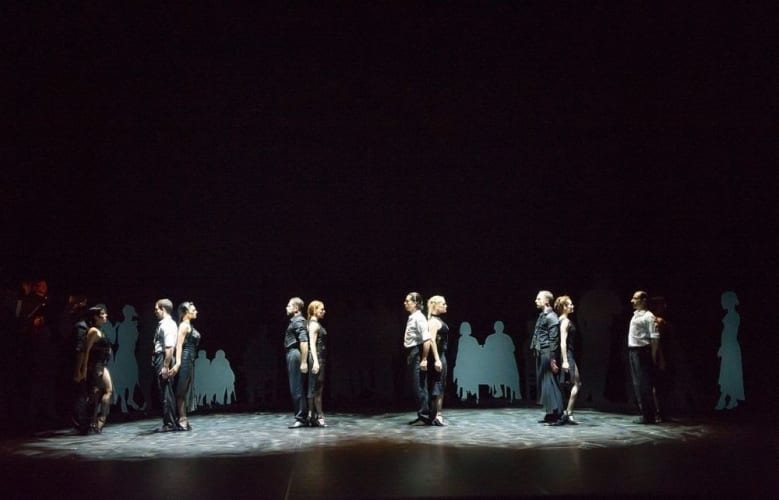 m¡longa (sic) is not tango as you may know it from the many Tango Argentina showcase shows, but a personal exploration by Sidi Larbi Cherkaoui into another world, adding yet another dance vocabulary to his lexicon.
He does more than reinterpret tango's boleos, ganchos and sacadas, though. Kaleidoscopic dance on a swirling kaleidoscopic floor painted in light by Adam Carrée, m¡longa is a meditation, serious and light-hearted, on its underpinning, its subtext if you like, without losing sight of the dancers' tremendous skills.
Energising, captivating and perceptive, a dizzying moving picture postcard from Buenos Aires, which Cherkaoui takes too literally, dancers having to interact with Instagram photos and videos sliding across a giant screen (video and set design by Eugenio Szwarcer), swallowed up by its size. Is that how he felt? Overwhelmed?
A whistle-stop tour of the city, dancing in the streets, but the milonga is its beating heart. Anyone can join in, even the gauche tourist with her clichéd take on the tango gigolo. Cherkaoui insists that the clichés are essential. How can they be subverted if not exposed first?
Subverting with a loving touch, deconstructing and reconstructing with a sensitivity that has become his trademark. And those caressing hands, twisting and entwining, touch is of the essence in the tango embrace.
Fascinated by how tango couples interact and improvise, by their trust, intuition and telepathy, he imagines them in group dance, in trios, two men with a single woman, two women with one man, a trio of Pina Bausch women in black shades and veils, in same sex duets, and in the traditional macho men in aggressive sexual innuendo dance with women who give as good as they get.
Feet flash, legs encircle waists, bodies swing and sweep the floor, ghostly silhouettes, cardboard replicas, multiple refractions on the screen (think Lady from Shanghai mirror scene) and chairs suggest a bustling throng, but the dramas are internal.
Intimate love can cross a crowded room and one can be alone on a teeming floor. Inner emotions are projected on to the screen: a woman holds a baby in her arms as she gives herself to the music and the moment—sex in all its plausible consequences and tender love.
The music is not the traditional Piazzolla either, though his Libertango threads its way through the evening, but contemporary music from the young Polish composer, Szymon Brzóska, Cherkaoui has used so often before, and Fernando Marzan, who leads his own quintet of violin, bass, guitar, bandoneon and piano.
Rhythms and melody change moods from late night sweet melancholy to ardent, from klezmer soulfulness to music that sets the soul on fire. And the dancers let their souls speak through their bodies.
Infiltrating two contemporary dancers into a group of ten professional tango dancers, Cherkaoui adds his own expressive layer to the malleable tango form in a duet for the two interlopers, Silvina Cortés and Damien Fournier, he draping her around his neck, across his back; she holding him in a vice grip with her long legs.
Acrobatic, gymnastic, the ten tango dancers, the backbone of m¡longa, are jaw-dropping slick and breath-taking delicate in turn, especially Nair Schinca and Nicolas Schell, both 2013 Vice Champions of the World Tango Competition (Buenos Aires), and Claudio Gonzales who has partnered Melina Brufman for eleven years.
Sidi Larbi Cherkaoui has a questing soul, which has taken him to explore martial arts with the Shaolin Monks, flamenco with Maria Pagès, kathak with Akram Khan, and he does nothing by halves.
Three years he has studied the tango, observing closely, watchful as ever, guided by Nélida Rodriguez de Aure, a tango star in her own country, absorbing the culture.
A fusion of two cultures himself, he is fascinated by our common humanity and seems to seek to reinforce that in his fusion of dance cultures, showing how each can teach and learn from the other.
Attentive to the underlying emotion—his teacher believes feeling is the most important element in tango—the drama that takes place at a milonga, a social dance event, a coming together of a group of people, he delights in his discovery.
The applause from the audience (and this was not press night) confirms their delight. The unbroken ninety minutes are far too short. Slow to warm up as any milonga night, m¡longa builds to a dramatic crescendo. Cherkaoui plays us well.
Reviewer: Vera Liber